Metal Hammer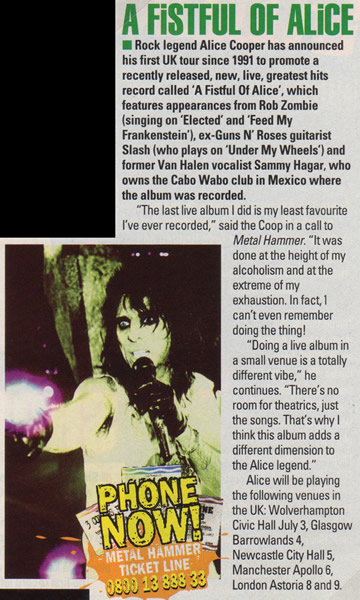 Originally Published: July 1997
A Fistful Of Alice
Rock legend Alice Cooper has announced his first UK tour since 1991 to promote a recently released, new, live, greatest hits record called 'A Fistful Of Alice', which features appearances from Rob Zombie (singing on 'Elected' and 'Feed My Frankenstein'), ex-Guns N' Roses guitarist Slash (who plays on 'Under My Wheels') and former Van Halen vocalist Sammy Hagar, who owns theCabo Wabo club in Mexico where the album was recorded.
"The last live album I did is my least favourite I've ever recorded," said the Coop in a call to Metal Hammer. "It was done at the height of my alcoholism and at the extreme of my exhaustion. In fact, I can't even remember doing the thing!
"Doing a live album in a small venue is a totally different vibe," he continues. "There's no room for theatrics, just the songs. That's why I think this album adds a different dimension to the Alice legend."
Alice will be playing the following venues in the UK: Wolverhampton Civic Hall July 3, Glasgow barrowlands 4, Newcastle City Hall 5, Manchester Apollo 6, London Astoria 8 and 9.
---
Alice Cooper
A Fistful Of Alice
Guardian/EMI
3.5/5
For a preacher's son, Vincent Furnier hasn't done badly for himself. He's given the world of rock some of the classic moments and also some of its most numbingly appalling; compare, for example the wondrous cod-horror of 'Welcome To My Nightmare' with the plain crappiness of 'Constrictor'. As the godfather of shock rock, he's influenced and outlasted many a pretender to the throne; just ask yourself where Marilyn Manson are coming from and if they've got the juice to go the distance.
According to the man himself, the 'Alice Cooper Show' live album is one of his least favourite released, so he's trying to put things right this time round. Now, our Alice is nothing if not a canny bugger and 'Fistful...' is nothing if not a well-recorded, glossy greatest hits package, absolutely guaranteed to satisfy both younger and older fans. Yes, the big, most recent numbers do feature - tracks from 'Last Temptation' and "Trash' pop up in all their dumb glory - but it's the old material which makes this at least worth checking out.
You simply cannot go wrong with classics such as 'Welcome To My Nightmare', 'Under My Wheels' and the superb 'Only Women Bleed'. Of course, any lover of good old-fashioned theatrical rock will already have these tracks, so to make this project worthwhile, a whole host of musos and vocalists pop up on various songs, just to show how much they love our Alice - and no doubt make a little cash on the side. Take your pick from Slash, Sammy Hagar and Rob Zombie as a taster of the moonlighting talent.
As far as cutting edge rock goes, this counts as nothing but sheer, unadulterated nostalgia. In terms of singalong fun entertainment, this is pretty good round-up of all the worthwhile moments in a wildly rollercoasting career.