Metal Hammer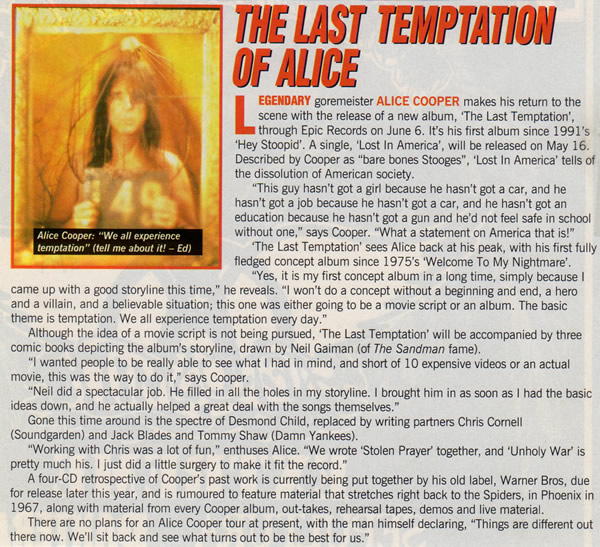 Originally Published: May 1994
The Last Temptation Of Alice
Legendary goremeister Alice Cooper makes his return to the scene with the release of a new album, 'The Last Temptation', through Epic Records on June 6. It's his first album since 1991's 'Hey Stoopid'. A Single, 'Lost In America', will be released on May 16. Described by Cooper as 'bare bones Stooges', 'Lost In America' tells of the dissolution of American society.
"This guy hasn't got a girl because he hasn't got a car, and he hasn't got a job because he hasn't got a car, and he hasn't got an education because he hasn't got a gun and he'd not feel safe in school with out one," says Cooper. "What a statement on America that is!"
'The Last Temptation' sees Alice back at his peak, with his first fully fledged concept album since 1975's 'Welcome To My Nightmare'.
"Yes, it is my first concept album in a long time, simply because I came up with a good storyline this time," he reveals. "I won't do a concept without a beginning and an end, a hero and a villain, and a believable situation; this one was either going to be a movie script or an album. The basic theme is temptation. We all experience temptaion every day."
Although the idea of a movie is not being pursued, 'The Last Temptation' will be accompanied by three comic books depicting the album's story line, drawn by Neil Gaimen (of The Sandman fame).
"I wanted people to be really able to see what I had in mind, and short of 10 expensive videos or an actual movie, this was the way to do it," says Cooper.
"Neil did a spectacular job. He filled in all the holes in my storyline. I bought him in as soon as I had the basic ideas down, and he actually helped a great deal with the songs themselves."
Gone this time around is the spectre of Desmond Child, replaced by writing partners Chris Cornell (Soundgarden) and Jack Blades and Tommy Shaw (Damn Yankees).
"Working with Chris was a lot of fun," enthuses Alice. "We wrote 'Stolen Prayer', and 'Unholy War' is pretty much his. I just did a little surgery to make it fit the record."
A four-CD retrospective of Cooper's past work is currently being put together by his old label, Warner Bros, due for release later this year, and is rumoured to feature material that stretches right back to the Spiders, in Phoenix 1967, along with material from every Cooper album, out-takes, rehearsal tapes, demos, and live material.
There are no plans for an Alice Cooper tour at present, with the man himself declaring, "Things are different there now. We'll sit back and see what turns out to be the best for us."