Metal Hammer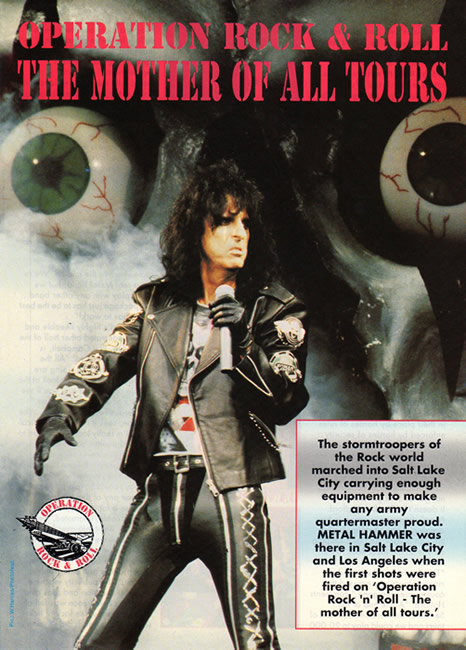 Metal Hammer
(September 1991)
Originally Published: September 1991
Operation Rock 'n' Roll
The Mother Of All Tours
The stormtroopers of the Rock world marched into Salt Lake City carrying enough equipment to make any army nervous quartermaster proud. Metal Hammer was there in Salt Lake City and Los Angeles when the first shots were fired on 'Operation Rock 'n' Roll - The mother of all tours.'
...Half a mile away Alice Cooper is doing what he does in all hotel rooms. He's sitting in front of a television, but breaks his viewing to add that the slow sales don't bother him.
"This package in the best. I love the Dangerous Toys and I'm really looking forward to Metal Church who I've never seen live. Lemmy's a real Rocker in the truest sense of the word. He's the ultimate Heavy Metal type and a great friend of mine. Priest, like Iron Maiden, are the band you come to when you're trying to define Heavy Metal and the ultimate Metal band to someone. And us, we're somwhere in the middle. We're not a real Metal band, but we could play with any other band...this package just has to be the best and it has to work!"
Alice Cooper
Alice was the man with the odd surprise up his sleeve. He had let it be known that he would play a few old numbers, but not fifteen oldies. Okay, they were as medleys, but still... Alice and his men kicked off with 'Under My Wheels' from the 'Killer' album, but soon slipped into classic Alice Cooper. 'Generation landslide', 'Sick Things', 'Billion Dolar Babies' and 'Elected' - it's definitive Alice... The crowd wanted 'oldies, but goldies' from Alice and they got it. Snakes, special effects, blood and gore, it was all there and it was all eagerly lapped up.
But Alice Cooper doesn't have to rely on past glories to get a crowd going. He's still pumping out classic tracks - 'Poison', 'Hey Stoopid' and 'Snakebite' should have the fans baying for more in the year 2005. Alice managed to take a huge three-tiered auditorium and turn it into a regular party-zone.
The huge skull at the back of the stage grinned contentedly as Alice finished off with 'Elected'. There was no doubt that the crowd gave Alice their vote.