Metal Hammer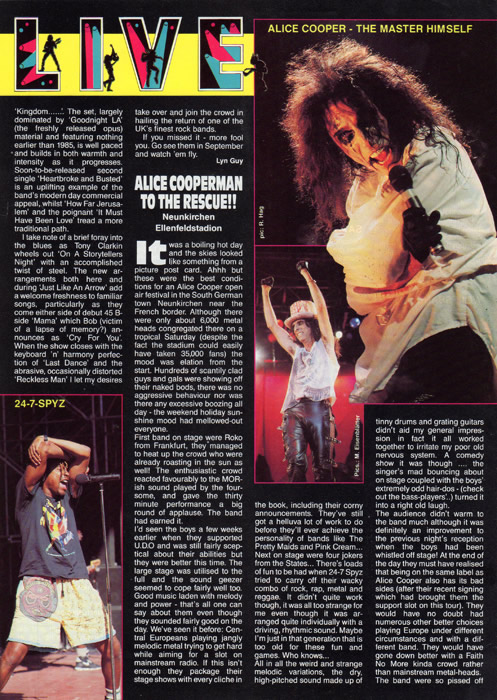 Metal Hammer
(August 13, 1990)
Originally Published: August 13, 1990
Alice Cooperman To The Rescue!!
Author: Michael Baffoe
Neunkirchen
Ellenfeldstadion
It was a boiling hot day and the skies looked like something from a picture post card. Ahhh but these were the best conditions for an Alice Cooper open ir festival in the South German town Neunkirchen near the French border. Although there were only about 6,000 metal heads congregated there on a tropical Saturday (despite the fact the stadium could easily have taken 35,000 fans) the mood was elation from the start. Hundreds of scantily clad guys and gals were showing off their naked bods, there was no aggressive behaviour nor was there any excessive boozing all day - the weekend holiday sunshine mood had mellowed everyone.
...
It began to get dark and cool and then the time was right for Alice to step onto the stage... In contrast to last years tour, the king (and of course inventor) or horror theatre played an only magginally altered show. Most of the tracks he played were off the latest album 'Trash'. Incidentally he'd been presented with a gold disc the night before in Cologne for sales of his album in Germany! Alice had the best possible conditions to play his set. It was dark enough to instigate the stage show and light show and the performance of Alice and his boys was full of real surprises. Hit after hit was performed perfectly by the band and revealed Alice's years of experience and his famed professionalism. It's not everybody who can utilise the whole stage like Alice!
It was kind of weird to experience the king of horror's show in a field and not on a stage but both musically and optically it was fantastically choreographed. There are far too few musicians who can build up such excitement and tensions in their show - musicians who are supposed to be offering a SHOW! Alice Cooper is the best musician in his field and he operates with little opposition - even minor shock rockers like King Diamond aren't really a threat to this great man's throne.
The traditional decapitation was completed as expected - and nothing went wrong! One of the highlights was the emotional and long intro to 'Poison' during which the (thankfully) not-very-busy police officers mingled with the crowd and listened and seemed quite impressed.
Loud ovations were on the cards for the remaining tracks - 'No More Mr Nice Guy', 'This Maniac's In Love With You', 'Welcome To My Nightmare', 'Bed Of Nails' (during which Alice distributed a few items of lingerie to the wildly screaming mob of American girlies in the front rows). He was given a standing ovation for his fab rendition of the classic 'School's Out'.