Metal CD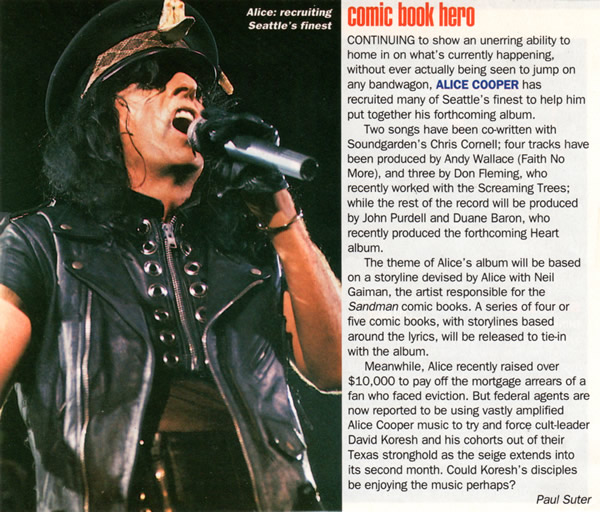 Originally Published: 1993
Comic Book Hero
Author: Paul Suter
Continuing to show an unerring ability to home in on what's currently happening, without ever actually being seen to jump on any bandwagon, ALICE COOPER has recruited many of Seattle's finest to help him put together his forthcoming album.
Two songs have been co-written with Soundgarden's Chris Cornell; four tracks have been produced by Andy Wallace (Faith No More), and three by Don Fleming, who recently worked with Screaming Trees; while the rest of the record will be produced by John Purdell and Duane Baron, who recently produced the forthcoming Heart album.
The theme of Alice's album will be based on a storyline devised by Alice with Neil Gaiman, the artist responsible for the Sandman comic book. A series of four or five comic books, with storylines based around the lyrics, will be released to tie-in with the album.
Meanwhile, Alice recently raised over $10,000 to pay off the mortgage arrears of a fan who faced eviction. But federal agents are now reported to be using vastly amplified Alice Cooper music to try and force cult-leader David Koresh and his cohorts out of their Texas stronghold as the seige extends into its second month. Could Koresh's disciples be enjoying the music perhaps?