Mail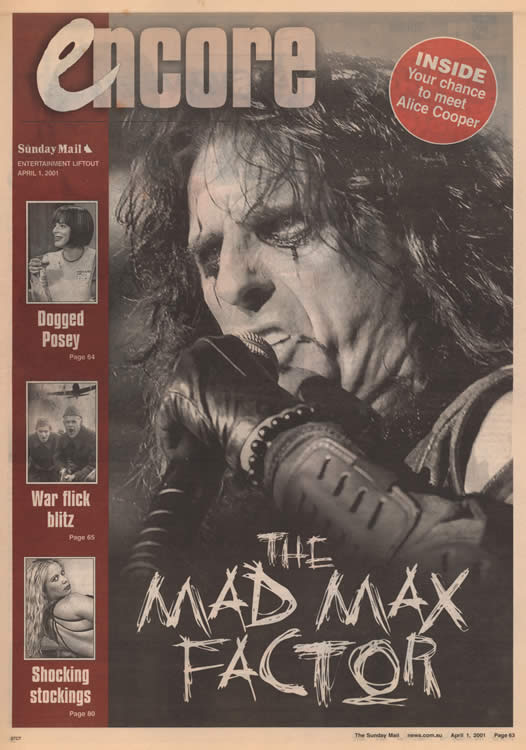 Originally Published: April 01, 2001
Alice's Off Planet
Author: Ritchie Yorke
At 53, shock-rocker Alice Cooper can no longer lay claim to the Department of Youth. But he's still telling brutal truths about our planet, writes Ritchie Yorke.
The latest incarnation promises to be a pearler, even by Alice's extraordinary history of live presentations.
He is, after all, the celebrated prince of theatrical rock.
Long before Gene Simmions of Kiss was spitting blood and fire or Ozzy Osbourne was chomping on chickens or Iron Maiden dragging their corpse-mascot Eddie onstage, Alice was delivering shock rock with plenty of oomph and edginess.
Older readers are likely to recall Alice images of fake executions, baby-doll mutilation and live snakes during the early 1970s when such antics were all in a night's gig.
In a sense, the Coooper show paved the way for the excesses of Marilyn Manson.
The difference was Alice never took it seriously, which is something his current apprentice might bear in mind.
Now Cooper - a son of a Detroit preacher man - returns for a huge, outdoor gig at Carrara Stadium on the Gold Coast on Easter Saturday with master vocalist Paul Rogers and the Radiators.
This time it's a different take on planetary existence and harks back to the anarchy of the classic Oz Mad Max movies.
The show revolves around the latest Alice Cooper album Brutal Planet, and on the phone form his Phoenix home he said: "When you see the stage set, it does give you a feeling of the road warriors of Mad Max, which I always thought was an accurate look at the future.
"It's all about the period after everything fails - after religion fails and school and family and everything. What are you left with?
"So the stage looks like a city that's been nuked and left to disintergrate for 10 years. it's been working out well.
"We did 40 shows in the States with the new show and another 40 in Europe, including Moscow. We soon found out that this is one of those shows were you don't need to speak the language. It's universal.
"You don't have to explain a guillotine. that will work in Africa or China."
There's no doubting the conviction and fervour of the Brutal Planet tracks, which were produced under the supervision of Cooper's old studio associate, producer Bob Ezrin (Pink Floyd, Kiss).
The maturity of Alice at age 53 has not changed the passion of his attack.
Brutal Planet is in your face from start to finish.
"I always knew this was going to be an aggressive album because of the subject matter," Cooper said. "If you're going to write something this heavy, you can't go back and make a '70s-type album.
"You've really got to do a guitar-driven, monstrous kind of thing. And the press has loved it - we've only had one bad review.
"Of course you're always battling with 'N Sync, the Backstreet Boys and Destiny's Child for radio play.
"But we've got our audience into it, and a mixture of a Rob Zombie audience and a Marilyn Manson audience. And there's also a younger audience getting into it."
Cooper "dug Ezrin out of the grave" to act as executive producer for the project because he wanted to work with him again.
"Actually, Bob's been working with Nine Inch Nails and Axl (Rose). People like that come to him for advice because they still respect his ears.
"With Brutal Planet, I told him I wanted to write somethign that's futuristic and not mere fluff. This album steps on a lot of toes."
So what else is new?
Alice Cooper with Paul Roges and The Radiators, Carrara Stadium, April 14.
(Original published in the Encore supplement of the Australian Sunday Mail April 1st, 2001)