LocoFest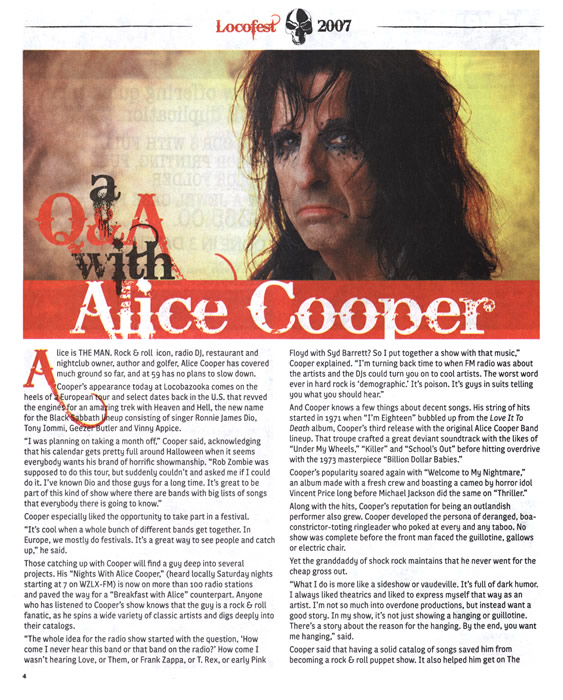 LocoFest
(September 09, 2007)
Originally Published: September 09, 2007
Q&A with Alice Cooper
Author: Scott McLennan
Alice is THE MAN. Rock & roll icon, radio DJ, restaurant and nightclub owner, author and golfer, Alice Cooper has covered much ground so far, and at 59 has no plans to slow down.
Cooper's appearance today at Locabazooka comes on the heels of a European tour and select dates back in the U.S. that revved the engines for an amazing trek with Heaven and Hell, the new name for Black Sabbath lineup consisting of singer Ronnie James Dio, Tony Iommi, Geezer Butler and Vinny Appice.
"I was planning on taking a month off," Cooper said, acknowledging that his calendar get pretty full around Halloween when it seems everybody wants his brand of horrific showmanship. "Rob Zombie was supposed to do this tour, but suddenly couldn't and asked me if I could do it. I've known Dio and those guys for a long time. It's great to be part of this kind of show where there are bands with big lists of songs that everybody there is going to know."
Cooper especially liked the opportunity to take part in the festival.
"It's cool when a bunch of different bands play together. In Europe, we mostly do festivals. It's a great way to see people and catch up," he said.
Those catching up with Cooper will find a guy deep into several projects. His "Night With Alice Cooper," (heard locally Saturdays nights starting at 7 on WZLX-FM) is now on more than 100 radio stations and paved the way for a "Breakfast with Alice" counterpart. Anyone who has listened to Cooper's show knows that the guy is a rock & roll fanatic, as he spins a wide variety of classic artists and digs deeply into their catalogs.
"The whole idea for the radio show started with the question, 'How comes I never hear this band or that band on the radio?' How come I wasn't hearing Love, or Them, or Frank Zappa, or T.Rex, or early Pink Floyd with Syd Barrett? So I put together a show with that music," Cooper explained. "I'm turning back to when FM radio was about the artists and the DJs would turn you on to cool artists. The worst word ever in hard rock is 'demographic'. It's poison. It's guys in suits telling you what you should hear."
And Cooper knows a few things about decent songs. His string of hits started in 1971 when "I'm Eighteen" bubbled up from the Love It To Death album, Cooper's third release with the original Alice Cooper Band lineup. That troupe crafted a great deviant soundtrack with the likes of "Under My Wheels," "Killer" and "School's Out" before hitting overdrive with the 1973 masterpiece "Billion Dollar Babies."
Cooper's popularity soared again with "Welcome To My Nightmare," an album made with a fresh crew and boasting a cameo by horror idol Vincent Price long before Michael Jackson did the same on "Thriller."
Along with the hits, Cooper's reputation for being an outlandish performer also grew. cooper developed the persona of deranged, boa-constrictor-toting ringleader who poked at every and any taboo. No show was complete before the front man faced the guillotine, gallows or electric chair.
Yet the granddaddy of shock rock maintains that he never went for the cheap gross out.
"What I do is more like a sideshow or vaudeville. It's full of dark humor. I always liked theatrics and liked to express myself that way as an artist. I'm not so much into overdone productions, but instead want a good story. In my show, it's not just showing a hanging or guillotine. There's a story about the reason for the hanging. By the end, you want me hanging," he said.
Cooper said that having a solid catalog of songs saved him from becoming a rock & roll puppet show. It also helped him get on The Muppet Show. By the time Cooper appeared alongside Kermit and Miss Piggy in 1978, he had broken a barrier of some sort, going from corruptor of youth to a larger-than-life character in American pop culture.
"There's definitely that moment that I think David Bowie had - and we were pre-Bowie - and that Ozzy (Osbourne) had, that point when it is clear you are not going away, that you are woven into Americana," Cooper said. "Alice Cooper is an American treasure just like Boris Karloff and Vincent Price are American Treasures. And I don't mean that I'm an American treasure, but the character of Alice Cooper is."
The guy responsible for the character was born Vincent Furnier in Detroit. Furnier became Alice Cooper as he worked on a band of the same name that fused proto-heavy metal, glam rock, and psychedelia in to a package to be delivered by an androgynous singer with a penchant for sloppy eye make up.
After stacking up press clips for his band's outrageous behavior, Alice Cooper received a bit of unexpected publicity when Bob Dylan told Rolling Stone magazine in 1978 that Cooper was an underrated songwriter.
"After that, calls came in from everybody looking for lyrics. I worked with Henry Mancini, Carole Bayer Sager and just a whole bunch of different people," Cooper said. "Writing songs is the easiest thing in the world to me. You want a song about an elephant and a giraffe on top of Mount Everest? Fine. Just tell me if you want that to be a ballad, or a rock tune, or whatever you want it."
Cooper sounded especially jazzed about a songwriting collaboration with Academy Award winner Alan Menken, who is best know for his work on such Disney films as "Beauty and The Beast" and "The Little Mermaid."
"We wrote songs for each of the seven deadly sins," Cooper said, adding the compositions with Menken are done and simply awaiting a plan for release.
In addition to the performing and writing duties that keep Cooper engaged throughout the year, he also has a hand in operating Cooperstown, a landmark eatery and nightclub in his hometown of Phoenix. Opened 12 years ago, Cooperstown is a rock and jock outpost, so unique in its approach that Cooper has thus far been reluctant to cave into calls for franchise deals.
"When I opened Cooperstown, I didn't want it to become a Hooters or like the B.B. King clubs opening everywhere. Those places are fine, but I don't want to have a menu of deep-fried food and become just another sports place," he said.
Cooperstown has become a pretty good testing ground for young music talent as proprietor Alice turns over the courtyard stage to all during the lazy Arizona summer days.
"We discovered Jordin Sparks," Cooper said.
The Glendale resident sand at Coopers'town when she was 16, and following the proprietor's advice entered "American Idol," taking the title earlier this year at 17.
Cooper's achievements are all the more notable considering that he twice found himself derailed by alcoholism. In ultimately putting down the bottle, Cooper took up gold and is now considered one of the top celebrity players. His love of the game also led to him writing Alice Cooper, Golf Monster.
But today you will see what Alice Cooper does best, namely turn the concert stage into his very own psychodrama. Welcome to the nightmare.
Alice Cooper "The sicker our fans get, the sicker we'll get." - Alice Cooper
Of course, when Alice said that, he knew full well that he was sowing the seeds not only North Americas's cultural demise but also the world's. Laugh if you will, but once you've finished drying your eyes, take a good look at what's going on around you and try telling me that Alice Cooper wasn't there first.
DecaSexual gender bending? He, any guy can dress like a girl these days, but it took a real man to change his name to Alice and have it accepted the world over as one of the most masculine monikers in the history of popular culture.
Sex and violence? Are you kidding? Everyone takes a back seat to Alice when he unleashes the dark and sinister side of his personality, everyone. When's the last time you saw anyone else chopping up babies with an axe? Or defiling a deceased dame in front of an open fridge?
However, if that's not stomach-churning enough for you, then consider this, perhaps the sickest outrage: Alice Cooper actually ran for President of the United States against that other paragon on perversion, Richard Nixon. What's really sick, though, is that Alice lost.
Face it: there are few trends in modern music that Alice Cooper didn't anticipate; fewer still that weren't incorporated by his innovative showman into one of the most bizarre and entertaining rock attractions of all time.
The audacious, precedent-shattering, inspirational, taboo-defiling hoodlum flamboyance of Alice Cooper did more than forever alter the face of rock & roll as we know it. He virtually invented rock as theater, created new fashions trends, sparked a new sexual revolution, established higher standards for teenage decadence and found time on top of all this to write and record a library of classic rock & roll albums.
The fact that Alice Cooper is rock & roll's foremost legendary statesman of outrage is far beyond reproach. Any act worth its weight in rock & roll, theatrics, makeup, and in-your-face, kick-ass punk attitude owes more than just a passing nod of respect in the direction of this malignantly macabre culprit.
(Excerpt from ALCOHOL AND RAZOR BLADES, POISON AND NEEDLES: THE GLORIOUS WRETCHED EXCESS OF ALICE COOPER, ALL-AMERICAN by Jeffrey Morgan on www.alicecooper.com.)