Kerrang!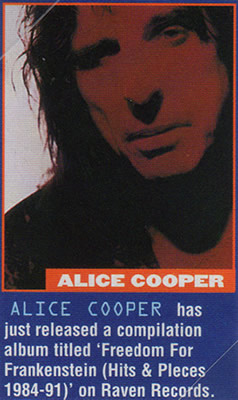 Originally Published: July 18, 1998
Freedom For Frankenstein Album Review
Alice Cooper has just released a compilation album titled 'Freedom For Frankenstein (Hits & Pieces 1984-91)' on Raven Records.
---
Alice Cooper
Freedom For Frankenstein
(Raven RVCD-69)
KKK
Running for 78 minutes and featuring 18 tracks, 'Freedom...' spans the influential one's 29-year CV, throwing in sleeve notes from Aussi mega-fan Andrew Carpenter.
The mid-period 'Friday The 13th Part IV...' theme 'He's Back (The Man Behind The Mask)' rubs shoulders with oldies like 'The Ballad Of Dwight Fry' and slick excerpts from Cooper's years of collaberation with hit-writer Desmond Child: 'Poison', 'Bed Of Nails'...
'Freedom' from '87's 'Raise Your Fist And Yell' showcases The Coop at his sneering, hard-riffing best. Other songs, such as a live 'Go To Hell', are culled from obscure single formats.
Cooper-philes will have bagged most of this years ago. Newcomers curious about the man behind Manson, however, could do worse.
Jason Arnopp