Kerrang!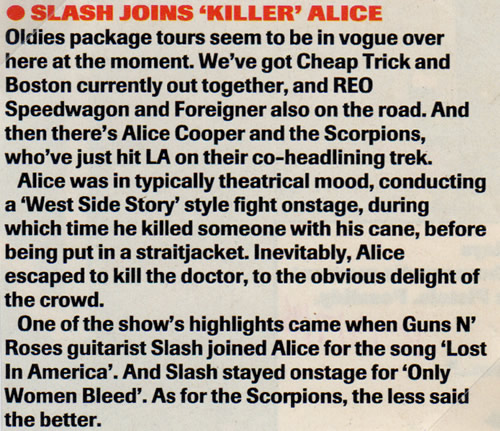 Originally Published: July 13, 1996
Slash Joins 'Killer' Alice
Oldies package tours seem to be in vogue at the moment over here at the moment. We've got Cheap Trick and Boston currently out together, and REO and Speedwagon and Foreigner also on the road. And then there's Alice Cooper and the Scorpions, who've just hit LA on their co-headling trek.
Alice was in typically theatrical mood, conducting a 'West Side Story' style fight onstage, during which time he killed someone with his cane, before being put in a straightjacket. Inevitably, Alice escaped to kill the doctor, to the obvious delight of the crowd.
One of the show's highlights came when Guns N' Roses guitarist Slash joined Alice for the song 'Lost In America'. And Slash stayed onstage for 'Only Women Bleed'. As for the Scorpions, the less said the better.