Kerrang!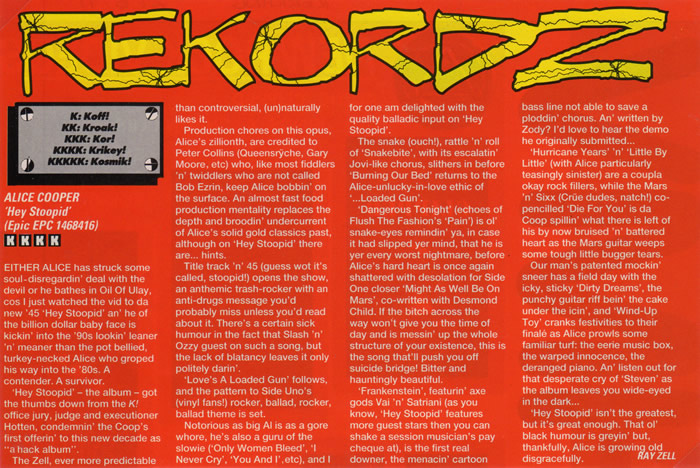 Originally Published: June 29, 1991
Stoopid Time To Release An Album
Legendary shock rocker Alice Cooper releases his new album, 'Hey Stoopid', through Epic on July 1.
It features the following tracks: Side One: 'Hey Stoopid', 'Love's A Loaded Gun', 'Snakebite', 'Burning Our Bed', 'Dangerous Tonight', 'Might As Well Be On Mars'. Side Two: 'Frankenstein', 'Hurricane Years', 'Little By Little', 'Die For You', 'Dirty Dreams', 'Wind-Up Toy'.
The album also includes guest appearances from Axl Rose and Slash, Joe Satriani, Steve Vai and Ozzy Osbourne.
---
Hey Stoopid
Alice Cooper
'Hey Stoopid'
(Epic EPC 1468416)
KKKK
Either Alice has stuck soul soul-disregardin' deal with the devil or he bathes in Oil Of Ulay, cos I just watched the vid to da new '45 'Hey Stoopid' an' he of the billion dollar baby face is kickin' into the '90s lookin' meaner and leaner than the pot bellied, turkey-necked Alice who groped his way into the '80s. A contender. A survivor.
'Hey Stoopid' - the album - got the thumbs down from the K! Office jury, judge and executioner Hotten, condemnin' the Coop's first offerin' to this decade as "a hack album".
The Zell, ever more predictable than controversial, (un)natually likes it.
Production chores on this opus, Alice's zillionth, are credited to Peter Collins (Queensryche, Gary Moore, etc) who, like most fiddlers'n'twiddlers who are not called Bob Ezrin, keep Alice bobbin' on the surface. An almost fast food production mentality replaces the depth and broodin' undercurrent of Alice's solid gold classics past, although on 'Hey Stoopid' there are.... hints.
Title track 'n' 45 (guess wot it's called, stoopid!) opens the show, an anthemic trash-rocker with an anti-drugs message you'd probably miss unless you'd read about it. There's a certain sick humour in the fact that Slash 'n' Ozzy guest on such a song, but the lack of blatancy leaves it only politely darin'.
'Love's A Loaded Gun' follows, and the pattern to Side Uno's (vinyl fans!) rocker, ballad, rocker, ballad theme is set.
Notorious as big Al is as a gore whore, he's also a guru of the slowie ('Only Women Bleed', 'I Never Cry', 'You And Me', etc), and I for one am delighted with the quality balladic input on 'Hey Stoopid'.
The snake (ouch!), rattle 'n' roll of 'Snakebite', with its escalatin' Jovi-like chorus, slithers in before 'Burning Our Bed' returns to the Alice-unlucky-in-love ethic of '...Loaded Gun'.
'Dangerous Tonight' (echoes of 'Flush The Fashion's' 'Pain') is ol' snake-eyes remindin' ya, in case it had slipped yer mind, that he is yer every worst nightmare, before Alice's hard heart is once again shattered with desolation for Side One's closer 'Might As Well Be On Mars', co-written with Desmond Child. If the bitch across the way won't give you the time of day and is messin' up the whole structure of your existence, this is the song that'll push you off suicide bridge! Bitter and hauntingly beautiful.
'Frankenstein', featurin' axe gods Vai 'n' Satriani (as you know, 'Hey Stoopid' features more guest stars then you can shake a session musician's pay cheque at), is the first real downer, the menacin' cartoon bass line not able to save a ploddin' chorus. An' written by Zody? I'd love to hear the demo he originally submitted....
'Hurricane Years' 'n' 'Little By Little' (with Alice particularly teasingly sinister) are a couple of okay rock fillers, while the Mars 'n' Sixx )Crue dudes, natch!) co-pencilled 'Die For You' is da Coop spillin' what there is left of his by now bruised 'n' battered heart as the Mars guitar weeps some tough little bugger tears.
Our man's patented mockin' sneer has a field day with the icky, sticky 'Dirty Dreams', the punchy guitar riff bein' the cake under the icin', and 'Wind-Up Toy' cranks festivities to their finale as Alice prowls some familiar turf: the eerie music box, the warped innocence, the deranged piano. An' listen out for that desperate cry of 'Steven' as the album leaves you wide-eyed in the dark...
'Hey Stoopid' isn't the greatest, but it's great enough. That ol' black humour is greyin' but, thankfully, Alice is growing old disgracefully.