Kerrang!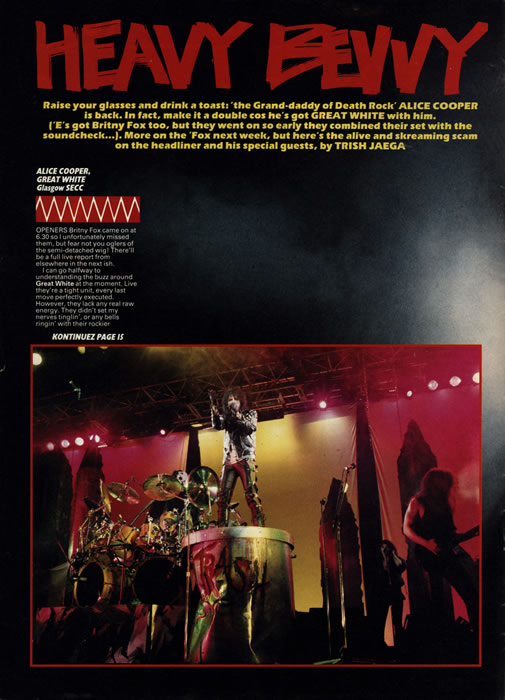 Kerrang!
(December 16, 1989)
Originally Published: December 16, 1989
Heavy Bevvy
Author: Trish Jaeger
Raise your glasses and a drink a toast: 'the Grand-daddy of Death Rock' Alice Cooper is back. In fact, make it a double cos he's got Great White with him.('E's got Britney Fox too, but they went on so early they combined their set with the soundcheck...). More on the 'Fox' next week, but here's the alive and skreaming scam on the headliner and his special guests
Alice Cooper,
Great White
Glasgow SECC
Openers Britney Fox came on at 6.30 so I unfortunately missed them, but fear not you oglers of the semi-detached wig! There'll be a full live report from elsewhere in the next ish.
I can go halfway to understand the buzz around Great White at the moment. Live they're a tight unit, every last move perfectly executed. However, they lack any real raw anergy. They didn't set my nerves tinglin', or even any bells ringin' with their rockier material, which tended after a while, to sound standard, and plodded too much to make any real impression.
Jack Russel has a great voice and a lousy attitude. His between song banter is little more than that of a Romford beer boy, as he introduces a song "about gettin' down an' screwin' on a dirty floor", then proceeds to sing 'On Your Knees'.
My! How rude can you get? Listen honey, do you honestly believe all us guuurls would be remotely interested in gettin' down to it with a man who is even more dog-like than his moniker? Some of us do have brains.
However, Great White are past masters at the Rock Ballad and when Russell manages to restrict his mouth to what it's best at, he can be immense.
'House Of Broken Dreams' is an epic song that lifted Great White out of the mundane, and into the classic.
Mark Kendall filled this vast arena with a lead break that made the hair on my head stand on end, while Russell's heartfelt vocal had me thinking that maybe he is a sensitive soul underneath all that macho bluster.
I have to say I preferred Ian Hunter's original 'Once Bitten Twice Shy', but Great White's was pretty happenin', and worked well as a crowd rouser. I was very nearly won over.
Because when Great White forget their image, and go hand in hand with their emotions, the can be truly riveting.
An encouraging thought as we waited for Alice Cooper, the Grand-daddy of Death Rock, the guy that begat a thousand Goth bands when Batcave was still the caped crusader's residence. And now he has returned, and how!
Alice is back with more-thrust-than-cut vengeance, blowing away the cynical an' makin' mincemeat of the competition.
He's also very clever. Which is why he's got a new band, who are young 'n' pretty, in a Skid Row kinda way and who I'm holding entirely responsible for breathing new life into an act that was in danger of becoming predictable. When Alice hits town this time around, there's an energy and excitement that I found slightly lacking last year.
Opening with 'Trash' and swinging bullwhip over head like a mutant majorette, this is, as the man himself so aptly put it, "a lot less gore and a lot more whore". Alice pouts and parodies against a wall of pure hard-hitting rock. Al Patrelli plays a mean guitar and bears more than a passing resemblance to the Almighty's mean machine Ricky Warwick.
We've barely caught our breath when we are launched into a thumpin' pumpin' 'Billion Dollar Babies'. The new band taking Alice's old material in their stride, performing it as if it were their own.
But it has to be said that a percentage of the crowd were looking a bit nonplussed at this point. The 'Trash' album's commercial edge has won him a new younger audience, and it's easy to serperate them from the diehards when watching how they react twixt old and new material. There are going to be the obvious grudges over this, but hell, better to corrupt 'em now, than leave 'em to that goof Kylie.
Quite what they made of 'The Ballad Of Dwight Fry' is unknown. From straightjacket to, 'Nurse! The eye kohl pleeze!...'. Forget Freddy: nasty Al is back to get ya, feeding off those nightmarish fears, climbing the walls of insanity. When he's got that magic gleam in his eye, it's hard to believe it's only an act. Disquieting.
And what would an Alice show be without the guillotine? Here's gore galore, with 'I Love The Dead', complete with blood spewing head held aloft, entrails a hangin'.
Then it's back to the new album for a crusty thrustin' 'Poison', and sick-pop 'Bed Of Nails', bassman Tommy 'T-bone' Caradonna providing pounding lines guaranteed to verberate up ya vertabrae.
So through to the ever excellent sing-a-long-a-Alice 'School's Out', when he donned tartan scarf to a roar of approval from the crowd. Finally, finishing the show on a dynamic encore of 'Under My Wheels'.
Alice was awesome. Like a cartoon character, you know he'll come bouncing back no matter how many times he is destroyed - metaphorically or otherwise. 'Trash' is Alice's 20th LP. It is also his graceful acquiescence to the onslaught of commercial thrust 'n' grind rock. He's made the transition beautifully.
Tonight with less props, the music came into the fore in its own right. Alice kicks out the '80s in true style, showing those GN'R boyz that anything they can do, this veteran can give 'em a good run for their money.
Whore for this Sexgore? You bet! - Trish Jaega
---
Alice Cooper
The Beast Of Alice Cooper
(Warner Brothers 241781-1)
KKKKK
If there's one thing that pisses me off about the record industry it's the way labels are constantly releasing compilation albums 'in honour' of an artist once signed to them - an artist either enjoying bigger and better success or, as here, simply touring the country.
And as coincidence would have it, 'Beast Of Alice Cooper' arrived the very week the prince of darkness began his latest British tour, despite the fact that most of his early albums are still available in the stores. Warner Brothers are being very greedy.
The bottom line is though, like all the Aerosmith 'Best Of's and greatest hits albums, the material cannot be faulted; this is classic Alice Cooper. The Very Beast. 14 tracks of rebellion, horror and general unpleasantness.
The hits are here; 'School's Out', 'Only Women Bleed', 'Elected', 'No More Mr. Nice Guy and even 'Hello Hurray'.
Very nasty rock 'n' roll is served up via 'Under My Wheels' and 'Desperado', and horrific little tales almost perverse in nature arrive courtesy of 'Billion Dollar Babies' (the title track from my favourite Alice album) and 'Is It My Body'.
Oh yeah, and there's the rather Kiss-like 'Department Of Youth': more cute than rebellious, and a song due to be covered by Pretty Boy Floyd soon enough.
The principles behind its release suck but time but, glory be, there's life in the stuff on this album yet. - Dave Reynolds.