Kerrang!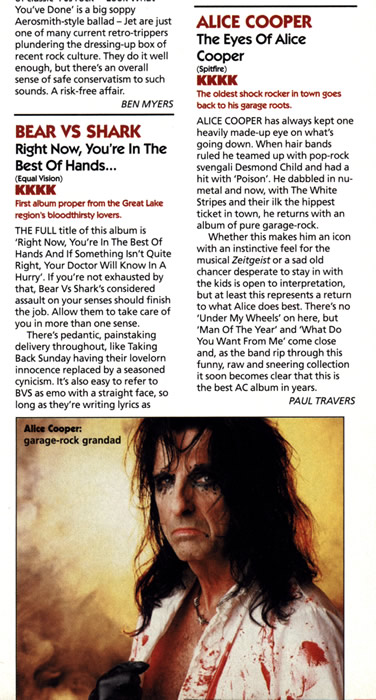 Kerrang!
(September 27, 2003)
Originally Published: September 27, 2003
Eyes of Alice Cooper Review
Author: Paul Travers
Alice Cooper
The Eyes Of Alice Cooper
(Spitfire)
4/5
The oldest shock rocker in town goes back to his garage roots Alice Cooper has always kept one heavily made-up eye on what's going down. When hair bands ruled he teamed up with pop-rock svengali Desmond Child and had a hit with 'Poison'. He dabbled in nu-metal and now, with The White Stripes and their ilk the hippest ticket in town, he returns with and album of pure garage-rock.
Whether this makes him an icon with an instinctive feel for the musical zeitgeist or a sad old chancer desperate to stay in with the kids is open to interpretation, but at least this represents a return to what Alice does best. There's no 'Under My Wheels' on here, but 'Man of the Year' and 'What do you want from me' come close and, as the band rip through this funny, raw and sneering collection it soon becomes clear that this is the best AC album in years.
---
Alice Cooper has turned down the chance to star in a musical based on the children's book 'Chitty Chitty Bang Bang'. Cooper was set to play the child catcher in the production in London's West End but ended up declining the offer after watching a performance last week.
"Alice enjoyed the show a lot but decided the part wasn't for him" says a spokesman.