Kerrang!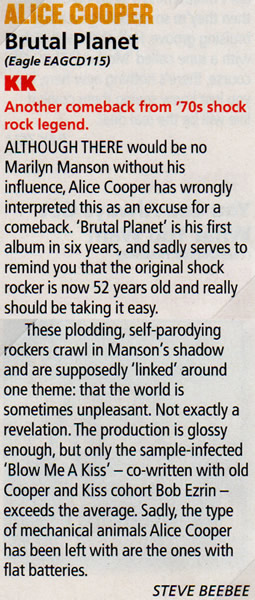 Originally Published: June 17, 2000
Brutal Planet Review
Author: Steve Beebee
Alice Cooper
Brutal Planet
(Eagle EAGCD115)
2/5
Another comeback from '70s shock rock legend.
Although there would be no Marilyn Manson without his influence, Alice Cooper has wrongly interpreted this as an excuse for a comeback. 'Brutal Planet' is his first solo album in six years, and sadly serves to remind you that the original shock rocker is now 52 years old and really should be taking it easy.
These plodding, self-parodying rockers crawl Manson's shadow and are supposedly 'linked' around one theme: that the world is sometimes unpleasant. Not exactly a revelation. The production is glossy enough, but only the sample-infected 'Blow Me A Kiss' - co-written with old Cooper and Kiss cohort Bob Ezrin - exceeds the average. Sadly, the type of mechanical animals Alice Cooper has been left with are the ones with flat batteries.