Hot Metal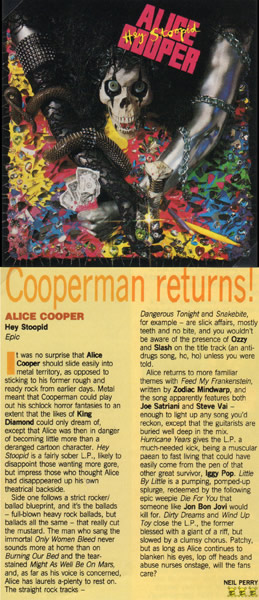 Originally Published: August 1991
Cooperman Returns!
Author: Neil Perry
ALICE COOPER
'Hey Stoopid'
It was no surprise that Alice Cooper should slide easily into metal territory. As opposed to sticking to his former rough and ready rock from earlier days. Metal meant that Cooperman could play out his schlock horror fantasies to an extent that the likes of King Diamond could only dream of, except that Alice was then in danger of becoming little more than a deranged cartoon character. 'Hey Stoopid' is a fairly sober LP, likely to disappoint those wanting more gore, but impress those who though Alice had disappeared up his own theatrical backside.
Side one follows a strict rocker/ballad blueprint, and it's the ballads - full-blown heavy rock ballads, but ballads all the same - that really cut the mustard. The man who sang the immortal 'Only Women Bleed' never sounded more at home than on 'Burning Our Beds' and the tear stained 'Might as Well Be On Mars', and, as far as his voice is concerned, Alice has laurels a-plenty to rest on.
The straight rock tracks - 'Dangerous Tonight' and 'Snakebite' for example, - are slick affairs, mostly teeth and no bite, and you wouldn't be aware of the presence of Ozzy and Slash on the title track (an anti-drugs song, ho, ho) unless you were told.
Alice returns to more familiar themes with 'Feed My Frankenstein' written by Zodiac Mindwarp, and the song apparently features both Joe Satriani and Steve Vai - enough to light up any song you'd reckon, except that the guitarists are buried well deep in the mix.
'Hurricane Years' gives the LP a much-needed kick, being a muscular paean to fast living that could have easily come from the pen of that other great survivor, Iggy Pop. 'Little By Little' is a pumping, pomped-up splurge, redeemed by the following epic weepie 'Die For you' that someone like Jon Bon Jovi would kill for. 'Dirty Dreams' and 'Wind-Up Toy' close the LP, the former blessed with a giant riff but slowed by a clumsy chorus. Patchy, but as long as Alice continues to blacken his eyes, lop off heads and abuse nurses onstage, will his fans care?