Herald Sun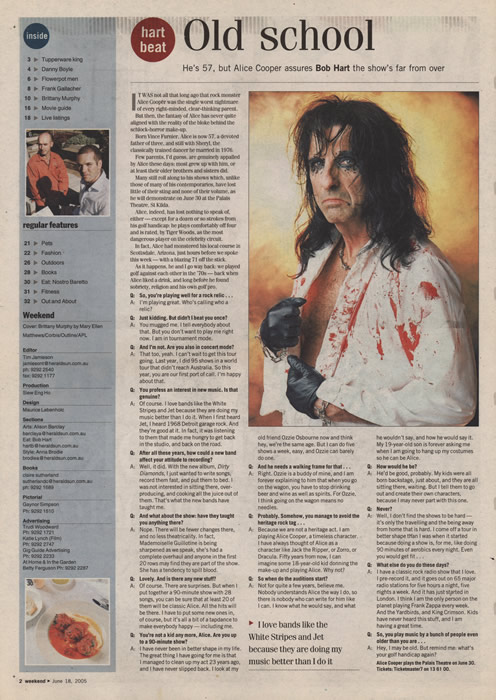 Herald Sun
(June 18, 2005)
Originally Published: June 18, 2005
Old School
He's 57, but Alice Cooper assures Bob Hart the show's far from over
Author: Bob Hart
It was not all that long ago that rock monster Alice Cooper was the single worst nightmare of every right-minded, clear-thinking parent. But then, the fantasy of Alice was never quite aligned with the reality of the bloke behind the schlock-horror make-up.
Born Vince Furnier, Alice is now 57, a devoted father of three, and still with Sheryl, the classically trained dancer he married in 1976.
Few parents, I'd guess, are genuinely appalled by Alice these days: most grew up with him, or at least their older brothers and sisters did.
Many still roll along to his shows which, unlike those of many of his contemporaries, have lost little of their sting and none of their volume, as he will demonstrate on June 30 at the Palais Theatre, St Kilda.
Alice, indeed, has lost nothing to speak of, either - except for a dozen or so strokes from his golf handicap: he plays comfortably off four and is rated, by Tiger Woods, as the most dangerous player on the celebrity circuit.
In fact, Alice had monstered his local course in Scottsdale, Arizona, just hours before we spoke this week - with a blazing 71 off the stick.
As it happens, he and I go way back: we played golf against each other in the '70s - back when Alice liked a drink, and long before he found sobriety, religion and his own golf pro.
Q: So, you're playing well for a rock relic...
A: I'm playing great. Who's calling who a relic?
Q: Just kidding. But didn't I beat you once?
A: You mugged me. I tell everybody about that. But you don't want to play me right now. I am in tournament mode.
Q: And I'm not. Are you also in concert mode?
A: That too, yeah. I can't wait to get this tour going. Last year, I did 95 shows in a world tour that didn't reach Australia. So this year, you are our first port of call. I'm happy about that.
Q: You profess an interest in new music. Is that genuine?
A: Of course. I love bands like the White Stripes and Jet because they are doing my music better than I do it. When I first heard Jet, I head 1968 Detroit garage rock. And they're good at it. In fact, it was listening to them that made me hungry to get back into the studio, and back on the road.
Q: After all these years, how could a new band affect your attitude to recording?
A: Well, it did. With the new album, Dirty Diamonds, I just wanted to write songs, record them fast, and put them to bed. I was not interested in sitting there, over-producing, and cooking all the juice out of them. That's what the new bands have taught me.
Q: And what about the show: have they taught you anything there?
A: Nope. There will be fewer changes there, and no less theatricality. In fact, Mademoiselle Guillotine is being sharpened as we speak, she's had a complete overhaul and anyone in the first 20 rows may find they are part of the show. She has a tendency to spill blood.
Q: Lovely. And is there any new stuff?
A: Of course. There are surprises. But when I put together a 90-minute show with 28 songs, you can be sure that at least 20 of them will be classic Alice. All the hits will be there. I have to put some new ones in, of course, but it's all a bit of a tapdance to make everybody happy - including me.
Q: You're not a kid any more, Alice. Are you up to a 90-minute show?
A: I have never been in better shape in my life. The great thing I have going for me is that I managed to clean up my act 23 years ago, and I have never slipped back. I look at my old friend Ozzy Osbourne now and think hey, we're the same age. But I can do fine shows a week easy, and Ozzy can barely do one.
Q: And he need a walking frame for that...
A: Right. Ozzy is a buddy of mine, and I am forever explaining to him that when you go on the wagon, you have to stop drinking beer and wine as well as spirits. For Ozzy, I think going on the wagon means no needles.
Q: Probably. Somehow, you managed to avoid the heritage rock tag...
A: Because we are not a heritage act. I am playing Alice Cooper, a timeless character. I have always thought of Alice as a character like Jack the Ripper, or Zorro, or Dracula. Fifty years from now, I can imagine some 18-year-old kid donning the make-up and playing Alice. Why not?
Q: So when do the auditions start?
A: Not for quite a few years, believe me. Nobody understands Alice the way I do, so there is nobody who can write for him like I can. I know what he would say, and what he wouldn't say, and how we would say it. My 19-year-old son is forever asking me when I am going to hang up my costumes so he can be Alice.
Q: How would he be?
A: He'd be good, probably. My kids were all born backstage, just about, and they are all sitting there, waiting. But I tell them to go out and create their own characters, because I may never part with this one.
Q: Never?
A: Well, I don't find shows to be hard - it's only the travelling and the being away from home that is hard. I come off a tour in better shape then I was when I started because a show is, for me, like doing 90 minutes of aerobics every night. Even you would get fit...
Q: What else do you do these days?
A: I have a classic rock show that I love. I pre-record it, and it goes out on 65 major radio stations for five hours a night, five nights a week. And it had just started in London. I think I am the only person on the planet playing Frank Zappa every week. And the Yardbirds, and King Crimson. Kids have never heard this stuff, and I am having a great time.
Q: So, you play music by a bunch of people even older than you are...
A: Hey, I may be old. But remind me: what's your golf handicap again?
Alice Cooper plays the Palais Theatre on June 30.