Herald Sun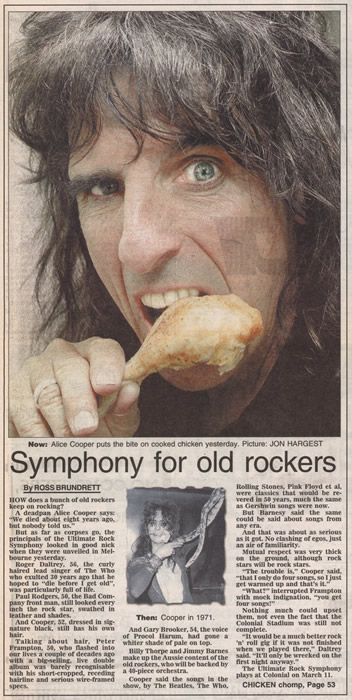 Herald Sun
(February 22, 2000)
Originally Published: February 22, 2000
Symphony for old rockers
Author: Ross Brundrett
How does a bunch of old rockers keep on rocking?
A deadpan Alice Cooper says: "We died about eight years ago, but nobody told us."
But as far as corpses go, the principals of the Ultimate Rock Symphony looked in good nick when they were unveiled in Melbourne yesterday.
Roger Daltrey, 56, the curly haired singer of The Who who exulted 30 years ago that he hoped to "die before I get old," was particularly full of life.
Paul Rogers, 50, the Bad Company front man, still looked every inch the rock star, swathed in leathers and shades.
Alice Cooper, 52, dressed in signature black, still has his own hair.
Talking about hair, Peter Frampton, 50, who flashed into out lives a couple of decades ago with a big-selling, live double album with his short-cropped, receding hairline and serious wire-framed specs.
And Gary Brooker, 54, the voice of Procol Harum, had gone a white shade of pale on top.
Bill Thorpe and Jimmy Barnes make up the Aussie content of the old rockers, who will be backed by a 40-piece orchestra.
Cooper said the songs in the show, by The Beatles, The Who, Rolling Stones, Pink Floyd et all, were classics that would be revered in 50 years, much the same as Gershwin songs were now.
But Barnesy said the same could be said about songs from any era.
And that was about as serious as it got. No clashing of egos, just an air of familiarity.
Mutual respect was very thick on the ground, although rock stars will be rock stars.
"The trouble is," Cooper said, "that I only do four songs, so I just get warmed up and that's it."
"What?" interrupted Frampton with mock indignation, "you get four songs!"
Nothing much could upset them, not even the fact that the Colonial Stadium was still not complete.
"It would be a much better rock 'n' roll gig if it was not finished when we played there," Daltrey said. "It'll only be wrecked on the first night anyway."
The Ultimate Rock Symphony plays at Colonial on March 11.
Chicken Chomp
Rocker Alice Cooper bites the head off a legendary story, write Ross Brundrett
There was probably a time when anyone who mentioned Alice Cooper's supposed penchant for biting the heads of live chickens would have had their own head bitten off.
But not any more. Alice had evolved, perhaps even matured, just like the rest of us.
When fellow old rocker Roger Daltrey mentioned the chook-biting thing again at a Melbourne press conference yesterday, at the launch of the immodestly named "Ultimate Rock Symphony", Alice just laughed it off. Again.
"You know it's just one of those urban legends," he told the Herald Sun later in an exclusive interview.
"I never put a chicken's head in my mouth... like Ozzy Osbourne never bit the head off a pigeon, or whatever. These things just grow out of someone's imagination."
But it doesn't worry him. Nothing much does these days.
"I don't even mind being called a rock dinosaur because it means you have put in the hard work to get there. It takes a lot to be a rock dinosaur. You know, it should be some kinda private club."
The fact that Alice had joined the Ultimate Rock Symphony troupe for the Australian tour is part down to timing ("I've finished my 26th album, called Brutal Planet, and don't tour until June") and part down to what he calls his own debt to the British invasion of the '60s and '70s.
"I was such a big fan of The Who and the Yardbirds when I was young. I could recite all the lyrics to The Who songs," says the 52-year-old, which must make Roger Daltrey feel even older.
"I got to be good friends with Pete Townsend and especially Keith Moon (The Who's late drummer). I mean, Keith would drop in for a visit and a week later he'd still be there."
When Cooper says that '60s British rock was his major influence (along with Chuck Berry and West Side Story, apparently), he is not being patronising.
In the lift to Cooper's room, he is joined by Gary Brooker, the silver haired singer from Procol Harem, who is also part of the show.
"He has The Voice," says a still-awe-struck Cooper. "When we are on stage together he belts it out and I just whisper along."
He tells how he apologised to Brooker in Hamburg once when his band headlined a concert and Procol Harem were the support act. "It didn't seem right that we were stars of the show ahead of these guys."
The disarming lack of ego helps in the Ultimate Rock Symphony, where Cooper shares the limelight with Who legend Daltrey, former Bad Company frontman Paul Rodgers, Brooker, the once-very-hot Peter Frampton, Aussie legends Billy Thorpe and Jimmy Barnes and UK belter (and Daltrey protege) Nikki Lamborn.
"I think it is a tribute to the longevity of the songs. It's nice to be associated with songs that have become rock classics," says Cooper, who like so many other survivors of the industry has found a new direction away from sex 'n' drugs.
Some found God. Some, like Alice, found golf. "I'm probably the best rock 'n' roll golfer in the world," says the four-handicapper, who plays five or six times a week and is probably playing a round somewhere today.
But of course that's not Alice, that's the one-time Vincent Furnier, from Detroit. "Alice hates golf," he agrees. "Alice sees golf clubs as weapons."
It's an amazing thing, how he has maintained his on-stage character for so many years without going mad.
But with Cooper, his music has always been theatrical, and like any good actor he has learnt to nurture his separate personalities.
"I could never go on stage and do what Alice does," says Cooper, who jogs and claims to be in "the best shape I have been in 30 years".
"But I really think age is irrelevant, anyway."
The Ultimate Rock Symphony is touring Australia and appears at the Colonial Stadium, Saturday, March 11.