Guitar World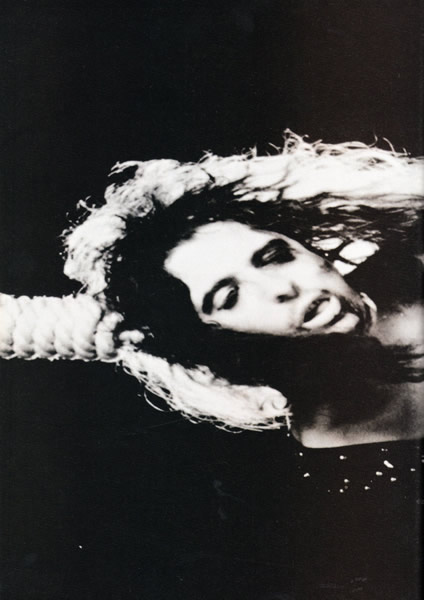 Originally Published: July 1999
Well Hung
With their elaborate stage shows and gallows humor, glam rock pioneers the Alice Cooper Group set new standards for bad taste and great guitar rock.
Author: Christopher Scapelliti
The oily psyche of Alice Cooper isn't an easy thing to grasp, not even if you happen to be Alice Cooper. The first king of shock rock has been reshaping his persona since 1969, when he traded his life as Vincent Furnier, a preacher's son from Detroit, for that of the androgynous, doll-chopping, snake-charming leader of one of popular music's most original acts. It was potent stuff for it's time, a rock and roll horror show designed to shock a populace numbed by the hippies an flower-power movement.
Small wonder he succeeded. In an industry rife with heroes, Alice Cooper played the menacing underdog who sang to every adolescent's feeling of frustration and alienation in songs like "I'm Eighteen," "Is It My Body" and "School's Out." Teens caught onto Cooper's message quickly, and from 1970 to 1974, the Alice Cooper Group was one of the biggest-selling recording artists, not to mention one of the top concert draws in America.
So it came to some surprise when, in 1974, having led his band to international success, Cooper inexplicably abandoned them for a solo career. Suddenly, the man who promised "No More Mister Nice Guy" was crooning the thoughtful ballad "Only Women Bleed" and making golf tournament appearances with Republican-friendly comic Bob Hope. By the late eighties he'd once again turned up the heat on his stage persona, recasting himself as rock's dark avenging angel. But by then, who cared? If, as Cooper says, the nasty Alice was more fun to play, he was also becoming something of a nostalgia act.
Now, thanks to The Life and Times of Alice Cooper [sic] (Rhino/Warner Bros.), he's enjoying a comeback all over again. The four-disc retrospective is a long-awaited celebration into the career of rock's most macabre artist, placing his convention-busting exploits into historical perspective. Once again. Cooper is getting his due as the man who in the early Seventies put show-biz pomp into rock music with greasepaint, eyeliner and high-camp concert stunts like hangings and beheadings. Once again, he's honored for inspiring the glimmering androgyny of glam rock and the fuck-you attitude of England's late-Seventies punk movement - not to mention the Las Vegas glitz of Marilyn Manson, and buckets of o' blood gore of Rob Zombie and the twisted, juvenile humor of the Offspring.
None of which is sitting very well with Michael Bruce. Bruce was rhythm guitarist in the Alice Cooper Group, one of its five founding members and co-writer of some two-thirds of its songs. But since the band's breakup, Bruce has been among the ranks of rock's missing in action, while Cooper has received the credit for much of what they created.
"When we called the group Alice Cooper, Vince 'became' Alice," says Bruce, who today lives in Texas, where he heads up the Michael Bruce Group. "The band fell into more of a supporting role in people's minds, and maybe in his, too.
"Keep this in mind: I'm not bitter. It's been a long time since we broke up. Alice and I have even made up and played together since then. But he's Alice Cooper now - he's not Vince, not the guy we formed the band with. And now the box set is out and all of our hits are on it, and he'll perform them with everybody except us."
Bruce is in part bothered that history has overlooked the talents of the Alice Cooper Group, focusing instead on the more controversial and flamboyant aspects of its lead singer. "We were always considered the band that couldn't play," he says. "Nobody really took us seriously." But as albums like Love It To Death, School's Out and Billion Dollar Babies make clear, the Coopers crafted one of the most identifiable sounds in classic rock. With their double-cutaway Les Paul Customs and Marshell amps, Bruce and co-guitarist Glen Buxton dialed in a hard rock sound that lent menace even to their most melodic riffs. On the rhythm flank, drummer Neal Smith's solid jazz-rock style was the perfect foil for Bruce and Buxton's rhythmic interplay, while Dennis Dunaway's melodic bass runs ensured there was always something interesting percolating in the bottom end.
Alice Cooper, for the part, has always given his former bandmates their due, in interviews and in his 1976 autobiography, Me, Alice. But while he occasionally reteamed with some of the original members - as he did last December with Bruce and Smith for the grand opening of his Cooper'stown sports bar in Phoenix, Arizona - he reacts to the word reunion as a vampire does to sunlight. "I don't want to be a retro relic," he says adamantly. "Even though I understand a lot of the nostalgia behind Alice Cooper, I'm still doing new material."
Besides, there's that new, nasty Alice he has to deal with. "Songs like 'Eighteen', 'Ballad of Dwight Fry', 'No More Mr. Nice Guy' - these songs were about Alice, who at the time was a victim.
"And that's not Alice anymore."
To find the original Alice, you have to go back to Phoenix, to 1966, when Michael Bruce, a member of a local group called the Wildflowers, was invited by Dennis Dunaway to join the Spiders, a group he'd formed with Vincent Furnier, Glen Buxton and John Speer, a drummer and fellow student at Cortez High School. Like the Spiders, Bruce had a love for English bands and an interest in theatre and art. "At the time, Phoenix was a test market for British pop music," says Bruce. "We would get all these English bands playing at the local VIP Club - the Yardbirds, the Hollies, the Animals, Them. English bands were generally theatrical, and while none of them were very extravagant, we were impressed by their showmanship."
"We wanted to be the Yardbirds, the guitar band - because that's what we listened to," says Cooper. "Jeff Beck and Mike Bloomfield and Clapton - to us, these were the guys."
With the Brit groups as their yardstick, the Spiders went looking for the limits of rock convention, growing their hair to excessive lengths and developing their own brand of dark, psychedelic music. By the spring of 1968, the novice group, having met with some success around Phoenix, decided to try its luck in L.A. and moved into a home in the Hollywood Hills. Prior to their arrival the Spiders tired of their name and became the Nazz, a nick-name for Jesus of Nazareth coined by Lord Buckley, a hip New York comic of the Fifties. Unbeknownst to the group, a Philadelphia group led by guitarist Todd Rundgren had already the name and were in the process of releasing an album.
By now, nearly every Alice Cooper fan has heard how the group acquired its name after Vince took part in a seance. Asking the ouija board about his identity in a past life, he watched in awe as the board spelled out "A-L-I-C-E-C-O-O-P-E-R."
Cooper's version of the story is slightly less colorful. "I made up the name Alice Cooper," he says for what might be the millionth time, "It just came out of nowhere. I could have chosen Barbara Thompson - any name - but the first name that came into my head was Alice Cooper. By the end of the day, we were sold on it. We didn't even think twice. We just assumed it."
It was in this guise that the group began honing its act along the Sunset Strip. "L.A. was really where we started to get our show together," says Bruce. "We were a young band at the time, and L.A. was a tough neighborhood. The local bands were exciting act like the Doors, Love, Grateful Dead, Beach Boys and Jefferson Airplane. We were still kids and we were still developing as musicians and songwriters. In fact, we started to incorporate theatrics into our show as a way of distracting the audience from the fact that we weren't very good musicians."
Cooper remembers the time somewhat differently. "Music was sooo boring when we started out," he says. "As much as they're my friends, bands like the Byrds or Crosby, Stills and Nash were so predictable, so easy listening and easy to look at. At the time, most rock groups were wearing Levi's and T-shirts. I thought rock and roll was more special then that; I thought an American rock and roll band, man - it should sound like the Ice Capades! It should be big and flashy, like a great big Cadillac. I thought, Give the audience a show!"
By early 1969, the Alice Cooper Group were giving the Strip a show, all right. A night with the Coopers combined aggressive, psychedelic garage rock with flamboyant costuming and pillowfuls of feathers sent aloft by canisters of CO2. Hecklers were frequent, but they were no match for their frightful host. "If someone heckled Alice, he would just make fun of them and humiliate them," says Bruce. "It worked well with the aggressive nature of our music."
It didn't go over so well with the group's drummer. Shortly after arriving in L.A., John Speer, fed up with his bandmates' increasingly reckless stage antics, returned to Phoenix. Neal Smith, then a drummer in the group Holy Grail, made a convenient replacement; not only did he have the requisite long hair but as an occupant at the Coopers' Hollywood apartment, he was both accessible and accustomed to their exorbitant capacity for outrageousness.
The groups notoriety would soon bring them to the attention of an L.A. denizen even more unusual than themselves. Frank Zappa was already an established avant-rock composer and the leader of the Mothers of Invention when the Alice Cooper Group's demo tape fell into his hands. Zappa had recently formed Straight Records, a label dedicated to groups who played anything but straight-ahead rock. If the Coopers' tape only mildly interested him, a visit to one of their performances at the Cheetah Club in Venice, California, convinced him to sign the group.
In quick succession, the Alice Cooper Group recorded two albums for Straight: Pretties for You, released in December 1969, and Easy Action, released in June 1970. Neither sold well, although Pretties for You gave the group a chance to tour and perform at the Toronto Rock 'n' Roll Revival organized by John Lennon and Yoko Ono. It was here that the group reportedly caused a scandal when Alice, bored with blowing feathers at the audience, threw a live chicken into the fray, thinking it would fly. The audience quickly dismembered the animal, leading to reports that it was Cooper himself who had committed the act.
Once back in L.A., things quickly began to fall apart for the group. "When it came time to do Easy Action, our situation still wasn't great," says Bruce. "There just wasn't a place there for our kind of music, and we finally figured we should just leave L.A."
"They ran us out of town on a rail," says Cooper, in a rare moment of overstatement. "They just didn't get what we were doing, and they were too mellow for us. We ended up moving to Detroit, because I had grown up there and they had a pretty great music scene happening at the time."
Arriving in Detroit, the group soon found themselves booked for an outdoor festival in Ann Arbor or Saugatuck, depending on who's telling the story. "I had never seen Iggy and the Stooges before," says Cooper. "I'd never seen MC5 - never even heard of 'em. The next thing we knew, we were up on stage playing with these guys. And there were tens of thousands of people in the audience and they totally got what we were doing. They dug that we were louder than the MC5, and more obnoxious, too.
"And by the end of that night, we were a Detroit band."
By 1970, Detroit had earned a reputation for outlandish music acts. The MC5 and Iggy Pop's Stooges had made their name by the time the Alice Cooper Group took up residence in a farmhouse in nearby Pontiac. "We were struck by how strong the grass-roots movement was in Detroit," says Bruce. "Grand Funk already had a recording studio on their farm. Plus, it was a good area to work out of because you had lots of nearby places to play in Illinois, Ohio, Indiana and, of course, Michigan."
Detroit's proximity to Canada would prove to be of even greater benefit to the group. Shep Gordon, a manager who took up with the Coopers when they signed with Zappa, somehow determined that they needed to sound like Guess Who, a Canadian rock act produced by Jack Richardson of Nimbus 9 Productions, in Toronto. Richardson needed to take only one look at the Cooper group to know he wanted nothing to do with them. When Gordon persisted, Richardson sent his assistant, Bob Ezrin, to see the band perform at Max's Kansas City, in New York City. Ezrin, smitten by the groups malevolence, insisted that Nimbus 9 produce them. In response, Richardson told his young assistant that if he liked the Alice Cooper Group so much, he could produce them himself.
It was to be the proverbial match mad in heave. Beginning with Love It to Death, Ezrin went on to produce every Alice Cooper album through Billion Dollar Babies, each record surpassing the last in execution and success. Not only did Ezrin produce the group's records, he became their sixth member, living with them, helping them hone a unique sound and co-writing some of their songs.
"Bob Ezrin had everything to do with everything," says Cooper. "Bob was the only guy we could get, and lucky for us. He was our guy - our George Martin."
Recorded in under three weeks Love It to Death would be both Ezrin's first production and the Alice Cooper Groups breakthrough album. Prior to its recording, Ezrin had targeted one of the group's rough jam numbers as a potential hit. Recalls Bruce, "We were jamming at some club and I was singing something like, "I wish I was eighteen again.' Alice starts singing, 'And I like it." It was either drug-, alcohol- or boredom-induced. I'm not sure which."
Released in April 1970, "I'm Eighteen" (a song whose chorus Ezrin had mistakenly heard as "I'm edgy") was the first single off Love It to Death. While it would eventually become a top 30 hit, the song actually had its breakthrough courtesy of Canadian radio station CKLW, one of the most popular stations in Detroit. At the time, the Canadian government had issued a ruling that compelled its radio stations to program music featuring Canadian artists and producers. Thus, the young Ezrin would impact the Alice Cooper Group in yet another way: upon its release, "I'm Eighteen" was placed in regular rotation at CKLW.
"The first time we ever heard 'I'm Eighteen' on CKLW was the first time I thought we could go big," says Cooper. "I actually got tired of hearing it! We never really broke out of America. We broke out of Canada."
Originally released on Straight and distributed through Warner Bros., Love It to Death became a hit. Encouraged by the album's success, Warner signed the group and gave them a bigger budget and extended production time for their followup, Killer. While Love It to Death had retained some of the group's Sixties garage-bands rawness, Killer, by comparison, was a slickly produced effort that featured studio trickery and even an orchestra. Among its many standout tracks were "Under My Wheels", "Be My Lover" and, the songs whose imagery would become forever associated with Alice Cooper, "Dead Babies". Even with the additional production time allowed by Warner Bros. Killer was released just five months after Love It to Death, thereby establishing a grueling pace that would come to define the group's working conditions under the label.
By the time, the Coopers had honed not only their sound but their stage act as well. The Love It to Death shows had featured a segment in which Alice is strapped into a straightjacket during "The Ballad of Dwight Fry". But the Killer tour took the theatrics to an entirely new level. With ready cash to invest in props, the group requested a gallows for the climax of the show. During "Dead Babies", Cooper would dismember plastic dolls, smearing fake blood over his face and mouth. At the song's conclusion, the band, carrying lighted torches, would apprehend Alice and lead him to the gallows, where he would be hung. "It was as if with each new stage show, we kept raising the bar on ourselves," says Cooper. "And it was the great part of it. To me, anyway. I didn't think there was any limit."
As the Coopers' army of fans grew, religious groups, believing Alice Cooper had come to destroy America's youth, began to take up arms against the band. "The Moral Majority missed the point entirely," says Cooper. "They thought we were undermining the church, the school, the state. All we were doing is having fun with them. It was always built into the show that Alice would be punished for his actions. It was a morality play: 'Bad guys don't win'.
"If they had really looked at the band, they'd have seen that we couldn't be more all-American. Nobody took drugs - we were beer drinkers. In fact, we would be happier watching Leave It to Beaver with a six-pack of beer than at a party with a bunch of drug addicts."
Cooper's assertion aside, the band had begun to overindulge their vices, as their lives started moving at an unnervingly fast pace, by the time the Killer tour was completed and the band was hustled back into the studio to begin working on School's Out, they'd had little opportunity to prepare new material. Problems were also developing with guitarist Glen Buxton, who more and more was distancing himself from the band's activities.
"When I joined the band, Glen was doing Beck- and Page-style playing," says Bruce. "As we started doing more of our own material he didn't really know how to adapt his technique to our music. As we got better and the band got bigger, there were more demands placed on him, too, and he couldn't deal with them. Glen was drinking a lot and his lifestyle became a lot more erratic. He'd come late to rehearsals. I'd teach him parts, and the next day he'd forgotten them. He just made it hard on everyone, and so he wasn't a lot of fun to be around. I think he felt a little alienated."
Buxton was in attendance enough to make one significant contribution to the new album: the opening riff to "School's Out", the song for which the Alice Cooper Group would be best known. From this track, the group developed a concept album involving elements of West Side Story ("Gutter Cats Vs. The Jets"), beatnik jazz ("Blue Turk") and the by-now-familiar theme of insanity ("Luney Tune"). As such, School's Out was a tour de force that featured the group's most ambitious song-writing and Ezrin's most adventurous production. To create a package for their masterpiece, the group hired Pacific Eye & Ear to fashion an album cover that both looked and opened like an old-fashioned school desktop and featured cut-out cardboard legs. Inside the album cover, the vinyl was sheathed in a pair of either blue or pink panties.
Released in June 1972, just one year after Love It to Death, School's Out became the group's biggest seller to date, resulting in a lengthy worldwide tour. When at the end of the year they returned to the studio for their next record, Billion Dollar Babies, the pressure of recording and touring were starting to show. Unable to come up with enough new material for the album, the group began rifling through their stockpile. "Reflected," a track from Pretties For You, was recast as "Elected," while a song Bruce had first conceived as an anti-Vietnam statement called "Uncle Sam" was given new life as "Mary Ann." Originally written for Killer, "No More Mr. Nice Guy" was similarly dusted off, provided with a new set of lyrics and placed into the new album's running order. It went onto become the group's biggest U.S. single.
Completed at Morgan Studios in London, where British folk-pop singer Donovan contributed vocals to the title track, Billion Dollar Babies became the Alice Cooper Groups best-selling album. Like School's Out, it featured an elaborate design, in this case a jacket that looked like a snakeskin billfold and opened to reveal a bogus billion dollar bill. In an effort to outdo their previous tour, the group enlisted the Amazing Randi to provide a prop guillotine for Alice's mock execution.
By the time Billion Dollar Babies was released, the Alice Cooper Group had recorded four albums in just two years. While most bands would have taken time off, Alice Cooper pressed on toward its own demise. "Ever since we released Love It To Death, we'd been on the road nonstop," says Bruce. "Billion Dollar Babies was a horrific tour. I remember waking up in one city and thinking I was in another. It really did me in."
Wary of undertaking yet another extravagant tour, the group abandoned its trademark horror show elements on Muscle of Love for a "sailors on shore leave" theme. "We thought that we could do a good musical album without putting on a big stage show or even a tour," says Bruce.
Unfortunately, Muscle of Love became an invitation for disaster. Bob Ezrin, so critical to the success of the previous albums, was going through a divorce during the album's making and bowed out of the production. Jack Richardson took over.
More concerning was Glen Buxton, whose drinking had reached catastrophic proportions. He'd suffered from pancreatis during the Billion Dollar Babies sessions, forcing the band to call in session guitarist Mick Mashbur. Concerned that Buxton's drinking binges would delay the Muscle of Love sessions, Richardson brought Mashbur back in, along with guitarists Dick Wagner, of the Detroit rock group Frost, and Bob Dolin. "We ended up covering for him onstage, too," says Bruce. "Glen had a little Fender amp he'd be plugged into, but he wouldn't be fed into the P.A. Sometimes he'd start late, or he'd be out of tune. You never knew what you were gonna get."
Released in december 1973, Muscle of Love was met with mixed reaction. Fans, by now accustomed to the group's shock theatrics and conceptual albums, didn't know what to make of a Cooper album of discrete, unrelated songs. Worse, no one knew what to make of the album's packaging: an unsightly cardboard box design to look like a delivery carton. The album's sales, while respectable, were nowhere near that of its predecessor.
"After the tremendous success of Billion Dollar Babies, anything short of stupendous was considered garbage," says Bruce. "After Muscle of Love came out, I remember Shep coming in and saying, 'This album's going down the toilet.' And I think it was at No.10 at the time! I remember thinking that it was the manager's job to oversee these things and make sure that the packaging and distribution were going to help make the album a success. But by this time, Shep was promoting Alice without the band. He got Alice on a celebrity roast with Johnny Carson, and he was busy keeping the hype machine going."
The tour for Muscle of Love turned out to be as problem-plagued as the recording had been. The United States was straining under the effects of the Arab oil embargo, and gasoline was in short supply. "Trucks wouldn't turn up at some of our shows, and we wouldn't have a stage or any props," says Bruce.
Buxton was also approaching the point of no return.
"After the tour, we tried to get him into rehab," says Bruce. "Neal and Alice and I went over to Glen's house and told him it wasn't working and that he needed to get some help. And he said, no, he wasn't gonna do it. The next thing we knew, Alice stopped coming to rehearsals. All because nobody wanted to deal with Glen."
For the first time since leaving L.A., the Alice Cooper Group decided to take some much needed time off. With no schedule over their heads, Bruce, Smith and Cooper each began working on solo records they planned to release in the interim between the group's albums. "One day, one of our roadies took me down to Warner Bros. Soundstage," says Bruce. "There was Alice, working on the show for Welcome to My Nightmare. Bob was producing it, and all our roadies were there. That's when we realized Alice was going solo."
"Everyone wanted to do a different kind of music," explains Cooper. "They were all tired of the theatrics and the horror stuff. And I told them, 'Guys, after your solo albums, I can't guarantee I'm gonna be here. Because I still believe in the theatrics of the whole thing, and if you guys want to eliminate that, I can't be involved. I can't go up there and do it without the theatrics, because that's the reason I do it."
"I already had the Nightmare show in my head, and that ended up being my solo project. Ezrin loved the idea, and Shep did too, so the real brain trust of the thing ended up working with me. And the other guys just kinda eliminated themselves. We were all friends, but it was just a matter of, 'You made a bad choice, guys."
Cooper never made the breakup official until the Nightmare tour. When the show stopped in Detroit, the group's lawyers convened and negotiated a contract that gave the band three percent of everything Cooper earned using the band's name after Nightmare. "We tried to negotiate a farewell album," says Bruce, "but Alice couldn't see fit to do that."
In 1977, Bruce, Dunaway and Smith did regroup as the Billion Dollar Babies, with Bob Dolin on keyboards and Mike Marconi replacing Buxton on guitar. They released the album Battle Axe for Polydor, and shortly afterwards brokeup. Today, Dunaway and his wife, Cindy, Neal Smith's sister, run a crafts store in Connecticut. Smith also lives in Connecticut, where he's a successful real estate agent. Bruce continues to play and tour with the Michael Bruce Group. Sadly, Buxton's health problems escalated, leading to his death in 1997.
Says Bruce, "It's unfortunate what happens to a lot of bands: personal problems, drug problems, money problems, woman problems - you name it, it happens. And I wish we could have done a couple more albums, because I don't think we were finished. I think there's still a lot we could have done."
"The demise?" asks Cooper. "I think it was really just a matter of touring for too long, losing focus, losing perspective and working for five or six years without taking a break. We just never took time to enjoy it. We just worked and worked until finally, when we got ready to do Muscle of Love, you could tell by the songs what was going on - everybody was into something different. All of a sudden, we were fragmented. We weren't the same band then.
"You can say, 'Hey, what if we had kept on going?' But look at what we were able to accomplish in those six or seven years we were together. I think we liberated a lot of acts that wanted to be theatrical but couldn't. They just didn't think that it would work. David Bowie used to come to our shows in England when he was a folk singer. Elton John was this nice piano player who came to our show at the Hollywood Bowl and sat in the front row. The next time I saw him he was in a Donald Duck outfit, wearing huge glasses and doing Dodgers Stadium.
"That was our impact. We made rock 'n' roll theatrical. We made 'show biz' not a dirty word."
---
If self-destruction and anarchy were just so much theatrics for the Alice Cooper Group, perhaps no one told Glen Buxton. While his talent was essential to the group's success - those are his signature guitar riffs on the hits "I'm Eighteen" and "School's Out" - Buxton was a brooding loner and an inveterate alcoholic who spent his few years of celebrity in a drunken free fall that ravaged his health for good.
His troubles became evident while he was still a teenager in Phoenix, Arizona. In his Cooper bio, No More Mr. Nice Guy, co-guitarist Michael Bruce writes that Buxton was drinking a quart of whiskey a day by the time he graduated high school. When, during the group's 1969 tour, Buxton's guitars and clothes were stolen, the incident, magnified by the guitarist's fragile emotional state, took on tragicomic significance. Writes Bruce, "He had just lost everything - his sound, his look - all gone. It was touch and go from then on with Glen."
After the band broke up in 1974, Buxton returned to Phoenix, his luck and health trickling away. Over the next ten years he lost his home to the IRS, launched a failed comeback effort and attempted suicide. In 1989, at a friends encouragement, Buxton moved to Clarion, Iowa, where he at last seemed to find some peace, living on a farm and working at the Goodyear Aerospace Plant.
Unfortunately, his health never improved. In the early hours of October 19, 1997, Buxton was admitted to the North Iowa Mercy Health Center, suffering from pneumonia. He died later that day.
His grave, in Clarion's Evergreen Cemetery, is marked with a tombstone that replicates the cover art of the Cooper album School's Out. Alongside the initials of his former band mates, Buxton's opening riff for the album's title song is inscribed with terse finality. "School's out," say they sang, "forever."