Guitar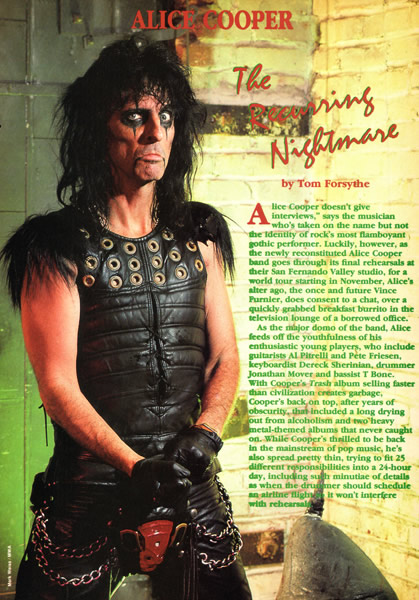 Originally Published: February 1990
The Recurring Nightmare
"Alice Cooper doesn't give interviews," says the musician who's taken on the name but not the identity of rock's most flamboyant gothic performer. Luckily, however, as the newly reconstituted Alice Cooper band goes through its final rehearsals at their San Fernando Valley studio, for a world tour starting in November, Alice's alter ego, the once and future Vince Furnier, does consent to a chat, over a quickly grabbed breakfast burrito in the televsion lounge of a borrowed office.
As the major domo of the band, Alice feeds of the youthfulness of his enthusiastic young players, who include guitarists Al Pitrelli and Pete Friesen, keyboardist Derek Sherinian, drummer Jonathan Mover and bassist T Bone. With Cooper's Trash album selling faster than civilization creates garbage, Cooper's back on top, after years of obscurity, that included a long drying out from alcoholism and two heavy metal-themed albums that never caught on. While Cooper's thrilled to be back in the mainstream of pop music, he's also spread pretty thin, trying to fit 25 different responsibilities into a 24-hour day, including such minutiae of details as when the drummer should schedule an airline flight so it won't interfere with rehearsals.
How has your songwriting changed since the height of your popularity in the mid '70s?
I went through a period when metal got popular, of writing lyrics to riffs, which is really all metal is. Usually the lyrics don't mean that much in metal. I don't know where these guys came up with all these mythological references. I totally lost what they were into. On this album, I went back to my original style of writing. I think that's why Trash is doing so well. I went back to Billion Dollar Babies, School's Out, Nightmare style of writing. Now I'm writing a song and writing guitar around that. Working with Desmond (Child) got me back to that style. He's a pure songwriter. He'll sit down with an idea for a song and maybe start with a piano part that really suggest a song to him. We ended up writing 22 songs. They're full songs, not just parts. I think the reason we worked so well together is because we don't look at music as being written in stone. If it does something, that's fine, but we can come back the next day and change that. I've been with writers who cast their music in cement. I don't understand that. Music should be pliable. My writing theory hasn't changed. I've always felt that if the chorus is logical, then it works. You can't force it. It has to go where it goes. That's the easiest kind of writing. Songs like "Only Women Bleed," "School's Out" and "Poison," all the best songs were the easiest to write.
My change is really back to the '70s. The '70s are very in. The thing that happened in the '80s, really, is that no original music happened. Rap was the only original thing that came out in the '80s. Metal certainly wasn't original. Maybe pop metal could be called original, but that's glorified hard rock. So, people from the '80s said, "What's our source?" Well, they came up with Aerosmith, the Rolling Stones, Alice Cooper, Led Zeppelin. Those bands that are still alive and willing to work and want to work are very accepted again. Fine with me.
Has your perspective changed?
Sure. We wrote '70s style in technique, but the production was '90s style. I wouldn't ever want it to sound like our '70s albums. I think we were inspired a lot by Def Leppard's albums. All the work they put into their records, you could almost do a college course on their records. Sure it takes three years, but everytime a record like that comes out, people who make records listen to it and learn from it. On the other hand, Def Leppard could stand to be a little looser. As great as the music is, sometimes it feels that there's no room to breathe. Guns N' Roses comes along sounding like it was recorded live in a garage, and it just kills you. You love it.
What about the content of the songs?
I try not to complain at all. I hate complainers. I try to take a subject and take the audience along for a ride. Nightmare took the audience on a nightmare ride with Alice. The Hell album was a journey Alice took to Hell, and his efforts to get back out. School's Out took Alice to school. We always take Alice somewhere. In Trash, we're taking Alice into 1990's sex, which is the most dangerous place I can think of. What would Alice do in the back seat of a car? What would Alice do with a sadistic female lover? Would he be a sadistic lover also? That's why "Bed of Nails" happened. There's lots of situations where we put into a situation and see how he does. At the same time, the songs have to work totally outside the context of the show. A song like "Only Women Bleed" was an intricate part of the story line, but it also has to stand on its own. It meant two totally different things. In "Nightmare," the guy was really sorry because he killed her in his dream. It was a very feminine kind of thing. When you take it out of that context and put it on the radio, nobody knows what the nightmare is about. They think it's pro-feminist, or a story about how rough men are with fragile women. Everybody took it a different way. "Poison" certainly has to stand up on its own.
Where did the idea come from to take Alice into the sexual world?
It was one of his realms. Alice makes fun of everything. Sex, death and money are what everybody cares about. Sex is in the news so much - abortion, AIDS - it's a hot subject. But as serious as it is, it's open to a lot of satire.
You wrote Trash with Desmond on piano, but did you write with guitarists in the past?
I always write with guitarists. I wrote five or six top ten hits witrh Dick Wagner. We wrote most of the ballads - "Nightmare," "Hell," "You and Me," "I Never Cry" - just loads and loads of stuff. Because I'm such a fan of guitars, I've always surrounded myself with great guitar players like Dick Wagner and Steve Hunter. They came from Lou Reed and were good rock 'n' roll players. They connected in with Bob Ezrin and I. And it was just one of those things where I asked them to come on tour after they did the Nightmare show. I think that now I couldn't put them in this band because it would have too much of a nostalgic feel.
Why did you choose Al Pitrelli and Pete Friesen for guitarists?
I particularly picked Pete and Al for two different reasons, even though they look like they could be brothers. Al is a total free spirit. I called Steve Vai up and said, "I know you're taken. Tell me the next best guy." He said, "Al Pitrelli. He's very fluid. He can play anything. He has a 'leader' quality." That's what I was looking for. I picked Pete because he's so solid, so nailed to the ground. He's a young kid, but he knows all the original material, the No More Mr. Nice Guy stuff, and he refuses to budge. He plays it like the record and will not move. I think that's great. He's dedicated to recreating music, a real '70s head. I think that's unique for a kid of 23.
This band is different from the recording band. Is it intentional that you don't have a permanent band?
No, that's just the way it worked out. For the recording of Trash, Desmond and I had players who we really liked. John McCurry was a friend who played guitar on the basic tracks. Then we had a feast of guitar players - Steve Lukather, Richie Sambora, Joe Perry - which was great, because I'm a guitar addict. But the band just wasn't available for the tour. From the band I had before, Kane Roberts and Kip Winger both show up on the new album, but they have their own deals. I like being a springboard. I always say they graduated. I would expect them to go on to their own albums. Kip wrote everyday on the bus. Same with Kane. It wasn't a big shock to me when they told me they were doing their own albums. I said, "Great," and asked if I could be on them. I like being a Svengali, if that's what they want. Playing in Alice Cooper gets the guys a lot of exposure. People suddenly think they're somebody if they're playing in this show.
How did your show develope?
That's the only truely original part of Alice Cooper. We didn't have influences there. We created a stage show unlike anything anyone had ever seen before. That's what put us way out on a limb. If you want to be a legend, you have to go so far out on a limb that people have to climb out and try to be with you. You can't be safe if you're going to be a legend. We were doing theatrics even before we recorded. It was something that was very natural for this band. I came up with the philosophy of performing, because I saw all these bands doing virtually nothing onstage. They had all this money; I wondered why they weren't doings lights, using smoke, using moveable sets to portray the lyrics. Finally, when we got enough money, we did it to fill that void.
So, your original concept was the performance, and the music came later?
It was important to us, up front, to know that people weren't only going to watch us. Right away the word went out that we couldn't play. But that was only because they never bothered to listen to us. They were so overcome with the visuals that they never listened. That's when I knew that when we made albums, they'd have to be great. So, in that sense, the music comes first. I derive what I do onstage according to what the lyrics tell me to do. I don't write lyrics around what I want to do onstage.
In the original band, were you writing with guitarist Glen Buxton?
I wrote with Glen a little, but Mike (Bruce, keyboardist) and Dennis (Dunaway), the bass player were actually more invloved in writing. But Bob Ezrin did a lot of writing, too. Bob Ezrin actually invented the Alice Cooper sound. We had two albums out with Zappa that were all over the place, musically. We had something; we just didn't have a handle on it. We'd have five seconds of brilliance that would just wander into nowhere. That was because we were just learning how to write. When Ezrin came along, he took us to a barn in Detroit and tortured us 10 to 12 hours a day, relearning how to play and learning how to write. I came away with things I would never have come up with. I argued with him every step of the way, even after I heard it on tape and knew it sounded good. I wasn't sure it was right for us. Then suddenly "18" happened, and it was a SOUND. The next record came out and people knew it was Alice Cooper. Ezrin was a big part of that. To this day, if I get in trouble on a song, I call Bob up for advice.
How did "School's Out" come about?
We wanted an answer to "My Generation," from the Who. We wanted an anthem for the '70s. It worked. Even in the '80s and into the '90s, it seems like "School's Out" is going to be THE school song. "School's Out" has been covered 13 or 14 times, which says something about its durability. It's not just the words, it's also a real hard rock anthem. It doesn't back down at all. The whole point of "School's Out" is that everybody that I knew hated school.
Do you see releasing an album now as something you did because so many young musicians are talking about being influenced by you?
Not really. I actually got back into it when I took my time off. I got bored sitting around doing nothing. I had just cleaned up from my alcohol problem and everything. I did notice that everyone was doing Alice. It did kind of get under my skin a little bit. I wondered, "Who is Motley Crue and WASP and Kiss and all these guys?" I thought I better get out and do the for-real Alice.
Did you have a theatrical background?
I was the ultimate TV child. I was a media monster. I grew up staring at the TV all day and I still do. I get all kinds of information that's totally useless, but I love it. It's just one of those things where I totally believe in being bombarded by media. People say it's a waste of time; it probably is, but I enjoy it.
Did you take acting lessons?
I took a few. I learned how to act more from doing things onstage, from making mistakes onstage and learning from that. It's really just projecting. If you're playing to 50,000 people, you have to make big moves.
I guess it's not really acting because it's always you.
Well, Alice. I never go onstage, Alice does. But I write for him amd he's a whole different character. I don't even hang out with Alice. He's somebody I play. The character onstage never does interviews. If you want to know something about Alice, just watch him onstage.