Goldmine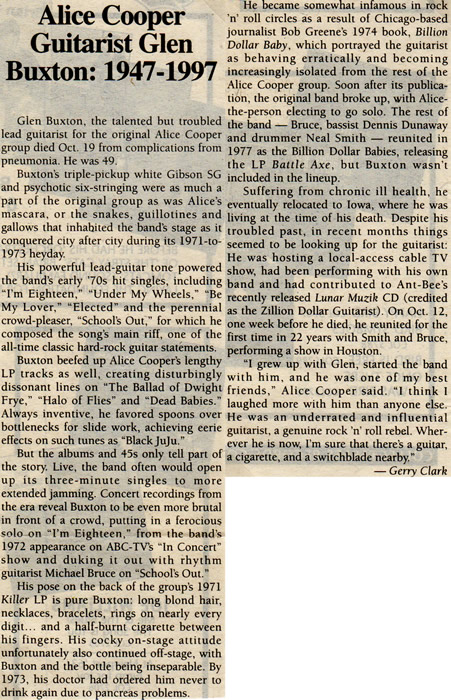 Goldmine
(December 05, 1997)
Originally Published: December 05, 1997
Alice Cooper Guitarist Glen Buxton: 1947-1997
Author: Gerry Clark
Glen Buxton, the talented but troubled lead guitarist for the original Alice Cooper group died Oct. 19 from complications from pneumonia. He was 49.
Buxton's triple-pickup white Gibson SG and psychotic six-stringing were as much a part of the original group as was Alice's mascara, or the snakes, guillotines and gallows that inhabited the band's stage as it conquered city after city during its 1971 -to- 1973 heyday.
His powerful lead-guitar tone powered the band's early '70s hit singles, including "I'm Eighteen," "Under My Wheels," "Be My Lover," "Elected" and the perennial crowd-pleaser, "School's Out," for which he composed the song's main riff, one of the all-time classic hard-rock guitar statements.
Buxton beefed up Alice Cooper's lengthy LP tracks as well, creating disturbingly dissonant lines on "The Ballad of Dwight Frye," "Halo of Flies" and "Dead Babies." Always inventive, he favored spoons over bottlenecks for slide work, achieving eerie effects on such tunes as "Black JuJu."
But the albums and 45s only tell part of the story. Live, the band often would open up its three-minute singles to more extended jamming. Concert recordings from the era reveal Buxton to be even more brutal in front of a crowd, putting in a ferocious solo on "I'm Eighteen," from the band's 1972 appearance on ABC-TV's "In Concert" show and duking it out with rhythm guitarist Michael Bruce on "School's Out."
His pose on the back of the group's 1971 Killer LP is pure Buxton: long blond hair, necklaces, braceleets, rings on nearly every digit... and a half-burnt cigarette between his fingers. His cocky on-stage attitude unfortunately also continued off-stage, with Buxton and the bottle being inseparable. By 1973, his doctor had ordered him never to drink again due to pancreas problems.
He became somewhat infamous in rock 'n' roll circles as a result of Chicago-based journalist Bob Greene's 1974 book, Billion Dollar Baby, which portrayed the guitarist as behaving erratically and becoming increasingly isolated from the rest of the Alice Cooper group. Soon after its publication, the original band broke up, with Alice-the-person electing to go solo. The rest of the band - Bruce, bassist Dennis Dunaway and drummer Neal Smith - reunited in 1977 as the Billion Dollar Babies, releasing the LP Battle Axe, but Buxton wasn't included in the lineup.
Suffering from chronic ill health, he eventually relocated to Iowa, where he was living at the time of his death. Despite his troubled past, in recent months things seemed to be looking up for the guitarist: He was hosting a local-access cable TV show, had been performing with his own band and had contributed to Ant-Bee's recently released Lunar Muzik CD (credited as the Zillion Dollar Guitarist). On Oct. 12, one week before he died, he reunited for the first time in 22 years with Smith and Bruce, performing a show in Huston.
"I grew up with Glen, started the band with him, and he was one of my best friends," Alice Cooper said. "I think I laughed more with him than anyone else. He was an underrated and influential guitarist, a genuine rock 'n' roll rebel. Wherever he is now, I'm sure that there's a guitar, a cigarette, and a switchblade nearby."