Gig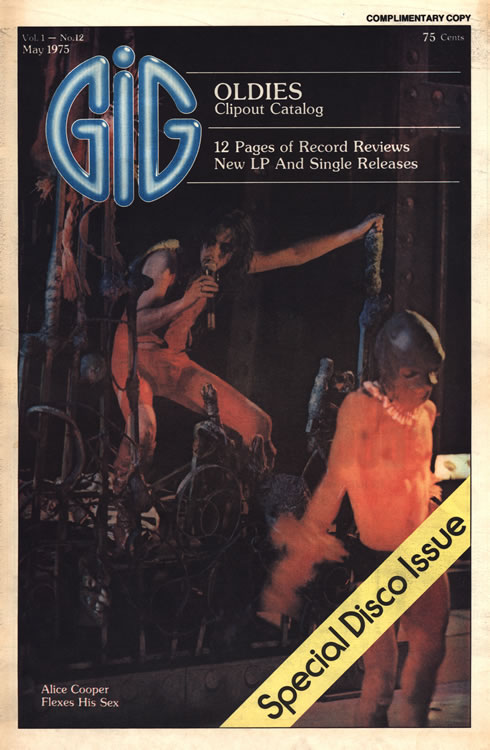 Originally Published: May 1975
Alice Cooper - The Ghoul of Rock Goes Solo
Author: Cynthia Spector
"Wait till the world see this show! Alice Cooper has always been sold as somehow asexual, but look at his - the first heterosexual rock, glitter sado-masochistic turn-on"
An exuberant bystander contributed the words above at a Hollywood rehearsal hall in preparation for Alice Cooper's forthcoming blitzkrieg 57-city tour but the Mr. Ghoul of Rock is contributing the show.
Starting on April Fool's Day, Alice Cooper returned to the American stage after a 20-month absence. Gone are the rest of the band, it's Alice in front for the first time without his Arizona cronies who were the Alice Cooper band for the past ten years. Gone are all the coy references to Alice being a geek. It's a clean slate for Alice with a brand new phantasmagorical rock 'n' roll extravaganza.
The cost for bringing these elaborate plans to the stage will be in excess of $250,000 and costumes and props will account for a major part of the budget.
In the Hollywood rehearsal hall, we're enveloped in a bare setting. A shriek call booms through the hall and punctures the starkness of the situation.
"Hey, let's go to work" yell out Vince Furnier, the preacher's son who was transmogrified into "Coop" - Alice Cooper. Saying that, the stringy-haired 27-year old puts down his beer and strides to the stage. Suddenly, the figure before us becomes "ALICE."
From his first strides onto the stage, the body movements change, the face contorts and the feet shuffle in a different manner.
The main set it a moveable bed that looks like a relic from the House of Usher. The tarantula costumes have arrived and the dancers are trying to make their bodies move with three sets of legs and bulge to balance them off center. In one sequence, Alice and his back-up musicians will appear as winged rodents. Two of the dancers, costumed as big furry spiders will be part of a bit called "The Black Widow." A 10-foot Cyclops with a laser-beam eye and a detachable horned head will figure in the spectacle.
Alice takes the break to explain why so many people are so turned off by his show and how much that bothers him.
"The kids understand this is a cartoon but their parents take it so seriously that they can't see the fun of it. All those people I am on stage is what I thought I was at different times throughout my life. It's just a dream acted out that I've always carried in my head and now I've got the chance to finally do it."
Psychological insights over for the moment, it's time for Alice to go back to work. His wardrobe hasn't arrived as of yet, so he can't show the costumes but he does have the boots, "the beautiful red boots for my leotards. This lady brought them over and she was so pleased with them that I didn't have the heart to tell her that they would have to be trashed!"
With a grin like a glimpse into another soul, Alice discussed the trashing: "red paint, gum, soap and finally I just exploded them in my fireplace. Now, they're my boots!"
Alice has put his own brand of music into the homes of millions: his eight lp's, including a greatest his package, have sold 12 million copies during the last six years. But all good things much come to an end and the first Alice Cooper band parted for the usual musical differences. The former members are doing their own solo albums and the parting was friendly with hopes of a future reunion.
In the new Alice Cooper band, Dick Wagner and Steve Hunter play guitars. Prakash John is Mr. Bassman, Josef Chirowsky handles the keyboards while Whitey Glan plays drums.
Wagner has a major role to play - in addition to performing chores, he is writing all the music with and for Alice in mind. The driving talent from new musicians is giving Alice a chance to break into other areas and to strut, act, dance and generally be the hell-act we all know and love.
As Alice says, "with this show we have the room to do a lot of things we haven't tried before. We can go anywhere form Busby Berkeley to Dracula."
Vincent Price is a special guest star on Alice's record but won't be able to make it for the tour. "What a shame Vincent can't come out and tour with us. I really love the guy," Alice says. The famous Price voice will be used on stage for his perverse but totally erotic show.
Event though he is not thought of as a rock sex symbol, Alice will be changing a lot of people's heads and he plans to make 10 costume changes during the course of the performance. There are whispers from the ladies standing around the huge rehearsal hall about Alice's new sexiness. "I never knew he was like that, oooohhh he's sexy."
And that he is, undulating, whispering, growling and finally doing an almost devastating stage trick that has us believing he's beating the lady he's be making it with.
Alice doesn't think it's all that sexy though.
"It's suggestive, that's all. I've always been aggressive in my shows. You know, like the bad-boy of rock. But this time it looks better because I'm taking dancing lessons and the sets are so marvelously tacky that it just looks that way," he says.
The tour will be like a blitzkrieg in seven months - Asia, Australia, Europe, South America and North America. For his appearance in the world's largest concert stadium, Brazil's 400,000 San Paolo stadium, Alice's engagement will be guarded by four men with submachine guns.
Alice is glad to be back performing before live audiences.
"For the first time in a long time, it really feels good to perform again. I just couldn't do it anymore, we'd done Billion Dollar Babies till I just couldn't go out again with it and right after the last show, I talked to the guys and we decided we'd have to do our solo trips right now, before things got any worse," Alice said.
By this time, everyone has moved from the rehearsal hall to Alice's house in Laurel Canyon...
The view looks as if it should be in the Pacific Northwest and after this grueling rehearsal, Alice looks as if he would be more comfortable if all of us were also in the Pacific Northwest. He's still amazingly polite, offering everyone beer and whatever before he retires.
He has to be in bed early you know because at 6:00 A.M. he's up and watching the Farm Report.
"That Soya Bean Special really is interesting," Alice the Agriculturist says.