Gallery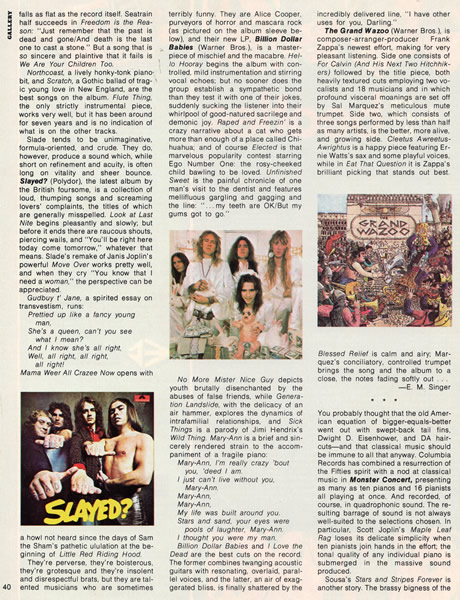 Originally Published: June 1973
Billion Dollar Babies Album Review
Author: E.M. Singer
They're perverse, they're boisterous, they're grotesque and they're insolent and disrespectful brats, and they are talented musicians who are sometimes terribly funny. They are Alice Cooper, purveyors of horror amd mascara rock, and their new LP, Billion Dollar Babies (Warner Bros.), is a masterpiece of mischief and the macabre. Hello Hurray begins the album with controlled, mild instrumentation and stirring vocal echoes; but no sooner does the group establish a sympathetic bond than they test it with one of their jokes, suddenly sucking the listener into their whirpool of good-natured sacrilege and demonic joy. Raped and Freezin' is a crazy narrative about a cat who gets more than enough of a place called Chihuahua; and of course Elected is that marvelous popularity contest starring Ego Number One; the rosy-cheeked child bawling to the be loved. Unfinished Sweet is the painful chronicle of one man's visit to the dentist and features melliflous gargling and gagging and the line: "...my teeth are OK/But my gums gotta go."
No More Mr. Nice Guy depicts youth brutally disenchanted by the abuse of false friends, while Generation Landslide, with the delicacy of an air hammer, explores the dynamics of intrafamilial relationships, and Sick Things is a parody of Jimi Hendrix's Wild Thing. Mary-Ann is a brief and sincerely rendered strain to the accompaniment to a fragile piano:
Mary-Ann, I'm really crazy 'bout you, 'deed I am.
I just can't live without you, Mary-Ann
Mary-Ann
Mary-Ann
My life was built around you.
Stars and sand, your eyes were pools of laughter, Mary-Ann
I thought you were my man.
Billion Dollar Babies and I Love The Dead are the best cuts on the record. The former combines twanging acoustic guitars with resonating, overlaid, parallel voices, and the latter, an air of exaggerated bliss, is finally shattered by the incredibly delivered line, "I have other uses for you, Darling."