Dayton Daily News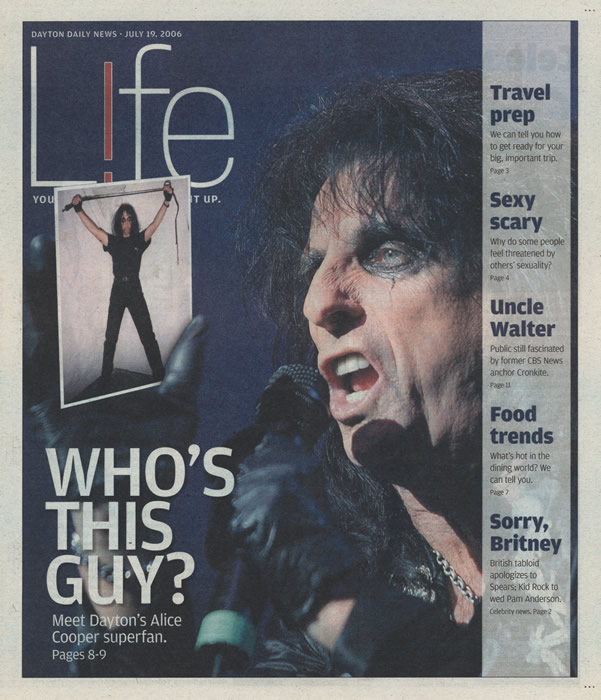 Dayton Daily News
(July 19, 2006)
Originally Published: July 19, 2006
Welcome To His Nightmare
Dayton resident and Alice Cooper fan Bill White satisfies his urge for rock'n'roll hedonism by collecting memorabilia.
Author: Dave Larsen
Bill White first heard about Alice Cooper during the early 1970s while attending class at Wright State University. A fellow student asked White if he was going to Cooper concert.
"I was thinking of Joan Baez," White recalled. "I had no idea who this girl was."
White, who will see Alice Cooper for the 16th time on Thursday at Fraze Pavilion in Kettering, soon changed his tune.
Alice Cooper, of course, was a hard rock band lad by an audacious singer named Vincent Furnier, who performed caked in make-up and wrapped in a boa constrictor. Furnier would later assume the Alice Cooper name for himself after the original band dissolved.
The band's first hit single, Eighteen, prompted White to see Alice Cooper in concert in 1972 at the Cincinnati Gardens.
"I thought, 'This is absolutely incredible,'" White recalled.
Cooper pioneered "shock rock" with his groundbreaking stage antics, which influenced the likes of Kiss, Rob Zombie and Marilyn Manson. White found Cooper's tongue-in-cheek showmanship appealing.
"They move around a lot," he said, describing the experience. "They change costumes. They actually tell a story. It is theater."
White's Alice Cooper memorabilia collection tells the res of the story. It includes ticket stubs from 1970s Cooper concerts at Hara Arena and University of Dayton Arena, along with more recent dates including a 2002 "Shocktoberfest" Halloween spectacular in Columbus.
His collection also includes a tour program from the Cooper's 1972 show at Cincinnati Gardens that still has a peel-off vinyl record affixed to the back cover. White showed the item to Cooper in 2002 when they me at the opening of the singer's restaurant, Alice Coopers'town, in Cleveland.
"He said, 'I don't see many of these,'" White recalled.
White, 55, doesn't appear to be the type of guy who would own a large treasure trove of Alice Cooper action figures, T-shirts and such. The Dayton resident works as a buyer for the Montgomery County Purchasing Department. He wears a suit and tie to the office.
"Look, I'm a normal guy," White said. "I don't go around dressing up as Alice Cooper. Only once is a great while on Halloween. That's it."
Dressed as Cooper, White won the prize for "Best Rock Star" in 2004 at a Halloween costume contest in the Oregon Historic District.
White's musical tastes extend beyond Cooper's classic teen rebellion anthem, School's Out. His first concert was Herman's Hermits in 1965 at the Montgomery County Fairgrounds. He saw Elvis Presley perform live 16 times before that singer's death in 1977.
"It was something that I started as a young teen and have continued on to now," White said, regarding his concert-going.
White discovered that Cooper was to play Fraze Pavilion while checking concert announcements in the newspaper. He couldn't believe what he was seeing.
"The Fraze usually has a less edgy presentation," White said.
Cooper, in contrast, plays straight-ahead rock 'n' roll, typified by such songs as No More Mr. Nice Guy and Billion Dollar Babies. His stage show still involves over-the-top theatrics, including Cooper being beheaded by guillotine.
"At Fraze -- oh my," White exclaimed. "I just hope it's the Alice that we know and love, and not a real toned-down one."
Alice Cooper's Top 40 hits
'Eighteen.' Debuted March 1971; peak chart position: 21.
'School's OUt.' Debuted June 1972; Peak chart position: 7.
'Elected.' Debuted October 1972; Peak chart position: 26.
'Hello Hurray.' Debuted March 1973; Peak chart position: 35.
'No More Mr. Nice Guy.' Debuted May 1973; Peak chart position: 25.
'Only Women.' Debuted May 1975; Peak chart position: 12.
'I Never Cry.' Debuted October 1976; Peak chart position: 9.
'You and Me.' Debuted June 1977; Peak chart position: 12.
'How You Gonna See Me Now.' Debuted November 1978; Peak chart position: 12.
'Clones (We're All).' Debuted July 1980; Peak chart position: 40.
'Poison.' Debuted October 1989; Peak chart position: 7.
(Originally published in the Life supplement of the Dayton Daily News, on July 19th, 2006