Dayton City Paper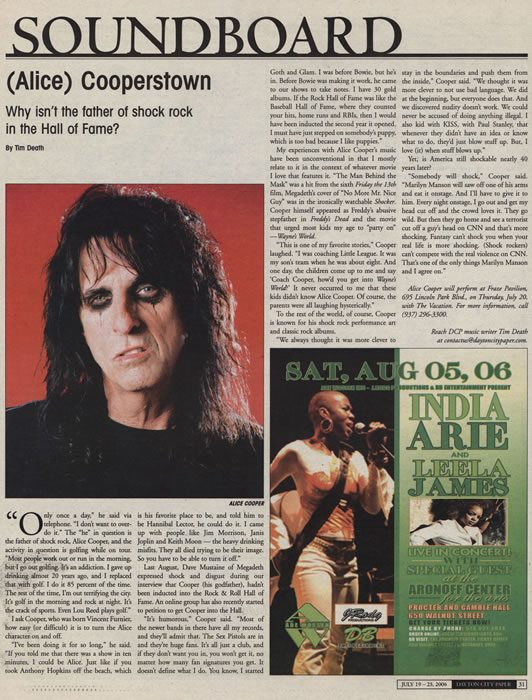 Dayton City Paper
(July 19, 2006)
Originally Published: July 19, 2006
(Alice) Cooperstown
Why isn't the father of shock rock in the Hall of Fame?
Author: Tim Death
"Only once a day," he said via telephone. "I don't want to overdo it." The "he" in question is the father of shock rock, Alice Cooper, and the activity in question is golfing while on tour. "Most people work out or run in the morning, but I go out golfing. It's an addiction. I gave up drinking almost 20 years ago, and I replaced that with golf. I do it 85 percent of the time. The rest of the time, I'm out terrifying the city. It's golf in the morning and rock at night. It's the crack of sports. Even Lou Reed plays golf."
I ask Cooper, who was born Vincent Furnier, how easy (or difficult) it is to turn the Alice character on or off.
"I've been doing it for so long," he said. "If you told me that there was a show in ten minutes, I could be Alice. Just like if you took Anthony Hopkins off the beach, which is his favorite place to be, and told him to be Hannibal Lector, he could do it. I came up with people like Jim Morrison, Janis Joplin and Keith Moon -- the heavy drinking misfits. They all died trying to be their image. So you have to be able to turn it off."
Last August, Dave Mustaine of Megadeth expressed shock and disgust during our interview that Cooper (his godfather), hadn't been inducted into the Rock & Roll Hall of Fame. An online group has also recently started to petition to get Cooper into the Hall.
"It's humorous," Cooper said. "Most of the newer bands in there have all my records, and they'll admit that. It's just a club, and if they don't want you in, you won't get it, no matter how many fan signatures you get. It doesn't define what I do. You know, I started Goth and Glam. I was before Bowie, but he's in. Before Bowie was making it work, he came to our shows to take notes. I have 30 gold albums. If the Rock and Roll Hall of Fame was like the Baseball Hall of Fame, where they counted your hits, home runs and RBIs, then I would have been inducted the second year it opened. I must have just stepped on somebody's puppy, which is too bad because I like puppies."
My experience with Alice Cooper's music have be unconventional in that I mostly relate to it in the context of whatever movie I love that features it. "The Man Behind the Mask" was a hit from the sixth Friday the 13th film, Megadeth's cover of "No More Mr. Nice Guy" was in the ironically watchable Shocker. Cooper himself appeared as Freddy's abusive stepfather in Freddy's Dead and the movie that urged most kids my age to "party on" -- Wayne's World.
"This is one of my favorite stories," Cooper laughed. "I was coaching Little League. It was my son's team when he was about eight. And one day, the children came up to me and say 'Coach Cooper, how'd you get into Wayne's World?' It never occured to me that these kids didn't know Alice Cooper. Of course, the parents were all laughing hysterically."
To the rest of the world, of course, Cooper is known for his shock rock performance art and classic rock albums.
"We always thought it was more clever to stay in the boundaries and push them from the inside," Cooper said. "We thought it was more clever not to use bad language. We did at the beginning, but everyone does that. And we discovered nudity didn't work. We could never be accused of doing anything illegal. I also kid with KISS, with Paul Stanley, that whenever they didn't have an idea or know what to do, they'd just blow stuff up. But, I love (it) when stuff blows up."
Yet, is America still shockable nearly 40 years later?
"Somebody will shock," Cooper said. "Marilyn Manson will saw off one of his arms and eat it onstage. And I'll have to give it to him. Every night onstage. I go out and get my head cut off and the crowd loves it. They go wild. But then they go home and see a terrorist cut off a guy's head on CNN and that's more shocking. Fantasy can't shock you when your real life is more shocking. (Shock rockers) can't compete with the real violence of CNN. That's one of the only things Marilyn Manson and I agree on."
Alice Cooper will perform at Fraze Pavilion, 695 Lincoln Blvd., on Thursday, July 20, with The Vacation. For more information, call (937) 296-3300.