Creem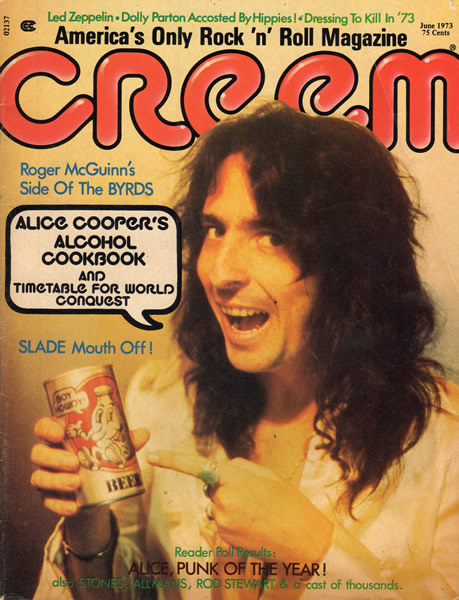 Originally Published: June 1973
Alice Cooper's Alcohol Cookbook
Thank god the age of drug sickies is over. Those bread 'n' butter boys, Alice Cooper, have proved exemplary leadership into the genial asskicking renaissance of alkiedom. They stand for booze almost as much as great music, and though they may total Porsches, puke up pop tabs and bite off their fans' thumbs, none of 'em will ever make the cover of The Rolling Stone by ODing in a Continental opium den. All-American lushes to a man; they want you to follow their good example. So PUT DOWN those needles and Quaaludes, kiddo, and pick up the jug! It's the surest, fastest way to glean all the chrome hotcha charisma of Alice himself for your very own; just stumble around drunk off your ass all the time and instant stardom is assured. Stan Cornyn will break down your door with a recording contract and all the boys and girls on your block will want to ball you. You can start with (Unpaid Plug) Budweiser beer which is the Cooper crew's staple suds, consumed by the gallon day in and day out. For those intrepid souls and old alkies with a tolerance who want to, machete their way into the exotic recesses of classic Alice Cooper toxicity, the band has provided us with the following truly lethal recipes, each and every one employing spirituous fermenti in a diabolic manner unique to Alice's taste and lifestyle on the road and at home.
ALICE COOPER
Pinacolada A La Cooper (For 6)
10 ounces dark (151 proof) Rum
1/6 Fresh Pineapple, chipped into sections
16 ounces fresh coconut milk
Pour the rum into a bowl. Soak the pineapple in the rum. Pour into blender, adding two more ounces of rum. Add the coconut milk, then 2 ounces fresh pineapple juice and 1 tray of ice. Blend until you freeze it. Garnish with pineapple wedge and cherry
Velvet Hammer
1 ounce gin
1 ounce apricot brandy
1 ounce dry vermouth
1 dash of Maraschino liquor
1 dash orange bitters
Stir with ice, strain into standard cock-tail glass
Royal Setup (For pre-concert)
2 ounces Crown Royal
8 ounces of Coke
1 ice cube
Drink until you feel prepared to face 20,000 screaming teenage maniacs.
Lizard Skin
Hollow out a half of a large orange. Pour in one large jigger of brandy, flame brandy, extinguish after a moment; drink.
Tunafish Malted (For hangovers)
1 can of tunafish
2 scoops of Pistachio Ice Cream
4 ounces of Cream
Blend. Drink. Go back to bed
MICHAEL BRUCE
Night Of the Living Dead
2/3 jigger of 90 proof rum
1 1/3 jiggers of 86 proof Gold Seal rum
2/3 jigger of 86 proof White Label rum
2/3 jigger pineapple juice
2/3 jigger papaya juice
juice of 1 lime
1 teaspoon of powdered sugar
Shake well with ice and pour into a tall glass. Decorate with pineapple and cherry and float on top Demerara Rum, 151 proof. Sprinkle with powdered sugar and attack.
H-Bomb
1/4 yellow chartreuse
1/4 green chartreuse
1/4 brandy
1/4 bourbon whiskey
Shake well with ice and strain into glass. Beware of alcoholic fallout.
Mai Mai Massacre
1 ounce light Puerto Rico Rum
1 ounce light Jamaican Rum
1/2 ounce orange Curacao
1/4 ounce Orageat syrup
dash of juice of a whole lime
Mix and pour; leave no trace of a struggle.
Alice Cooper Ass-Kick
Squeeze 1/2 lime into a 12 ounce glass and drop in the rind. Add ice cubes and 1 1/2 jiggers vodka, and fill with ginger beer. Stir and serve.
Certified Gold
Combine in tumbler the juice of 1/2 lemon, 1 jigger raspberry syrup and 1 jigger brandy. Fill with chilled champagne and celebrate.
DENNIS DUNNAWAY
Dunaway's Devil
2/3 Jigger brandy
1/3 jigger green Creme de Menthe
1 pinch of red pepper
Shake brandy and Creme de Menthe. Strain into glass. Sprinkle red pepper on top.
Kiss of Death
1/3 rye whiskey
1/3 dry vermouth
1/6 Dubonnet
1/6 orange juice
1 orange slice
Stir well with ice and strain into glass.
Gold Cadillac
3/4 ounce Creme de Cacao
1 ounce 100 proof vodka
3/4 ounce Cointreau
2 ounces fresh orange juice
3/4 ounce Galliano
3 or 4 ounces of vanilla ice cream
handfull of ice
Blend until smooth.
Alexander The Great
1 ounce brandy
1 ounce dark Creme de Cacao
2 or 3 ounces of cream
Blend it. Serve with powdered Nutmeg on top.
NEAL SMITH
Greenwich Mansion Dip
1/2 Apple brandy
1/2 white creme de menthe
3 dashes Pernod
Shake well with ice, and strain into glass.v
Billion Dollar Baby
1 1/2 ounces whiskey
1/2 ounces carcao
1 dash grenadine
1 white egg
Shake with ice as thought all five Coopers had turned all the up and were playing right between your ears. Strain into cocktail glass.
Creme De Banana
1 chilled shot glass
Drink by the shot until you get there.
Evil Eye
2/3 Pernod
1/3 peppermint
Shake well with ice and strain into glass.
Stinging Whip
1/2 Brandy
1/4 sweet vermouth
1/4 dry vermouth
3 dashes curacao
1 dash Pernod
Mix and Sip
GLEN BUXTON *
(Because of the severity of Glen's pancreas problems, he's been ordered by doctors to never drink again. He'll still go you shot-for-shot, but with ginger ale please. What we're presenting here are Glen's favorites from his days of wine and Budweiser.)
Buxton's Bomber
1 jigger cognac
1/3 jigger Cointreau
1/3 jigger anisette
2/3 jigger vodka
Shake well with ice and strain into large glass. Drink. Repeat indefinitely.
Black Plague
1 wineglass rum
1 tablespoon of molasses
Stir vigorously in glass. Fill with hot water. Stir and serve with nutmeg on top.
Ten-Ton Terror
2 ounces whiskey
1 ounce French vermouth
1 ounce grapefruit juice
Shake well with ice and serve with bulbous cherry.
Baby's Blood
1 ounce lime juice
4 ounces Jamaica rum
1 dashes Angostura
Shake with finely cracked ice.
---
Alice Cooper Blows His Wad
Scenes From An Impending Conquest
Author: Ben Edmonds
"Alice Cooper... I thought it was gonna be like Judy Collins or something. It was the most revolting thing I've ever seen. You shoulda been there..."
Scene: February, 1965. An upper middle-class dwelling in suburban Phoenix, Arizona. As with most American homes during that period of time, all Sunday evening activity stopped dead for the Ed Sullivan Show, a TV variety hour that did its damnedest to see that everybody walked away satisfied. Nothing but family entertainment: actors reading passages of inspirational verse, amazing Italian families who could fly through the air with the greatest of ease, stand-up comedians who appeared once and were never heard from again, and maybe even an occasional taste of unobjectionable acne-rock.
The rock & roll band on this particular evening, however, could never have been confused with Bobby Vinton or the Chad Mitchell Trio. Each one of them seemed possessed of his own distinctive ugliness, with the lead singer being the most aggressively unpleasant of the lot. "Ah wont chew backe agin" he droned through swollen lips, presenting himself to the families of America in a grubby t-shirt and tight corduroy pants, his hair falling in aimless semi-curls over his ears and down the back of his neck. "You can look like the Beatles," one Phoenix housewife told her impressionable teenage son that night, "but if you ever look like that..."
"That was it," said an amused Alice Cooper as he recalled that historic incident. "I knew right then and there that we had to make the Rolling Stones look like kindergarten."
Scene: March 1969. The Whiskey A Go Go in Los Angeles, where the hip and would-be hip put up with watered down drinks served by sullen waitresses just to get a shot at some name-brand rock & roll bands. One of the would-be hipsters has just stormed out of the club, hustling his slightly dazed girlfriend through the door in a flurry of buckskin. "I've never seen anything like it," he fumed to nobody in particular, "the very thought of it is enough to make me vomit. Alice Cooper... I thought it was gonna be like Judy Collins or something. It was the most revolting thing I've ever seen. You shoulda been there..."
Scene: August 1969. The house of renowned avant-garde orchestra leader and manipulator of destiny, Frank Zappa, which was originally built for silent-screen supercowboy Tom Mix. Mick Jagger can be observed departing the premises in an embarrassed huff, having been rudely evicted moments earlier by an indignant Mr. Zappa. Jag-ger's crime: possession of a hashpipe with intent to get high. "It was then," remembers Alice, "that I knew our association with Frank would be shortlived. It was like a high school training film; it was bad theatre."
Scene: December, 1969. Capitalizing on their reputation for repulsing more people in a shorter period of time than any other rock & roll band in history, Alice Cooper was contracted for a commercial by Excedrin. They were Excedrin Headache No. 48, and the script called for them to surround a typical mid-American in a big overstuffed chair, screaming and banging on their instruments like the rudest rock & roll stereotype your imagination could produce. Apparently the Coopers proved even too repulsive to simulate a headache, however, because Excedrin never permitted the commercial to be aired.
Scene: September 1970. The office of a small-time club manager in the bowels of the great Midwest. The man behind the desk looks like any other dumpy middle-aged merchant, with the only concession to those crazy teenagers that pay his bills being sideburns that strain to reach mid-earlobe. And he's pissed off. "Look, I think this Alice Cooper stuff is disgusting. Something like that shouldn't be allowed in public, as far as I'm concerned. But they've been the only band that's made me any money this year. Nobody seems to like them, but the house is always full whenever they play. What am I supposed to do?"
Scene: October 1970. The Agora, a 3.2% beer'n'boogie ballroom in Columbus, Ohio, a few months prior to the release of "Eighteen." "I'm so excited," Alice bubbled after a particularly energetic (and well received) show. "We've been offered use of a theatre off-Broadway for a month. We hope to put together a total-environment presentation, with shocks installed in the seats, a wind and rain machine, and lighting effects like you've never seen. I'm having a hard time getting to sleep at night with all the ideas that this thing is giving me. Real theatre. I can't wait."
Scene: early 1971. Detroit's most powerful AM radio station, CKLW, seems to be playing "Eighteen" whenever you turn it on. Broadcasting from Canadian soil, the station is subject to a curious regulation known as Candian Content, which means that all Canuck stations must program 30% Canadian product. Under the assumption that "Eighteen" qualified because it was produced by a Canadian (Bob Ezrin), CKLW went on the single immediately. When a later investigation revealed that Ezrin's presence wasn't enough to meet requirements, the record was getting too many phone requests to be dropped. A fluke hit. "A fluke is all it is," confided a Warner Bros, employee. "I mean, how long can a group like that last, right?"
Scene: mid 1971. The backroom of Max's Kansas City, a New York latenitery where the 60's were lived and the 70's born. "Wait'll you hear the new stuff we've just recorded," Mike Bruce is enthusing to Bruce Johnston of the Beach Boys following the Cooper's triumphant conquest of Carnegie Hall. "It's gonna make "Eighteen" look like maltshop stuff. Now that we've got a foot in the door, we're gonna blast it wide open."
Scene: September 1971. The Cooper farm, a sprawling tract of largely unused acreage not far from Pontiac, Michigan. "Sometimes half the audience would be up and out before we finished our first number." Alice is letting his thoughts drift back to the band's experiences in L.A. two years previous. "A lot of them, though, were afraid to walk out. They were afraid to move. Do you realize what a feeling of power that can give you? I think things are starting to really open up: people seem to be getting more and more receptive to what we're trying to do. Which is great, because it gives us the leverage to fulfill our fantasies."
Scene: September 1972. A small college in the nothingness of northern Michigan where, somehow. Alice Cooper has been contracted for a show. The band has completed their set and is returning for the encore, accompanied by a familiar face under a shock of curly hair. They break into a note-perfect rendition of the Monkees theme ("Here we come, walkin' down the street . . .") and that familar face mouthing the words becomes instantly recognizable as Mickey Dolenz! "We're just good friends," Alice later remarked of the former bozo wetdream, who maintains a complete videotape library of Amos 'n' Andy programs at his Los Angeles residence.
Scene: October 1972. A Detroit dressing room prior to an Alice Cooper concert which had sold out as quickly as the Rolling Stones' two appearances earlier in the year. The banquet table overflowed with food and drink of all descriptions and even the most furious onslaught of starving artists and hangers-on doesn't appear to have diminished it by much. Security police officers are huddled in the corner inspecting the band's boa constrictor and casting suspicious glances in the direction of Alice. "I really didn't know what to expect when I first took this assignment," the girl from the teen magazine is saying, "but these guys really surprised me. No whips or Medieval torture stuff... nothing that their stage show would lead you to expect. As a matter of fact, they 're more normal than I am!"
Scene: October 1972. Backstage at a Commander Cody concert in Ann Arbor, Michigan. A persistent solicitor for the revolution is attempting to run her number on an unenlightened member of the youth culture. "Alice Cooper," she asserts with total and unswerving conviction, "is using his freedom to help deal with the repression in the gay community." When informed that Alice is not gay — just a good actor - her propaganda express is momentarily derailed. "I know an awful lot of gay brothers who look up to brother Alice," she sputters, but then immediately shifts her guns toward a more convenient target. "It's like I been tryin' ta tell ya, the dinosaur structure of the music biz won't allow Alice to do what he feels is righteous. He's a prisoner, man ..."
Scene: October 1972. A downtown Holiday Inn, following the aforementioned Detroit concert. Kids are hanging out in the lobby and cruising every corridor, hoping to stumble on their heroes and some of that rock'n'roll decadence they've heard so much about. "To be perfectly honest," Alice says as he settles back with the first of many cold Budweisers, "I don't care what kind of an effect I have on my audiences. I'm up there as an entertainer, and it's like 'ok, whatever you want from me.' I'll suggest certain things; maybe that I'm gay or super-macho. Those are all lies. But that's Alice; Alice is a liar."
Scene: November 1972. The Circus Krone Theatre in Munich, Germany. Local constabularies have detained the band at the stage door, refusing entry to their pet snake Yvonne. "We'll not have our children exposed to such a thing," they bark, their bloated bodies blocking the entrance. "I thought this was a circus hall," Neal Smith shoots back, but their sense of civic responsibility will not be swayed. Manager Shep Gordon quietly takes charge, placing $150 in new bills into their suddenly receptive palms. Their civic conscience thus eased, the show went on with no further problems. Money talks, and 1972 was the year that Alice Cooper found their voices.
Scene: February 1973. The Cooper Mansion (formerly occupied by Ann-Margaret and Roger Smith) in Greenwich, Connecticut. The band is in a cavernous rehearsal room (which could probably fill in if Madison Square Garden didn't show for a concert some night) spitpolishing the music which will accompany their new show. The sound is big and bracing, strengthened and textured by additional sidemen Mick Mishbir on guitar and keyboard-mellotron ace Bob Dolan. Both are old friends from Phoenix. Alice is draped casually over the mikestand, the ever-present can of Bud dangling from one jewel studded wrist. Suddenly Glen Buxton, who has spent the previous two months in Phoenix recuperating from a pancreas operation, breezes into the room to announce his return from the dead. (According to the annals of Cooper legend, Glen's operation was performed a scant two hours before he was due to be kicked upstairs.) He looks tan and healthy, dressed in a natty three-piece suit and brandishing an elegantly sculptured cane. "Howdy fellers," he drawls to the smiling members of the band, "ya wanna see my scar?"
Scene: February 1973. Alice's limo, in the midnight blackness somewhere between Connecticut and New York City. "Alice is two different people, but they do occasionally overlap," the man himself is saying. "I can remember this one night in Las Palmas; I was very drunk. Everything was kinda fuzzy, but all of a sudden bodies started flying through the air. I jumped up and - whap! - found myself lying on my back. But I came up off the floor looking for blood; it was like suddenly I was Alice on stage. I thought I was a tough guy; I'd have taken on anybody. It's a good thing they hustled me out of there; I probably would've gotten myself killed!"
Scene: February 1973. The body of Kachina, the pet boa constrictor which preceded Yvonne as a part of the Alice Cooper family, was recovered by Nashville motel manager Joe Ewing. At the time of recovery, Ewing was looking for the cause of a drainage problem. "The bartender was cleaning the bar and found it all stopped up," he reported. "He looked at the floor, and the boa constrictor came easing out of the drain. It wasn't alive but it was still a snake. I haven't been able to eat all day." The Coopers played Nashville last August, and it was at that time that Kachina was lost.
Scene: February, 1973. Having scored unusually high ratings on ABC's In Concert, Alice is making tentative plans for a Cooper TV special, ideally to be broadcast on Halloween. "We'll probably concentrate on our more gruesome numbers," Alice explained, "things like 'Dwight Frye,' 'Dead Babies' and 'I Love the Dead.' We'd like to make it so that you could turn off the lights and be totally frightened, just like you used to be frightened when you went to see horror movies as a kid." Alice's In Concert performance was sufficiently frightening to a station manager in Cincinnati, however. He blacked it out and replaced it with a horror movie.
Scene: March 1973. Philadelphia, the place where America was invented nearly 200 years ago. If it's a nice day, everybody in Philadelphia is still into cruising with the top down and the radio way up. All the young kids look like Todd Rundgren (which is perhaps why Todd had his hair streaked in multi-colors; so that you could tell which one was him). When you decide to leave Philadelphia (a decision that usually doesn't take very long) you'll be confronted by something called an "airport tax," which is just another municipal excuse to soak transients and tourists for three more dollars. America all the way. It was perfectly appropriate that the new Alice Cooper tour, designed to rape and plunder America with a cold calculation unseen since the days when we were pushovers for King George, should kick off in Philadelphia.
Scene: March 1973. A press conference in the banquet room of Philly's monument to the ultimate Holiday Inn dream: the Penn-Center hotel, on the morning following the unveiling of Alice's most spectacularly self-indulgent piece of theatre-of-the-affluent to date. "What I want to say to the kids of America," Alice mock-philosophizes to the assembled journalists, "is that we'll get just as sick as you do." Which is fine, but really doesn't address the question of where they can go physically from here. Will Alice Cooper become the Elvis of the 70's, grinding out a new presentation, each more selfconsciously magnificent than the last, every two weeks? It's hard to say. Alice Cooper is currently on top, but by nature a peak must mark the beginning of a decline as well. There's only one way to go from the top, so the ultimate goal becomes to go nowhere at all. It's a question of balance.
---
Alice's New Show
Lust, Greed & Dental Hygiene
Author: Robert Christgau
Alice Cooper's latest and most appropriate symbol is a dollar-sign, its "S" transformed into a two-headed snake. This design graces the tail of the private jet which will carry the group and its entourage to each of the 56 cities on its current tour. The tour is organized around its new album, Billion Dollar Babies. It will certainly bring in more than $4,000,000 and while $4,000,000 isn't a billion, it's more than the Rolling Stones made the last time they raped America.
According to myth, such grosses are gross, because Alice Cooper is a no-music hype whose record-breaking career exploits tawdry showmanship and adolescent gullibility in more-or-less equal proportions. But if it's gross, it's meant to be gross, like the gross national product, and anyway, it does have content. Hype and showmanship have certainly helped - the group's manager, Shep Gordon, has finessed and brazened Alice's predilection for tasteless outrage into the kind of media attention that turns just another rock band into superstars. But Alice would never have begun to fill sports arenas without a couple of classic hard-rock singles, "I'm 18" and "School's Out," both written by Alice himself, and a lot of hard touring, too. The only way he will continue to fill them is by continuing to exemplify the good old American work ethic. The Rolling Stones could have raked in $4,000,000-plus if they'd been willing to strain themselves. They declined.
The group's new show emphasizes new material from Billion Dollar Babies. Groups which organize tours around unfamilar music are usually either uncompromising aesthetically or supernaturally arrogant. In Alice Cooper these two qualities are identical. Nothing Alice has concocted in a career based on tasteless outrage equals the frank, sweaty greed of his current success and his act is designed to accentuate this. Not that Alice doesn't run through his usual numbers. He plays with his boa constrictor, he skewers dolls with a sword, he guillotines himself as unconvincingly as he used to hang himself. He even has a new song about necrophilia. Mercy me.
But he justifies this sicko tomfoolery by making fun of it. Unlike most rock showmen, Alice Cooper does not pretend to put out for his audience. Instead, he extends his hand to the fans at the edge of the stage, then draws it away when someone might actually touch him. He rolls up a giveaway poster and induces some screaming payee to snatch it from between his legs. In one triumphant sequence, he attacks a dancing tooth with an enormous toothbrush, satirizing in one swipe the complimentary banality of rock advice ("Alice Cooper says, brush your teeth") and rock sadomasochism (dentists hurt, too). Plus, the silliness of rock phallic symbols. Not to mention the ultimate antisepsis of his whole bizarre trip. But the best moment comes after the guillotine sequence, when the whole band disappears from the stage and the music continues on tape. You don't really need me at all, Alice says, but you'll be back and so will I. At the end. there is another tape, Kate Smith singing "God Bless America." The Stars and Stripes are lowered. Do they burn the flag, spit on it, run it through with a sword? Are you kidding? These are good Americans, folks. The band salutes, and walks off in modified goose-step.
---
Rolf Kempf. the Canadian songster responsible for "Hello, Hooray," will soon have an album on Columbia produced by Bob Ezrin (Alice's producer). Kempf is the classy dude in the CRH-M t-shirt, while the guv to his left is somebody who recorded one of his songs.