Classic Rock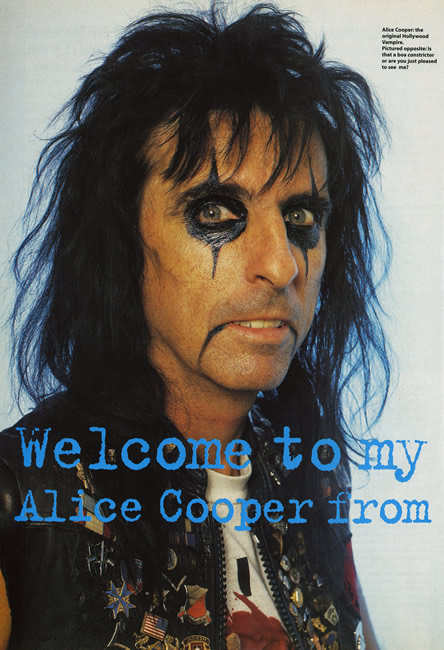 Classic Rock
(September 1999)
Originally Published: September 1999
Welcome To My Mightmare
Alice Cooper From The Inside Out
Author: Daniel Letch
It's hard to believe that Alice Cooper's story has now spanned an incredible three decades - as Alice himself is only too keen to agree. The schizophrenic singer has gone through peaks and drink-addled troughs, but although the music sometimes disappoints, those live shows are never less than captivating. Daniel Letch is not worthy.
Thirty years is a hell of a long time in anybody's book. Think about it. In certain parts of the world countries have changed their names ten time in half that. And if you happen to be the original cross-dressing, baby-slicing shock rocker, Alice Cooper, an artist who spent much of that time hiding at the bottom of whisky bottle, thirty years is tantamount to several lifetimes.
"No one's more surprised than us at the longevity of Alice Cooper," snorts the man behind the mask, using an oddly plural frame of reference. "In the late '60s, the press said we wouldn't last ten minutes. Maybe they'd have been right if we hadn't hooked up with [legendary 'epic' producer] Bob Ezrin like we did.
"We knew we had a great stage show, a fantastic image and a unique concept, but I also knew that if we couldn't play as well as Led Zeppelin then we were gonna get killed on stage. To me, the show was easy, writing 'School's Out' and 'Billion Dollar Babies' was the hard part!"
The original Alice Cooper band included Michael Bruce and Glen Buxton (guitars), Dennis Dunaway (Bass) and Vincent Furnier, aka Alice himself. They began life in 1965 as a brief college experiment called The Spiders. This odd and supremely noisy incarnation would also briefly run by the name of The Nazz in 1967, before finally recruiting drummer Neal Smith and becoming the Alice Cooper Band in the latter part of the following year.
The story goes that late one night while the group were paying a house call to their manager, his extrovert mother pulled out a ouija board "for laughs" and offered to do a reading for them. Without further cue, and with one eye firmly fixed on a good quote, it is said the woman's hands were guided to spell out A-L-I-C-E-C-O-O-P-E-R. From that point on the story was made that Alice was in fact the reincarnation of a witch who had taken up residence in the body of the singer.
"Alice Cooper is such an all-American name. I loved the idea that people would think that Alice Cooper was blonde folk singer. The name started as a spit in the face of society. With a name like Alice Cooper, we would really make 'em suffer!" says Alice in an interview which can be found in his recent 50[pounds]-a-pop boxed set ('The Life And Crimes Of Alice Cooper').
And he wasn't kidding. Against a backdrop of peace, love and the usual hippy go lucky drop-out bullshit that soaked the latter end of the 1960s in roared the Alice Cooper band - the living, breathing reality of Altamount's black acid fall-out. In the face of Los Angeles bands like Love and The Doors (whom the AC band would notoriously fall-in with for bouts of sustained alcohol abuse), the band proceeded to attack and undermine every taboo that modern society deemed unbreakable.
Alice still remembers the very first occasion that the band took to the stage.
"We were playing in the wake of the Doors and all those kind trippy bands and the very first time I called myself Alice Cooper, with the makeup smeared everywhere, I was wearing a pink clown outfit with furry afro hair. I must've looked like the scariest thing on two legs!" he cackles.
But it was their second ever gig that lead to their deal with Frank Zappa's Straight Records. At a party for Lenny Bruce, the Alice Cooper band played to four hundred friends and guests - and promptly cleared the building!
"Frank saw that and said, 'Any band who can clear a room that quickly I gotta have on my label!' Everyone was doing this horrible peace and love shit at the time and then we came onstage bastardising a Who song, looking like some space age Frankensteins!"
Along with maverick producer Bob Ezrin, the original line-up of the Alice Cooper band would go on to re-write rock history. If 1969's debut 'Pretties For You' didn't set the world on fire with its often jarring and awkward rhythms, it sure marked the band out as a sonic slap in the face.
Starting with 1971's 'Love It To Death' and continuing with a series of increasingly more polished and successful albums, this was the definitive Alice Cooper era: 'Killer' ('71), 'School's Out' ('72) and 'Billion Dollar Babies' ('73) all followed, each more extravagant and successful than the last.
"The most definitive Alice Cooper album will always be 'Love It To Death' in my opinion. That one defines us the most and I really think we only hit our stride when we did the 'Billion Dollar Babies' album," remarks Alice, downplaying the strengths of the band's best loved release. " 'School's Out' was Number One in England, Number Two in the States, and then to get 'Billion Dollar Babies' straight in at Number One as well, that was major.
"Suddenly, at the albums session, Marc Bolan, Ringo Starr, Keith Moon and Donovan would all show up to listen to the music. John Lennon told me that 'Elected' was his favourite record at that time. He said that he'd listened to the song nearly a hundred times, but then at the end of the conversation, 'he said, 'Of course, you know that Paul would have done it better!' "
'Love It To Death' spawned the worldwide hit 'Eighteen', the 'Smells Like Teen Spirit' of its generation. Kids, teenagers and wannabe rebels the world over united behind Alice's rallying call. Like Kurt Cobain twenty years later, the youth of the early '70s turned to Alice because they felt he understood their confusion and disaffection towards the adult world on their doorstep. "We ain't even clever enough to make a rhyme" croaked Alice in a perversely simple statement of generation.
But if Alice staked his claim as the leader of the gang on 'Eighteen', 'The Ballad of Dwight Fry' was the metaphorical heart and soul of 'Love It To Death'. With its schizophrenic vocal delivery, 'Dwight' carved out the blueprint for the solo Alice of future years, one which would culminate in the paranoia-fed psychodrama of 'Welcome To My Nightmare'.
"The most dangerous things started to happen after we had a hit," recalls Alice. "When 'Eighteen' became a success and this band that everyone used to kick around and say, 'Well, they're fun to watch, but they don't mean nothing' was now getting major attention. And when we followed it up with 'School's out', which went in at Number One then everyone - TV, radio, music press, straight press - everyone wanted to get a piece of this band. We officially became the most dangerous band in the world because we were freaky and there was no place to hide."
As Alice Cooper's albums grew more outlandish, so did the band's stage shows. They graduated from simple stage props like headless plastic dolls and blood-soaked top hat and tails to mock executions. Electrocutions in handy electric chairs, multiple hangings from a fully working gallows through to the final triumph of unreality in the form of a full-on beheading at the blade of a life sized guillotine - nothing was considered too much trouble to kill Alice!
As much as Alice was an obvious focal point for the band as a whole, the front-man was keen that the group was presented as a fully functioning band, a point which he stresses even today when remembering the success of his golden oldies.
"If it hadn't been for the unique individual balance of psychoses that each member brought to the band then Alice Cooper wouldn't have continued as long as it has. Dennis played bass better than anybody - he played 'lead bass' better than Glen played lead guitar. And Neal, he was a total rock drummer - he'd find out how many drums Keith Moon had and then go buy one more just so he could call Keith up and say, 'Hey man, how many parts have you got?' And Keith would say '36' and then Neal would go, 'Well, I've got 37!' "
While Alice Cooper today is seen as a epitome of a '70s US rock musician with gaudy, OTT shock rock theatrics clouding the finer points of his musical legacy, it was from the UK that the Alice Cooper band's first success came. When they first entered our charts with 'Eighteen', Alice Cooper were tagged as part of the then emerging glam rock scene, an association which seems to linger among British consciousness even today (Alice was voted in the Top Five glam stars of the '70s in a recent Channel 4 programme).
"When we first visited England, the only glam rock band around was T.Rex. David Bowie wasn't doing his glam thing until much later. We soon recognised that not only did the English kids see us as part of the Glam thing, but they also liked the violent aspect of the Alice Cooper show - we made it funnier and darker than anybody else. The Sweet were trying to look pretty. We were definitely not trying to look pretty. We looked like Baby Jane meets Lizzy Borden.
"I think we owed a great deal of our early success exclusively to England. When Mary Whitehouse tried banning us from England we went to Number One! And at that time the Americans were looking to England for the next good band: Yardbirds, Zeppelin, Floyd, Kinks - it was all from England and so for us to break onto the scene there first was a major statement. I give all the credit to the UK fans."
As the Alice Cooper show transformed from small clubs into large halls and eventually the sheds of North America the psyche of the band's frontman changed accordingly. The flowery psychedelic line make-up of the first few albums metamorphosed into something altogether more sinister. The lines disappeared to be replaced by the now infamous killer clown face paint. Alice's trademark image was in place.
"I had done the spider make up for quite a while and I had seen too many pictures of me wearing the same thing," he now explains. "I figured that I should take the image some place else; make it into something that was reflecting the dementia that was surrounding the group. I'd seen an old circus poster that was half ripped off a wall, on it there was a clown's face with the basis of the design I used - only his was red and mine had to be black. The face was looking at me very sinisterly and, let's be honest, Carnie-folk are the creepiest people in the world. So if Alice was gonna be a real creepy freak then that's where he belonged, too."
"I've often been asked why I fired the original band. Well, I never fired the Alice Cooper band, the truth is they fired themselves," maintains Alice. "I was on the same money as they were - an equal split - and we all contributed equally to each record. After "Muscle of Love' [1973] had finished we hooked up to make another record and everybody wanted to do their own albums. Dennis wanted to sound like Pink Floyd, Mike wanted to be James Taylor, I don't know what Neal wanted, but none of them wanted to continue with theatrics.
"They believed that because it had been successful for us, it was a point proven and therefore it was time to change. That was such a blow to the stomach for me. I mean, are you kidding? I said that we'd run the gauntlet of all that criticism, we were bloodied but not beaten and yet we'd got to the top of the mountain.and now they didn't want it anymore? No way! For me it was time to take it to the next level while we had everybody's attention. So we said goodbye and good luck to each other.
"I walked away with the name because in reality I was Alice. And if the truth be known, they didn't want to be Alice Cooper anymore, and I did."
In 1975, with Bob Ezrin at the desk, Alice delivered arguably his finest solo outing, 'Welcome To My Nightmare'.
"Because our previous stage production had cost so much we weren't what you'd call mega rich. I had about $400,000 and my manager Shep [Gordon] had about the same. So we put every penny we had into 'Welcome To My Nightmare'. We figured that it was either gonna be the biggest thing you'd ever seen or we were gonna be broke. Luckily, the album did very well."
Introducing new classics like 'Department of Youth', the deeply satiric ode to necrophilia, 'Cold Ethyl', and Alice biggest song to date in 'Only Women Bleed', 'Nightmare catapulted Alice into serious unit-shifting territory - not to mention the everyday consciousness of the average outraged American. And just so that the stay-at-homes could share in all the fun Alice filmed the album's visual counterpart in the UK. The resulting 'Nightmare' show was aired on national TV, earning a Grammy nomination for its visual effects.
"The stage show was exactly what people wanted to see - the next level. All the things that Alice should be seen doing, we could now show it to them. We wanted to develop the Steven character and dramatise the demons of his mind: the giant spiders on their huge webs, the cyclops which would run around the stage. It was a lot of fun but also very exhausting, not to mention very, very expensive!"
With the success of a burgeoning solo career to contend with, yet without the back-up of a few friendly faces, Alice's penchant for a few shandies began to get out of control. It was reported that the Cooper band had drunk over 30,000 worth of Budweiser in 1972 alone, but Alice's subsequent change from a few cans of beer to a steady diet of whisky was to prove a harbinger of doom for the rocker's creativity.
"When I was 16 and dreaming about being a big rock star, getting money and cars, I never included being an alcoholic," says Alice, like a true AA regular. "It sneaked up on me. I liked drinking and hanging out with the guys who were drinking.
"We'd have these long drives in the States, so I'd have a beer or three and some more after the show. pretty soon I was having a beer in the morning, too. But I didn't feel like an alcoholic. Then I found that the beer was gone and I was drinking whisky in the morning and more whisky in the afternoon. And more before the show, and then more after the show - it wasn't fun anymore - it was like medicine.
"It didn't change my personality drastically. If you'd met me at the time you wouldn't have known I had a problem. I never missed a show or even a lyric. I was what I called a 'functional alcoholic'," he states proudly.
"I used to hang out in a perverted drinking 'club'. We called ourselves the Hollywood Vampires - the rate pack with teeth. At the Rainbow Bar & Grill in LA there's a secret loft at the back with a plaque on the wall which states 'This is the lair of the Hollywood Vampires'. There was myself Harry Nilsson, Lennon, Micky Dolenz, Keith Moon and a few others. It was expected of us to be the last one standing. You'd never guess what was gonna happen next - one night Keith Moon would come in dressed up as Hitler and the next it might be Julius Ceasar in a full roman togal!"
Other albums followed, each one stripping away the mystery of the original character and becoming a pale shadow of its predecessor.
The cycle continued until the mid-'80s, when Alice made a surprise comeback. Utilising the visual impact of MTV, Cooper captured a new generation of rock and heavy metal fans weened on his successors like Motley Crue, W.A.S.P. and Twisted Sister. His '86 album, 'Constrictor', was a well chosen collection of high powered riffs, and its adrenalin-fuelled follow-up, 'Raise Your Fist and Yell' ('87), enabled Cooper to tour the world as a sober man for the first time in the '80s.
Collaborations with the then huge underground speed kings Megadeth and the chart-devouring Guns N' Roses allowed Alice to claim his crown. Two years on, he delivered 'Trash', his biggest album to date, and a formulaic collection of anthemic rockers penned with Bon Jovi/Aerosmith hitmaker Desmond Child.
The respect of two generation of rock fans and musical peers alike seemed Alice's with the guest frenzy of '91's 'Hey Stoopid', which featured appearances fron Jon Bon Jovi, Steve Vai and Ozzy Osbourne. 1994's 'The last Temptation' marks the last Alice studio outing, a classy concept album matched with a comic of the same name written by Sandman author Neil Gaiman and illustrated by the acclaimed Dave McKean.
He doesn't like to envisage not being Alice Cooper anymore, but knows that it'll happen someday.
"I don't know when that day will be, but it will certainly be a strange day," he reflects. "Everyday I get up in the morning and look in the mirror and there's Alice. I've had long hair for such a long time I work constantly towards 'what's next?', 'what's the next album?', 'when's the next tour?' I never have any thoughts of 'Am I too old for this?' because I'm too competitive. I can't look at the new boxed set even for nostalgia, I look at it and think, 'which of these songs are good stage songs? Which are the songs that are gonna scare the pants off the crowd!' "
The Lost Years
No, Alice doesn't remember those dodgy records either!
For many fans, the release of 1978's 'From The Inside' was the last real Alice Cooper album for some eight years - until his MTV-assisted return to the spotlight in '86. 'From The Inside', which came packaged in a glorious gatefold sleeve, was written during Alice's first stay at the Betty Ford Clinic, and is generally reguarded as the finest display of musicianship to be found on an Alice record. However, running against the bombast of the by now stadium-headlining Kiss and the import of snotty punk rock from the UK, the 'Inside' also marked the beginning of Alice's commercial decline - although some might argue that 'Lace And Whiskey' ('77) and even 'Goes To Hell' ('76) had already been comparative creative flops.
"They really were lost years, too," quips, the Coop, referring to the virtual flatlining of his career. "'Flush The Fashion' (1980), 'Special Forces' ('81), 'Zipper Catches Skin' ('82) and 'Dada' ('83) - that was such a dark era for me. I look at those records and they have my name on them and I'm singing on them, but I just don't remember making any of 'em!"
Plagued by loss of large chunks of his audience and back on the sauce again, Alice explored a number of diverse yet ultimately futile sounds. 'Flush' even introduced Gary Numan-esque synthesisers, and the record sounded uncharacteristically weak in places. Stung by the reception 'Special Forces' was supposedly written with a tougher sound in mind and, while the guitars are well produced and very upfront, the quality and depth of the songwriting is woefully short. The drought dragged on with 'Zipper', a virtual waste of recording time, and on into 'Dada', a Norman Bates-ish concept album written with Bob Ezrin, fresh from virtually career-stalling stint with Kiss on their godawful '(Music From) The Elders'.
"At the start of that blackout period disco was at it peak and rock 'n' roll was just not being played on the radio, so I ended up making records purely for myself," recalls Alice today.
After a thirteen year lay-off and a new-found period of stability, Alice's legacy was suddenly being discovered by a new generation of rock fans. On came 'Constrictor' with it's Friday the 13th soundtrack hit '(He's Back) The Man Behind The Mask' and the unfeasibly dumb but fun 'Teenage Frankenstein'.
Alice was back in business.
Billion Dollar Babies
Those that followed in Alice's wake.
Kiss
While Alice dominated the charts between '71-'72, Gene Simmons and Paul Stanley were still wearing their mother's cast-offs, parading around the hippy communes of NYC as Wicked Lester. However, given some legendary egos that make up Kiss, getting them to acknowledge another artist is never easy. Now, after years of occasional sniping, Simmon's acknowledges the Coop's influence on Kiss' own donning of the pan-stick.
As the Coop's fortunes dipped in the late '70s, Kiss grasped shock rock's crown and held it until the LA rock explosion of the early '80s.
W.A.S.P.
Surely no explanation necessary? Blackie Lawless - the larger than life frontman in garish lycra one-piece bodysuits? He sported an exploding codpiece and drank blood from a plastic skull. With their OTT anthems like 'L.O.V.E. Machine', 'Blind in Texas' and the ultimate Cooper tribute, 'Animal (Fuck Like A Beast)', you have to say that W.A.S.P. completely missed the point.
Motley Crue
Nikki Sixx's upstart shockers courted a nation with the trashy, Alice-inspired 'Too Fast For Love' and the immeasurable entertaining psuedo-satanic guff of 'Shout At The Devil'. But slapping on the eye liner and writing a few cod metal anthems does not a 30 year career make, as the recently departed Tommy Lee will testify. Rats and sinking ships, anyone?
Guns n' Roses
Back in the heady days of 1987 and in the wake of their soon-to-be colossal selling 'Appetite For Destruction' opus, the Gunners were known as the "most dangerous band on the planet." And extended Gunners appearance in Penelope Spheeris' Decline Of The Western Civilization led to a pairing with the ol' ghoul himself for a re-working of 'Under My Wheels'.
Rob Zombie
The master's ghoulish apprentice Rob Zombie was raised on pure '70s Cooper, rating the Vincent Price and Alice collaboration on 'Black Widow' the greatest moment of his childhood. The team paired up for 'Hands of Doom [Death] (Burn Baby Burn)' from the X-Files soundtrack and again when Zombie guested on Alice's live album 'A Fistful Of Alice'.
Marilyn Manson
The true heir to Alice's throne? Possibly. Consider evidence: Vincent Furnier escapes middle America taking a woman's name and releasing darkly psychedelic records of teenage rebellion and ongoing dementia. A generation later, Brian Warner, does likewise, dressing as a complete loon and hooking up with the Satanic Church for a spot of good ol' fashioned Christian baiting. Significant drug/alcohol abuse plagues both. One has more comebacks than Frank Sinatra, while the other dips his head in blue paint and generally acts the fool.
Cradle of Filth
Look at a picture of Alice. Look at a picture of Dani Filth. 'Nuff said.