Classic Rock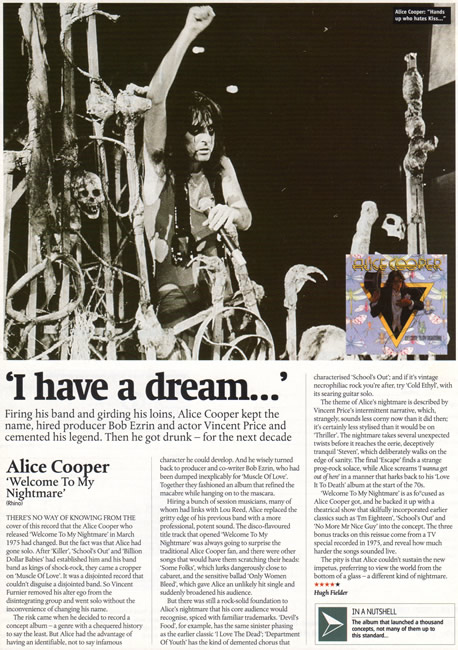 Originally Published: 2002
'I have a dream...'
Firing his band and girding his loins, Alice Cooper kept the name, hired producer Bob Ezrin and actor Vincent Price and cemented his legend. Then he got drunk - for the next decade
Author: Hugh Fielder
Alice Cooper
'Welcome To My Nightmare'
(Rhino)
4/5
THERE'S NO WAY OF KNOWING FROM THE cover of this record that the Alice Cooper who released 'Welcome To My Nightmare' in March 1975 had changed. But the fact was that Alice had gone solo. After 'Killer', 'School's Out' and 'Billion Dollar Babies' had established him and his band band as kings of shock-rock, they came a cropper on 'Muscle Of Love'. It was a disjointed record that couldn't disguise a disjointed band. So Vincent Furnier removed his alter ego from the disintegrating group and went solo without the inconvenience of changing his name.
The risk came when he decided to record a concept album - a genre with a chequered history to say the least. But Alice had the advantage of having an identifiable, not to say infamous character he could develop. And he wisely turned back to producer and co-writer Bob Ezrin, who had been dumped inexplicably for 'Muscle Of Love'. Together they fashioned an album that refined the macabre while hanging on to the mascara.
Hiring a bunch of session musicians, many of whom had links with Lou Reed, Alice replaced the gritty edge of his previous band with a more professional, potent sound. The disco-flavoured title track that opened 'Welcome To My Nightmare' was always going to surprise the traditional Alice Cooper fan, and there
were other songs that would have them scratching their heads: 'Some Folks', which lurks dangerously close to cabaret, and the sensitive ballad 'Only Women Bleed', which gave Alice an unlikely hit single and suddenly broadened his audience.
But there was still a rock-solid foundation to Alice's nightmare that his core audience would recognise, spiced with familiar trademarks. 'Devil's Food', for example, has the same sinister phasing as the earlier classic 'I Love The Dead'; 'Department Of Youth' has the kind of demented chorus that characterised 'School's Out'; and if it's vintage necrophiliac rock you're after, try'Cold Ethyl', with its searing guitar solo.
The theme of Alice's nightmare is described by Vincent Price's intermittent narrative, which, strangely, sounds less corny now than it did then; it's certainly less stylised than it would be on 'Thriller'. The nightmare takes several unexpected twists before it reaches the eerie, deceptively tranquil 'Steven', which deliberately walks on the edge of sanity. The final 'Escape' finds a strange prog-rock solace, while Alice screams 'I wanna get out of here' in a manner that harks back to his 'Love It To Death' album at the start of the 70s.
'Welcome To My Nightmare' is as focused as Alice Cooper got, and he backed it up with a theatrical show that skilfully incorporated earlier classics such as 'I'm Eighteen', 'School's Out' and 'No More Mr Nice Guy' into the concept. The three bonus tracks on this reissue come from a TV special recorded in 1975, and reveal how much harder the songs sounded live.
The pity is that Alice couldn't sustain the new impetus, preferring to view the world from the bottom of a glass - a different kind of nightmare.