Classic Rock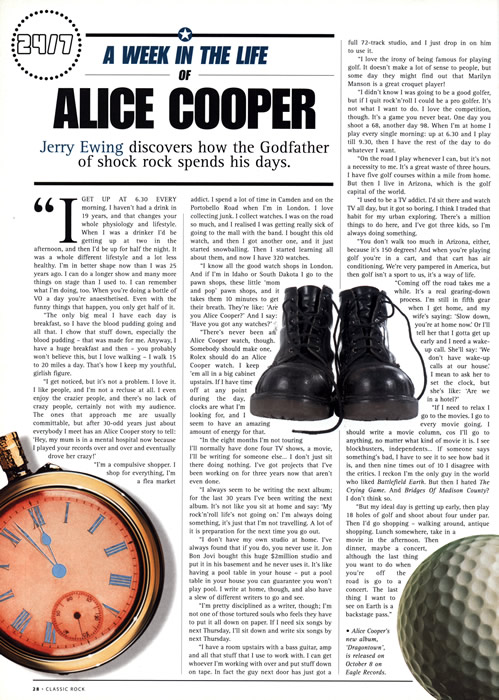 Classic Rock
(October 2001)
Originally Published: October 2001
A Week In The Life Of Alice Cooper
Jerry Ewing discovers how the Godfather of shock rock spends his days.
Author: Jerry Ewing
"I get up at 6.30 every morning. I haven't had a drink in 19 years, and that changes your whole physiology and lifestyle. When I was a drinker I'd be getting up at two in the afternoon, and then I'd be up for half the night. It was a whole different lifestyle and a lot less healthy. I'm in better shape now than I was 25 years ago. I can do a longer show and many more things on stage than I used to. I can remember what I'm doing, too. When you're doing a bottle of VO a day you're anesthetised. Even with the funny things that happen, you only get half of it.
"The only big meal I have each day is breakfast, so I have the blood pudding going and all that. I chow that stuff down, especially the blood pudding - that was made for me. Anyway, I have a huge breakfast and then - you probably won't believe this, but I love walking - I walk 10 to 20 miles a day. That's how I keep my youthful girlish figure.
"I get noticed, but it's not a problem. I love it. I like people, and I'm not a recluse at all. I even enjoy the crazier people, and there's no lack of crazy people, certainly not with my audience. The ones that approach me are usually committable, but after 30-odd years about everybody I meet has an Alice Cooper story to tell: 'Hey, my mum is in a mental hospital now because I played your records over and over and eventually drove her crazy!'
"I'm a compulsive shopper. I shop for everything. I'm a flea market addict. I spend a lot of time in Camden and on the Portobello Road when I'm in London. I love collecting junk. I collect watches. I was on the road so much, and I realised I was getting really sick of going to the mall with the band. I bought this old watch, and then I got another one, and it just started snowballing. Then I started learning all about them, and now I have 320 watches.
"I know all the good watch shops in London. And if I'm in Idaho or South Dakota I got to the pawn shops, these little 'mom and pop' pawn shops, and it takes them 10 minutes to get their breath. They're like: 'Are you Alice Cooper?' And I say: 'Have you got any watches?'
"There's never been an Alice Cooper watch, though. Somebody should make one, Rolex should do an Alice Cooper watch. I keep 'em all in a big cabinet upstairs. if I have time off at any point during the day, clocks are what I'm looking for, and I seem to have an amazing amount of energy for that.
"In the eight months I'm not touring I'll normally have done four TV shows, a movie, I'll be writing for someone else... I don't just sit there doing nothing. I've got projects that I've been working on for three years now that aren't even done.
"I always seem to writing for the next al bum; for the last 30 years I've been writing the next album. It's not like you site at home and say: 'My rock'n'roll life's not going on.' I'm always doing something, it's just that I'm not travelling. A lot of it is preparation for the next time you go out.
"I don't have my own studio at home. I've always found that if you do, you never use it. Jon Bon Jovi bought this huge $2million studio and put it in his basement and he never uses it. It's like having a pool table in your house - put a pool table in your house and you can guarantee you won't play pool. I write at home, though, and also have a slew of different writers to go and see.
"I'm pretty disciplined as a writer, though; I'm not one of those tortured souls who feels they have to put it all down on paper. If I need six songs by next Thursday, I'll sit down and write six songs by next Thursday.
"I have a room upstairs with a bass guitar, amp and all that stuff that I use to work with. I can get whoever I'm working with over and put stuff down on tape. In fact the guy next door has just got a full 72-track studio, and I just drop in on him to use it.
"I love the irony of being famous for playing golf. It doesn't make a lot of sense to people, but some day they might find out that Marilyn Manson is a great croquet player.
"I didn't know I was going to be a good golfer, but if I quit rock'n'roll I could be a pro golfer. It's not what I want to do. I love the competition, though. It's a game you never beat. One day you shoot a 68, another day 98. When I'm at home I play every single morning: up at 6.30 and I play till 9.30, then I have the rest of the day to do whatever I want.
"On the road I play whenever I can, but it's not a necessity to me. It's a great waste of three hours. I have five golf courses within a mile of my home. But then I live in Arizona, which is the golf capital of the world.
"I used to be a TV addict. I'd sit there and watch TV all day, but it got so boring. I think I traded that habit for my urban exploring. There's a million things to do here, and I've got three kids, so I'm always doing something.
"You don't walk too much in Arizona, either, because it's 150 degrees! And when you're playing golf you're in a cart, and that cart has air conditioning. We're very pampered in America, but then golf isn't a sport to us, it's a way of life.
"Coming off the road takes me a while. It's a real gearing-down process. I'm still in fifth gear when I get home and my wife's saying: 'Slow down, you're at home now.' Or I'll tell her that I gotta get up early and I need a wake-up call. She'll say: 'We don't have wake-up calls at our house.' I mean to ask her to set the clock, but she's like: 'Are we in a hotel?'
"If I need to relax I go to the movies. I got to every movie going. I should write a movie column, cos I'll go to anything, no matter what kind of movie it is. I see blockbusters, independents... If someone says something's bad, I have to see it to see how bad it is, and then nine times out of 10 I disagree with the critics. I reckon I'm the only guy in the world who liked Battlefield Earth. But then I hated The Crying Game. And Bridges Of Madison County? I don't think so.
"But my ideal day is getting up early, then playing 18 holes of golf and shoot about four under par. Then I'd go shopping - walking around, antique shopping. Lunch somewhere, take in a movie in the afternoon. Then dinner, maybe a concert, although the last thing you want to do when you're off the road is go to a concert. The last thing I want to see on Earth is a backstage pass."
Alice Cooper's new album, 'Dragontown', is released on October 8th on Eagle Records.
Back to the planet
Having pulled off a millennia makeover with 'Brutal Planet', Alice delivers... 'Brutal Planet II'
Alice Cooper
'Dragontown'
(Eagle EAGCD181)
4/5
Author: Robin Askew
Old glam rock stager returns with his most convincing rejuvenation since... his last one
Opinions were sharply divided over Alice Cooper's attempt to update his sound with the 'Brutal Planet' album. If you're one of those who yearn for a return to chart-bothering, Desmond Child-masterminded pop-metal of the 'Poison' era, or even the underwhelming all-star collaboration of 'The Last Temptation...', you're likely to be sorely disappointed by 'Dragontown'. Because this collection is a seamless continuation of the semi-industrial, darkly satirical commentary on human greed, folly and degradation that fuelled 'Brutal Planet'. Hell, it might as well have been recorded at the same sessions.
Once again, Cooper has teamed up with producer/arranger/mixer Bob Marlette (long-time collaborator Bob Ezrin gets an Executive Producer credit, whatever that might mean), who also receives a co-writing credit on every song. How they actually divide the labour is not disclosed, but Marlette's input certainly seems to have re-invigorated Alice, whose harder, more contemporary material is delivered without betraying his song-based vaudeville roots. Indeed, you could condense the entire recorded works of Nine Inch Nails and still no have as many hummable tunes as you'll find on 'Dragontown'.
The album's loose concept sees Alice descending into the depths of earthly ugliness, and ultimately Hell itself, simultaneously wallowing in and commentating on what he finds buried deep in the human soul. Rumours that the stage show will feature him having his cake and eating it cannot be discounted. Inevitably, the similarity between this album and its predecessor leads to a certain amount of repetition. Perhaps intentionally (one would hope), the guitar riff on 'Deeper' echoes that of 'Brutal Planet', while the chorus of 'Dragontown' is on more than nodding terms with the chilling 'Pick Up the Bones'.
Elsewhere, Alice is on find sardonic form. 'Sex, Death and Money' laments the entertainment world's obsession with such basic drives, while lampooning the censorious. 'I was so offended/As I sat for three hours/It was mental cruelty/I was so shocked,' he declaims, in that trademark sneer which so inspired the young John Lydon. 'Fantasy Man' find him celebrating his unreconstructed macho nature ('Hey, hey, I'm not gonna change/Hey, hey, don't you love me this way?' goes the irresistible singalong chorus). And as with 'Blow Me A Kiss', from 'Brutal Planet', he remains one of the handful of metal artists to address the issue of homophobia.
The double whammy of 'I Just Wanna Be God' and the more melodic 'It's Much Too Late' offer more lyrical highlights. In the latter, our blameless anti-hero ('I never kicked a dog, a child or my wire/I never looked at pornography') finds himself languishing in Hell, wondering which god he's offended, and regretting having missed out on all that sex as a teenager.
As with 'Brutal Planet', there are also some strange, occasionally uncomfortable juxtapositions here. 'Somewhere', for example, which deals with African genocide, is followed by the jolly rock'n'roll Elvis piss-take 'Disgraceland'. Just a couple of disappointments: 'Sister Sarah' is a cheesy tale of naughty nuns, while token ballad 'Every Woman Has A Name' turns out (as if the title hadn't already given it away) to be a poor facsimile of 'Take It Like A Woman' and, further back in the mists of time, 'Only Women Bleed'.
Just one more thing, Alice: if that album title means you're proposing to do any on-stage dragon slaying next time around, do have quiet word with recent touring partner Ronnie James Dio about the mirth that ensued when he attempted to vanquish the risible Denzil.