Classic Rock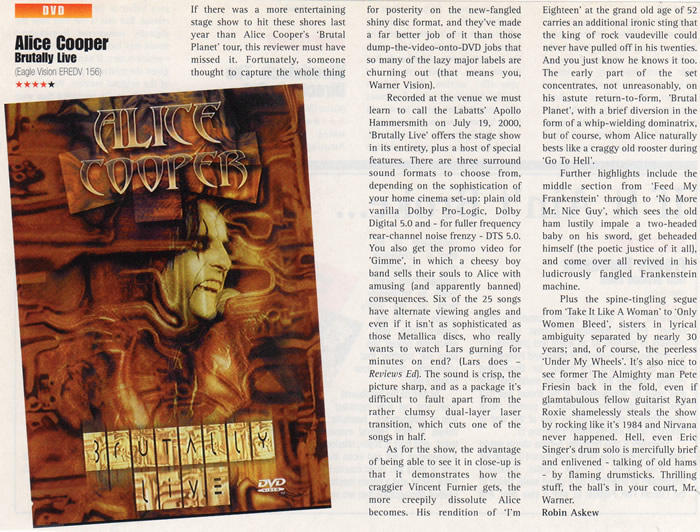 Originally Published: 2001
Alice Cooper
Brutally Live (Eagle Vision EREDV 156)
Author: Robin Askew
If there was a more entertaining stage show to hit these shores last year than Alice Cooper's 'Brutal Planet' tour, this reviewer must have missed it. Fortunately, someone thought to capture the whole thing for posperity on the new-fangled shiny disc format, and they've made a far better job of it than those dump-the-video-onto-DVD jobs that so many of the lazy major labels are churning out (that means you, Warner Vision).
Recorded at the venue we much learn to call the Labatts' Apollo Hammersmith on July 19, 2000, 'Brutally Live' offer the stage show in its entirety, plus a host of special features. There are three surround sound formats to choose from, depending on your sophistication of your home cinema set-up; plain ond vanilla Dolby Digital Pro-Logic, Dolby Digital 5.0 and - for fuller frequency rear-channel noise frenzy - DTS 5.0. You also get the promo video for 'Gimme', in which a cheesy boy band sells their souls to Alice with amusing (and apparently banned) consequences. Six of the 25 songs have alternate viewing angels and even if it isn't as sophisticated as those Metallica discs, who really wants to watch Lars guring for minutes on the end? (Lars did - Reviews Ed). The sound is crisp, the picture is sharp, and as a package it's difficult to fault apart from the rather clumsy dual-layer laser trasition, which cuts one of the songs in half.
As for the show, the advantage of being able to see it in close-up is that it demonstrates how the craggier Vincen Furnier gets, the more creepily dissolute Alice becomes. His rendition of 'I'm Eighteen'at the grand old age of 52 carries an additional ironic sting that the king of rock vaudeville could never have pulled off in his twenties. And you just know he knows it too. The early part of the set concentrates, no unreasonably, on his astute return-to-form, 'Brutal Planet', with a brief diversion in the form of whip-wielding dominatrix, but of course, whom Alice naturally bests like a craggy old rooster during 'Go To Hell'.
Further highlights include the middle section from 'Feed My Frankestein' through to 'No More Mr. Nice Guy', which sees the old ham lustily impaling a two-headed baby on his sword, get beheaded himself (the poetic justice of it all), and come over all revived in his ludicrously fangled Frankenstein machine.
Plus the spine-tingling segue from 'Take It Like A Woman' to 'Only Women Bleed', sisters in lyrical ambiguity seperated by nearly 30 years; and, of course, the peerless 'Under My Wheels'. It's alsonice to see former The Almighty man Pete Friesin back in the fold, even if glamtabulous fellow guitarist Ryan Roxie shamelessly steals the show by rocking like it's 1984 and Nirvana never happened. Hell, even Eric Singer's drum solo is mercifully brief and enlivened - talking of old hams - by flaming drumsticks. Thrilling stuff, and ball's in your court, Mr. Warner.