Circus Raves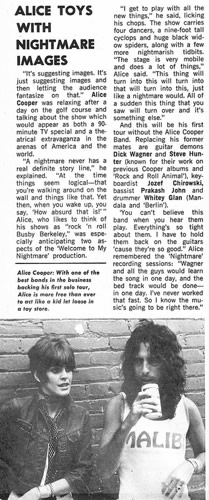 Originally Published: July 1975
Alice Toys with Nightmare Images
"It's suggesting images. It's just suggesting images and then letting the audience fantasize on that." Alice Cooper was relaxing after a day on the golf course and talking about the show which would appear as both a 90-minute TV special and a theatrical extravaganza in the arenas of America and the world.
"A nightmare never has a real definite story line," he explained. "At the time things seem logical - that you're walking around on the wall and things like that. Yet then, when you wake up, you say, 'How absurd that is!' " Alice, who likes to think of his shows as "rock 'n' roll Busby Berkeley," was especially anticipating two aspects of the 'Welcome To My Nightmare' production.
"I get to play with all the new things," he said, licking his chops. The show carries four dancers, a nine-foot tall cyclops and huge black widow spiders, along with a few more nightmarish tidbits. "The stage is very mobile and does a lot of things," Alice said. "This thing will turn into this, just like a nightmare would. All of a sudden this thing that you saw will turn over and it's something else."
And this will be his first tour without the Alice Cooper Band. Replacing his former mates are guitar demons Dick Wagner and Steve Hunter (known for their work on previous Cooper albums and 'Rock and Roll Animal'), keyboardist Jozef Chirowski, bassist Prakash John and drummer Whitey Glan (Mandala and 'Berlin').
'You can't believe this band when you hear them play. Everything's so tight about them. I have to hold them back on the guitars 'cause they're so good." Alice remembered the 'Nightmare' sessions: "Wagner and all the guys would learn the song in one day, and the bed track would be done - in one day. I've never worked so fast. So I know the music's going to be right there."
(Kindly submitted from the collection of Jerry Cogliano)