Boston Herald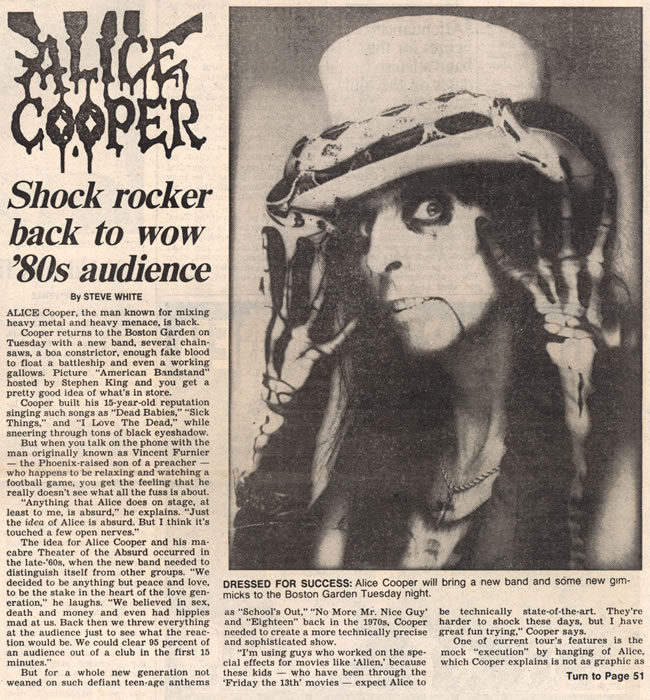 Boston Herald
(November 12, 1987)
Originally Published: November 12, 1987
Shock Rocker Back To Wow '80s Audience
Author: Steve White
Alice Cooper, the man known for mixing heavy metal and heavy menace, is back.
Cooper returns to the Boston Garden on Tuesday with a new band, several chainsaws, a boa constrictor, enough fake blood to float a battleship and even a working gallows. Picture "American Bandstand" hosted by Stephen King and you get a pretty good idea of what's in store.
Cooper built his 15-year-old reputation singing such songs as "Dead Babies," "Sick Things," and "I Love The Dead," while sneering through tons of black eyeshadow.
But when you talk on the phone with the man originally known as Vincent Furnier - the Phoenix-raised son of a preacher - who happens to be relaxing and watching a football game, you get the feeling that he really doesn't see what all the fuss is about.
"Anything that Alice does on stage, at least to me, is absurd," he explains. "Just the idea of Alice is absurd. But I think it's touched a few open nerves."
The idea for Alice Cooper and his macabre Theatre of the Absurd occurred in the late-'60s, when the new band needed to distinguish itself from the other groups. "We decided to be anything but peace and love, to be the stake in the heart of the love generation," he laughs. "We believed in sex, death and money and even had hippies mad at us. Back then we threw everything at the audience just to see what the reaction would be. We could clear 95 percent of an audience out of a club in the first 15 minutes."
But for a whole new generation not weaned on such defiant teen-age anthems as "School's Out," "No More Mr. Nice Guy" and "Eighteen" back in the 1970s, Cooper needed to create a more technically precise and sophisticated show.
"I'm using guys who worked on the special effects for movies like 'Alien,' because these kids - who have been through the 'Friday the 13th' movies - expect Alice to be technically state-of-the-art. They're harder to shock these days, but I have great fun trying," Cooper says.
One of the current tour's features is the mock "execution" by hanging of Alice, which Cooper explains is not as graphic as the guillotine "beheading" in the previous shows. It still gives the singer the jitters beforehand though, especially since he's dried out form his well-publicized alcohol addiction.
"It's a little more scary when you're standing there sober on a gallows and thinking to yourself, 'Hmmm, it's a 9-foot drop - I hope this thing works,'" says Cooper.
"A lot of people are accusing the new show of being a little too realistic, who are a bit squeamish about it. But we always get a good reaction.
"
The current show also features about half the songs off Cooper's new album "Raise Your Fist And Yell," as well as selections from "Constrictor" and the "School's Out" and "Billion Dollar Babies" LPs. And although the music is often overshadowed by Alice's nightmarish vision of the world, he says both have to play equal part in order for it all to work successfully.
"We strive to find that balance, to create a rock show with theatrics as opposed to a theatrical show with rock music," he explains.