Beat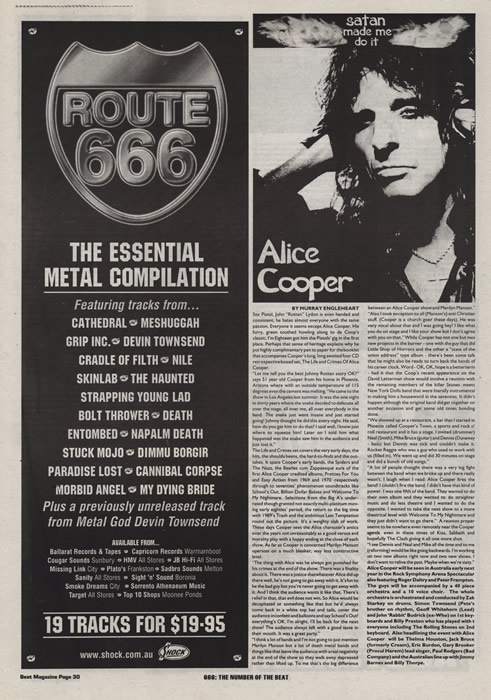 Originally Published: August 04, 1999
Satan Made Me Do It
Alice Cooper
Author: Murray Engleheart
Sex Pistol, John "Rotten" Lydon is even handed and consistent; he hates almost everyone with the same passion. Everyone it seems except for Alice Cooper. His furry, green toothed howling along to da Coop's classic, I'm Eighteen got him the Pistols' gig in the first place. Perhaps that sense of heritage explains why he put highly complimentary pen to paper for the booklet that accompanies Cooper's long, long awaited four CD retrospective boxed set, The Life and Crimes of Alice Cooper.
"Let me tell you the best Johnny Rotten story OK?" says 51 year old Cooper form his home in Phoenix, Arizona where with an outside temperature of 115 degrees even the cement is melting. "He came to the show in Los Angeles last summer. It was the one night in thirty years where the snake decided to defecate all over the stage, all over me, all over everybody in the band. The snake just went insane and just started going! Johnny thought he did this every night. He said, how do you get him to do that? I said, well, I know just where to squeeze him! Later on I told him what happened was the snake saw him in the audience and just lost it."
The Life and Crimes set covers the very early days, the hits, and shoulda beens, the hard-to-finds and the outtakes. It spans Cooper's early band, the Spiders and The Nazz, the Beatles cum Zappaesque aura of the first Alice Cooper credited album, Pretties For You and Easy Action from 1969 and 1970 respectively through to seventies' phenomenon soundtracks like School's Out, Billion Dollar Babies and Welcome To My Nightmare. Selections from the Big A's under-rated though granted not exactly multi-platinum moving early eighties' period, the return to the big time with 1989's Trash and ambitious Last Temptation round out the picture. It's a weighty slab of works. These days Cooper sees the Alice character's antics over the years not unreasonably as good versus evil morality play with a happy ending at the close of each show. As far as Cooper is concerned Marilyn Manson operates on a much bleaker, way less constructive level.
"The thing with Alice was he always got punished for his crimes at the end of the show. There was a finality about it. There was a justice that whatever Alice did up there well, he's not going to get away with it. It's fun to be the bad guy but you're never going to get away with it. And I think the audience wants it like that. There's relief in that, that evil does not win. So Alice would be decapitated or something like that but he'd always come back in a white top hat and tails, cover the audience in confetti and balloons and say School's Out! everything's OK. I'm alright. I'll be back for the next show! The audience always left with a good taste in their mouth. It was a great party!"
"I think a lot of bands and I'm not going to just mention Marilyn Manson but a lot of the death metal bands and things like that leave the audience with a real negativity at the end of the show so they walk away depressed rather than lifted up. To me that's the big difference between an Alice Cooper show and Marilyn Manson."
"Also I took exception to all (Manson's) anti Christian stuff. (Cooper is a church goer these days.) He was very vocal about that and I was going hey! I like what you do on stage and I like your show but I don't agree with you on that." While Cooper has not one but two new projects in the burner - one with the guy that did Little Shop of Horrors and the other a "state of the union address" type album - there's been some talk that he might also be ready to turn back the hands of his career clock. Word - OK, OK, hope a is better term - had it that the Coop's recent appearance on the David Letterman show would involve a reunion with the remaining members of the killer Stones meets New York Dolls band that were literally instrumental in making him a house word in the seventies. It didn't happen although the original band did get together on another occasion and get some old times bonding done.
"We showed up at a restaurant, a bar that I started in Phoenix called Cooper's Town, a sports and rock n' roll restaurant and it has a stage. I invited (drummer) Neal (Smith), Mike Bruce (guitar) and Dennis (Dunaway - bass) but Dennis was sick and couldn't make it. Rockin' Reggie who was a guy who used to work with us (filled in). We went up and did 30 minutes on stage and did a bunch of old songs."
"A lot of people thought there was a very big fight between the band when we broke up and there really wasn't. I laugh when I read: Alice Cooper fires the band! I couldn't fire the band. I didn't have that kind of power. I was one fifth of the band. They wanted to do their own album and they wanted to do straighter music and do less theatre and I wanted to do the opposite. I wanted to take the next show to a more theatrical level with Welcome To My Nightmare and they just didn't want to go there." A reunion proper seems to be nowhere even remotely near the Cooper agenda even in these times of Kiss, Sabbath and hopefully The Clash giving it all one more shot.
"I see Dennis and Neal and Mike all the time and to me (reforming) would be like going backwards. I'm working on two new albums right now and two new shows. I don't want to relive the past. Maybe when we're sixty."
Alice Cooper will be seen in Australia early next year in the Rock Symphony Arena Spectacular also featuring Roger Daltrey and Peter Frampton. The guys will be accompanied by a 40 piece orchestra and a 10 voice choir. The whole orchestra is orchestrated and conducted by Zak Starkey on drums. Simon Townsend (Pete's brother) on rhythm, Geoff Whitehorn (Lead) and John 'Rabbit' Budrick (ex-Who) on 1st keyboards and Billy Preston who has played with everyone including The Rolling Stones on 2nd keyboard. Also headlining the event with Alice Cooper will be Thelma Houston, Jack Bruce (formerly Cream), Eric Burdon, Gary Brooker (Procul Harem) lead singer, Paul Rodgers (Bad Company) and the Australian line up with Jimmy Barnes and Billy Thorpe.