Beat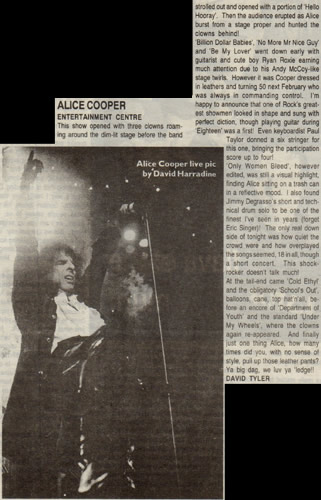 Beat
(September 17, 1997)
Originally Published: September 17, 1997
Alice Cooper: Entertainment Center
Author: David Tyler
This show opened with three clowns roaming around the dim-lit stage before the band strolled out and opened with a portion of 'Hello Hooray'. Then the audience erupted as Alice burst from a stage proper and hunted the clowns behind!
'Billion Dollar Babies', 'No More Mr Nice Guy' and 'Be My Lover' went down early with guitarist and cute boy Ryan Roxie earning much attention due to his Andy McCoy-like stage twirls. However it was Cooper dressed in leathers and turning 50 next February who was always in commanding control. I'm happy to announce that one of Rock's greatest showmen looked in shape and sung with perfect diction, though playing guitar during 'Eighteen' was a first! Even keyboardist Paul Taylor donned a six stringer for this one, bringing the participation score up to four!
'Only Women Bleed', however edited, was still a visual highlight, finding Alice sitting on a trash can in a reflective mood. I also found Jimmy Degrasso's short and technical drum solo to be one of the finest I've seen in years (forget Eric Singer)! The only real down side of tonight was how quiet the crowd were and how overplayed the songs seemed, 18 in all, though a short concert. This shock-rocker doesn't talk much!
At the tail-end came 'Cold Ethyl' and the obligatory 'School's Out', balloons, cane, top hat'n'all, before an encore of 'Department of Youth' and the standard 'Under My Wheels', where the clowns again re-appeared. And finally just one thing Alice, how many times did you, with no sense of style, pull up those leather pants? Ya big dag, we luv ya 'ledge!!