Beat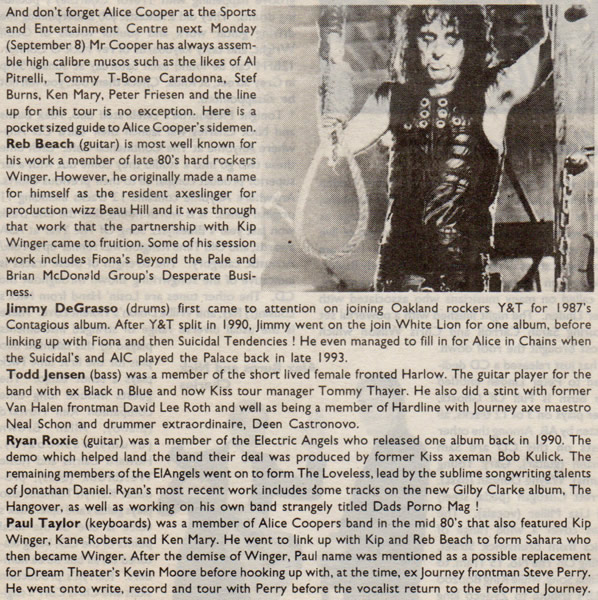 Beat
(September 03, 1997)
Originally Published: September 03, 1997
News Report
And don't forget Alice Cooper at the Sports and Entertainment Centre next Monday (September 8) Mr Cooper has always assemble high calibre musos such as the likes of Al Pitrelll, Tommy T-Bone Caradonna, Stef Burns, Ken Mary, Peter Friesen and the line up for this tour is no exception. Here is a pocket sized guide to Alice Cooper's sidemen.
Reb Beach (guitar) is most well known for his work a member of late 80's hard rockers Winger. However, he originally made a name for himself as the resident axeslinger for production wizz Beau Hill and it was through that work that the partnership with Kip Winger came to fruition. Some of his session ; work includes Fiona's Beyond the Pale and Brian McDonald Group's Desperate Business.
Jimmy DeGrasso (drums) first came to attention on joining Oakland rockers Y&T for I987's Contagious album. After Y&T split in 1990, Jimmy went on the join White Lion for one album, before linking up with Fiona and then Suicidal Tendencies ! He even managed to fill in for Alice in Chains when the Suicidal's and AIC played the Palace back in late 1993.
Todd Jensen (bass) was a member of the short lived female fronted Harlow. The guitar player for the band with ex Black n Blue and now Kiss tour manager Tommy Thayer. He also did a stint with former Van Halen frontman David Lee Roth and well as being a member of Hardline with Journey axe maestro Neal Schon and drummer extraordinaire, Deen Castronovo.
Ryan Roxie (guitar) was a member of the Electric Angels who released one album back in 1990. The demo which helped land the band their deal was produced by former Kiss axeman Bob Kulick. The remaining members of the ElAngels went on to form The Loveless, lead by the sublime songwriting talents of Jonathan Daniel. Ryan's most recent work includes tome tracks on the new Gilby Clarke album, The Hangover, as well as working on his own band strangely titled Dads Porno Mag!
Paul Taylor (keyboards) was a member of Alice Coopers band in the mid 80's that also featured Kip Winger, Kane Roberts and Ken Mary. He went to link up with Kip and Reb Beach to form Sahara who then became Winger. After the demise of Winger, Paul name was mentioned as a possible replacement for Dream Theater's Kevin Moore before hooking up with, at the time, ex Journey frontman Steve Perry. He went onto write, record and tour with Perry before the vocalist return to the reformed Journey.
---
ALICE COOPER is coming to town to play the Sports and Entertainment I Centre on Monday September 8 and we have two Alice packs to be won. Each contains the new live album A Fistful Of Alice plus a double pass to the show. To win send a postcard to Free Alice, 3-5 Jessie St, Richmond 3121 before this Friday September!