Arcadia News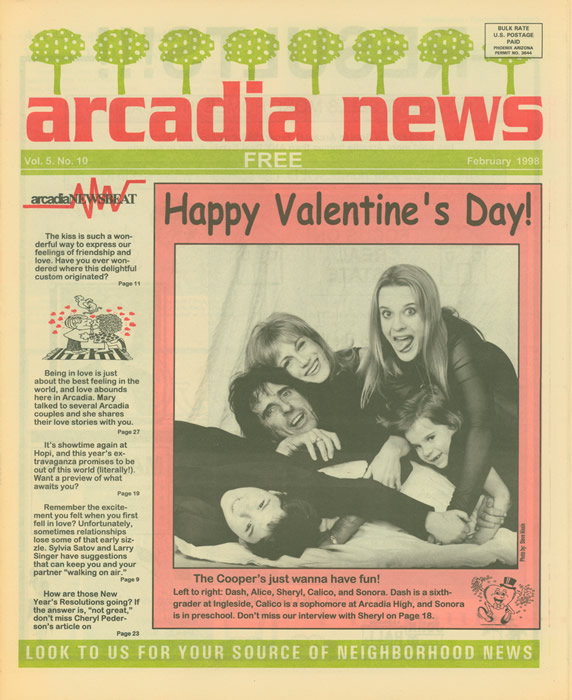 Arcadia News
(February 1998)
Originally Published: February 1998
Getting to know Sheryl Cooper
Author: Lindsey Stevens
When I asked Pam Eisenberg to describe her friend, Sheryl Cooper, she used words like gifted, dedicated, and completely unselfish. Another long-term friend, Krista Joseph, describes her as creative, patient, possessing a wonderful sense of humor, and a great lover of children. But after talking to Sheryl myself, I'm inclined to describe her as "totally together." She is the type of person who can juggle three kids (high school and preschool), numerous projects, a part time "job" (she does choreography for a professional dance company at CC Dance), and a celebrity husband. Not an easy feat.
Sheryl grew up in the Pasadena area of California. She knew from a very young age that she wanted to be a dancer. She studied ballet until age 16, when she switched to jazz. In 1975, she was attending Citrus College in Azusa, California, when two friends suggested she audition for the Alice Cooper stage act. Sheryl swears she had never heard of Alice Cooper. In fact, when her friends first mentioned the audition, Sheryl's reply was, "Alice Cooper - who's she?"
There were openings in the act for two female dancers, and the lucky girls chosen would be signed to a one-and-one-half year contract which included a world tour (U.S., Canada, Australia and Europe), a television special, stage appearances and a movie ("Welcome To My Nightmare"). Quiet a coveted job!
Approximately 3,000 girls showed up for the audition (many flew in from all over the country). The audition was long and grueling, but seven hours later Sheryl got the job. And the rest is history.
Both Sheryl's and Alice's fathers were ministers, so when they decided to get married, both fathers officiated at their wedding ceremony. Sheryl and Alice will celebrate their 22nd wedding anniversary in March. They have traveled all over the world, but chose the Arcadia area as the place to settle and raise their children.
Alice was born in Detroit, but moved west at age 6, because of an asthma condition. He graduated from Cortez High School, and then attended Glendale Community College. In 1973, with his first sizeable paycheck, he purchased a home in the Arcadia area. During the subsequent years, he and Sheryl and the kids lived in it for a while, rented it, leased it, moved back into it, and finally had extensive remodeling done to the original 2,000 square foot structure.
The Coopers love it here! The community feeling is what Sheryl likes most of all. She's friends with the people at ABCO, the gas station, and their church. The Cooper kids all attend public schools. Sheryl believes it's important for their children to attend school with the same children they see at church and play with in the neighborhood.
What kind of parents are Sheryl and Alice? "We speak the truth and love, to our children," she replies, "We allow them the freedom to make mistakes, but hold them accountable." She feels very blessed that their kids are "good kids, with good hearts."
Are there any budding "shock rockers" in the Cooper family? Not so far. Calico, a sophomore at Arcadia High belongs to a dance company, and competes nationally in jazz, acrobatics and tap. Dash, a sixth grader at Ingleside Middle School, is the singer in the family (must have gotten that talent from Dad). Dash has a "Broadway" voice, however. And little Sonora, currently in preschool, is the timid one. At her first recital, she was the only child who wouldn't dance.
What do the kids think of dad's celebrity status? Sheryl says they are pretty much unaffected by it all. They are used to seeing Alice on the ball field or helping out at a school function. They all work cooperatively as a family, so Alice is just "Dad" to them.
Currently, Sheryl and Alice are extremely busy writing and producing the annual "Hopi Variety Show." And Sheryl promises big things. In fact she says this year's production numbers will "bring down the house."
Why do they devote so much time to the show each year? According to Sheryl, it's just so much fun! In fact, she says it's debatable who has more fun, the parents or the kids. Seriously, though, this is one of their ways of giving something back to the community they so dearly love. They have spread their family over 22 years of marriage, and have had a child enrolled at Hopi for most of those years. The great friendships and bonds they have built within the community indicate the Coopers' unselfish and caring nature.
Sheryl feels it is more important for children to conquer their fear of public speaking. The entertainment acts the kids put together and perform in the "Hopi Variety Show" can help them to do just that. A positive experience of this type can serve them all through life.
Alice is partial to school talent shows for another reason. His band actually started at the Cortez High School talent show. He and his buddies thought it would be fun to perform in the show, and actually hired girls to scream for them! After that they became quite the "garage band," and before long, their career took off and they headed for L.A.
Another of the Coopers' projects is the Solid Rock Foundation, which they founded approximately two-and-one-half years ago. The purpose of this organization is to build a 20,000 square foot facility for teens in the Valley. This will be a place where kids can go to have fun, and it will include a rock climbing wall, a roller blading rink, a computer room, library and reading room, a coffee house, and a portable stage. Ultimately, it will be a safe place with a positive message for kids. They are currently taking to several Valley cities, and settling on a piece of property.
The upcoming Second Annual Alice Cooper Celebrity Golf Tournament will be held May 3, 4 and 5th, to raise money for the Solid Rock Foundation. This year's tournament will be held at Greyhawk.
Sheryl and Alice Cooper can be very proud of the family and the life they have created together. They have succeeded in building a lasting and loving marriage, which is quite an accomplishment nowadays. And their children reflect their solid home environment. Sheryl Cooper definitely proves the old saying that behind every successful man is a strong woman.
Oh, and when I asked Sheryl to describe herself, her reply was, "I'm looking forward to being refined into the person God eventually intends me to become."
I guess that says it all!
---
"Spaced Out"
At Hopi's Variety Show
It's once again time for the annual "Hopi Variety Show." Each year, the children, parents, and faculty of Hopi Elementary School combined their efforts to produce a spectacular show, featuring music, drama, song, dance, comedy and often the "highly unusual."
Sound good? Well, it gets even better. Imaging a production which is written, produced and directed by none other than Alice and Sheryl Cooper.
The title of this year's show is "Spaced Out." The Arcadia High School stage will be transformed into the bridge of a starship cruiser. And the cast and crew will take you light years into the future, at warp speed, "where no one has gone before." According to Sheryl, this year's production will be a cut above any other show done in the past. Without giving away too much, and spoiling all the surprises, we can tell you there will be laser lights, fog machines, a giant production video, and incredible sound and props.
Each year, approximately 220 Hopi students are chosen to perform the acts which they have created for the Variety Show audience. No Hopi student is ever denied the chance to be in the show. If their act is not chosen for the show, they still have the opportunity to be in the Grand Finale, which always turns out to be one of the best acts in the show! This years Grand Finale will feature "Men In Black" and "The Alien Encounter."
The show is a neighborhood event which combines the talents of Ingeside Middle School (many Hopi alumni volunteer to help backstage or participate in the Grand Finale), Arcadia High School (their drama department provides the stage crew), and Hopi Elementary.
Alice and Sheryl Cooper write the show, and Alice does the voice-overs. Sheryl choreographs the Grand Finale and performs skits with the masters of ceremonies in between acts. They have been producing the show for 10 years. (The first year the Coopers produced the show, their budget was $90 - about enough for a helium tank and a few balloons.) Since then, the show has grown to monumental proportions.
This is the first year the Coopers will not have any of their own children in the show. Their oldest daughter, Calico, is now a sophomore at Arcadia High. Their son, Dash is in sixth grade at Ingleside, and their youngest daughter, Sonora, is in preschool.
Alice usually performs in the show. Last year's show, entitled "Frenzied Follies," opened with the Arcadia stage set as the "Old Vaudevillian Home." Hopi teachers were dressed as old folks who were wishing for the good ole days of vaudeville times. They wished they could relive the days of their youth. Sheryl played "Fatima," the good fairy who was trying to give them that chance. Alice was "Snavely Whipburn," the devious landlord who tried to ruin the show and throw them out of their home.
In the early years, the show was performed in the Hopi Elementary auditorium, which had a capacity for holding 270 people. As the years went by, however, and the show's popularity grew, the small auditorium could no longer accommodate the crowds of parents, relatives and friends who came to see it (it got to the point where people were standing outside looking in the windows). That was when Arcadia High School volunteered the use of their facility.
Of course, it takes dozens of volunteers to pull off a show like this (16 committees work together to accomplish the feat). Hopi parents donate a majority of the work and services, such as carpentry, painting, printing of programs, etc. Funding also comes from ticket sales and the PTA.
The show will be taped on Friday night (March 6), by Spectrum Video, using multiple cameras. Videos of the productions will be available for purchase.
"Spaced Out" will be presented March 5 and 6, at 7 p.m., at Arcadia High School. Tickets are $3 for adults and $1 for children 12 and under. For more information on the show, or purchasing tickets, call Pam Eisenberg at 840-1620.