Akron Beacon Journal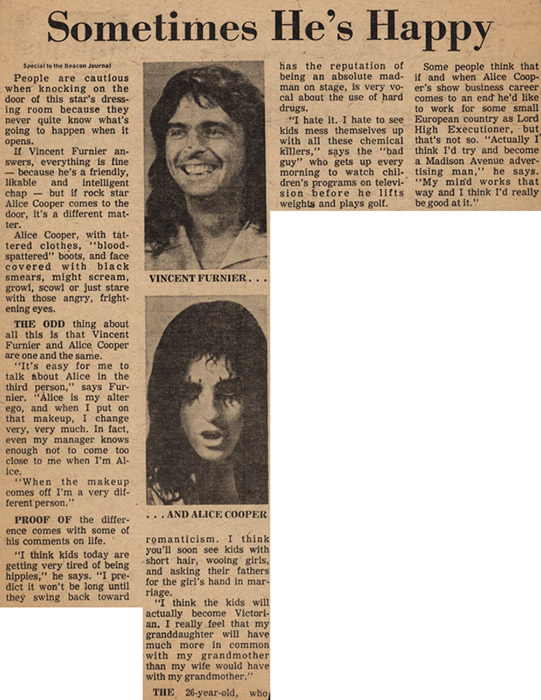 Akron Beacon Journal
(February 11, 1975)
Originally Published: February 11, 1975
Sometimes He's Happy
People are cautious when knocking on the door of this star's dressing room because they never quite know what's going to happen when it opens.
If Vincent Furnier answers, everything is fine - becuase he's a friendly, likable and intelligent chap - but if rock star Alice Cooper comes to the door, it's a different matter.
Alice Cooper, with tatered clothes, "blood-splattered" boots, and face covered with black smears, might scream, growl, scowl or just stare with those angry, frightening eyes.
THE ODD thing about all this is that Vincent Furnier and Alice Cooper are one and the same.
"It's easy fo rme to talk about Alice in the third person," says Furnier. "Alice is my alter ego, and when I put on that makeup, I change very, very much. In fact, even my manager knows enough not to come too close to me when I'm Alice.
"When the makeup comes off I'm a very different person."
PROOF OF the difference comes with some of his comments on life.
"I think kids today are getting tired of being hippies," he says. "I predict it won't be long until they swing back toward romanticism. I think you'll soon see kids with short hair, wooing girls, and asking their fathers for the girl's hand in marriage.
"I think the kids will actually become Victorian. I really feel that my granddaughter will have much more in common with my grandmother than my wife would have with my grandmother."
THE 26-year-old, who has a reputation of being an absolute madman on stage, is very vocal about the use of hard drugs.
"I hate it. I hate to see kids mess themselves up with all these chemical killers," says the "bad guy" who gets up every morning to watch children's programs on television before he lifts weights and plays golf.
Some people think that if and when Alice Cooper's show business career comes to an end he'd like ot work for some small European country as Lord High Executioner, but that's not so. "Actually I think I'd try and become a Madison Avenue advertising man," he says. "My mind works that way and I think I'd really be good at it."