CHS Students Creators Of New Singing Group
(Cortez High School, 1964-10-16)
"Last night I ran four laps for my coach." And thus began the colorful career of five CHS students - Dennis Dunaway, John Speer, John Tatum, Glenn Bux...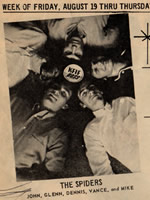 The Spiders
(KFIF Boss News, 1966-08-19)
The first time they were in Tucson they were on tour in Arizona with the Byrds. When a reported asked the Byrds what they thought of the Spiders they ...