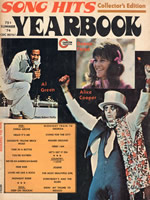 Pop Star
(Song Hits, 1974-00-00)
Alice Cooper - the product of a decade which developed television into the national pastime and then used it to show men walking on the moon. The more...
Pop Star of the Month
(Song Hits, 1975-10-00)
Some people wake up screaming. Alice Cooper spends his days that way. If nightmares were nice, they would be dreamed by Alice. And they would look and...