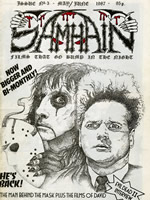 Alice Cooper...I Was A Teenage Video Nasty!
(Samhain, 1987-05-00)
THE parallels between rock music and horror imagery are many and varied, and getting ever closer with videos now standard practice for a song - witnes...
News Report
(Samhain, 1988-03-00)
"ALICE Cooper, a troubled man for troubled times." That's the slogan that's going around Arizona at the moment where SAMHAIN's favourite rock star is ...
News Report
(Samhain, 1988-06-00)
SHEFFIELD'S blind labour MP David Blunkett called for a ban on Alice Cooper after the first date of his 1988 British tour had 'em fainting in the aisl...