Who's afraid of Alice?
(Bravo, 1972-10-18)
Do you get shivers down your spine when Alice hugs his favourite snake 'Yvonne'??? Do you tremble all over when showman Alice dangles at the gallows??...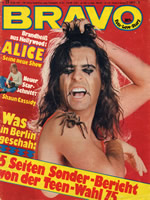 Alice Cooper
(Bravo, 1975-04-30)
Alice took a rest for two years. Now America's shock rocker is back with his new show called: "Welcome To My Nightmare" which takes him on a worldwide...