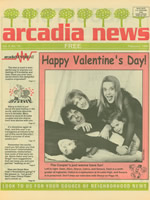 Getting to know Sheryl Cooper
(Arcadia News, 1998-02-00)
When I asked Pam Eisenberg to describe her friend, Sheryl Cooper, she used words like gifted, dedicated, and completely unselfish. Another long-term f...
Alice Cooper's sports bar to open in April
(Arcadia News, 1998-03-00)
A new sports bar/restaurant, called , "Cooper'stown," is scheduled to open in downtown Phoenix in April. The project is a $2.7 million complete redesi...